Today 3-D films and blockbuster action films are a draw that will pull audiences into the theater. One hundred years ago, movies were brand new, and developers weren't so sure what would work so they built theaters with a little of everything.
Movie Palaces
Starting in 1914, developers began building the first theaters created specifically for showing films, and by 1922, 4,000 new theaters were built in the United States. These ranged from small theaters in working class neighborhoods to much grander buildings, reminiscent of the large vaudeville theaters. These early movie theaters held audiences ranging from 4500-6000 people, and they came to be referred to as "palaces." The description was fitting.
Customers were treated like royalty. The lobbies were luxurious;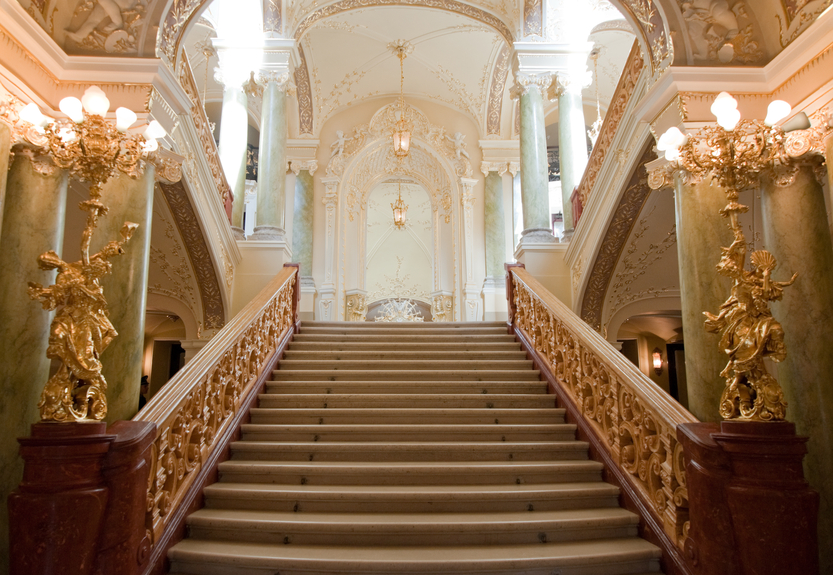 they featured crystal chandeliers, marble mirrors, and plush seating. The men's and ladies' lounges were beautifully appointed; some of the women's lounges had screens so the ladies could keep up with the film's plot while fixing their hair or make-up. Many of the theaters had children's playrooms with attendants so parents could go and enjoy the show.
While waiting for the movie to start, patrons could listen to music being played on a Wurlitzer organ, watch a ballet on another stage, or listen to a performance of a live orchestra. Some theaters had art galleries for people to stroll through until it was time for the show.
Though the general architecture of these showplaces ranged from resembling a European cathedral to a Mayan temple, the interiors generally celebrated America. One theater in Los Angeles, the Metropolitan built by Sid Grauman, featured a sphinx in the lobby. The sphinx had the head of George Washington, and the inscription near the statue read: "You cannot speak to us, O George Washington, but you can speak to God. Ask Him to make us good American citizens…"
One of the design features conceived for these palaces is still part of some of our theaters today. The box office was intentionally set out by the street, often existing as a separate structure. The intent was to welcome patrons into a plush lobby where there were no signs of commercialism. (At that time there were no concession stands in palace lobbies.)
Because of the size of the audiences and the fact that there were several shows each day, ushers were vital to the process. The Roxy, built in 1927 under the supervision of Samuel "Roxy" Rothafel (1882-1936), in New York City, hired a retired military officer to oversee the tuxedo-clad ushers. Their impeccable appearance was immortalized by Cole Porter's 1932 song, "You're the Top." ("…You're the pants on a Roxy usher….") And yes, Roxy moved on to run Radio City Music Hall where the Roxyettes eventually became the Rockettes.
These theaters were also major employers for the day. It was not unusual for a single theater to employ more than a hundred people. Many had 30-40 orchestral musicians providing live music, several dozen ushers, and many people working backstage; some had a nurse and firemen as well. Animal handlers were necessary at theaters where the shows before the film featured live animal acts.
At grand theaters like the Roxy, there were amenities specifically for the employees. For the performers, there were dressing and rehearsal rooms as well as services such as dry cleaning and laundry. The staff could also take advantage of a cafeteria, gym, billiard room, nap room, library, infirmary, showers, and a barbershop and hairdresser.
A Showman Whose Theaters Live On
Showman Sid Grauman (1879-1950) built several of the most famous movie palaces of the 1920s. His first was the Million Dollar Theater on Broadway in Los Angeles, followed by the Egyptian on Hollywood Boulevard. The Egyptian was intended to be Spanish in look, but English archaeologist Howard Carter's search for the tomb of King Tut was making news in the early 1920s, so Grauman decided to capitalize on it. He had the builder switch to Egyptian styling. To both men's great good luck, Carter found Tut's tomb two weeks after the Egyptian opened.
Grauman built other theaters in the area that still stand, including El Capitan and the Chinese Theatre. Grauman's Chinese Theatre quickly became famous for an attraction that started in the late 1920s. Film stars signed their names and left their footprints (or whatever they wanted; Groucho Marx left his cigar print; Jimmy Durante, his nose, skater Sonja Henie, her skate blades) in the squares of cement in the courtyard.
The End of an Era
The Depression brought an end to these grand movie palaces, and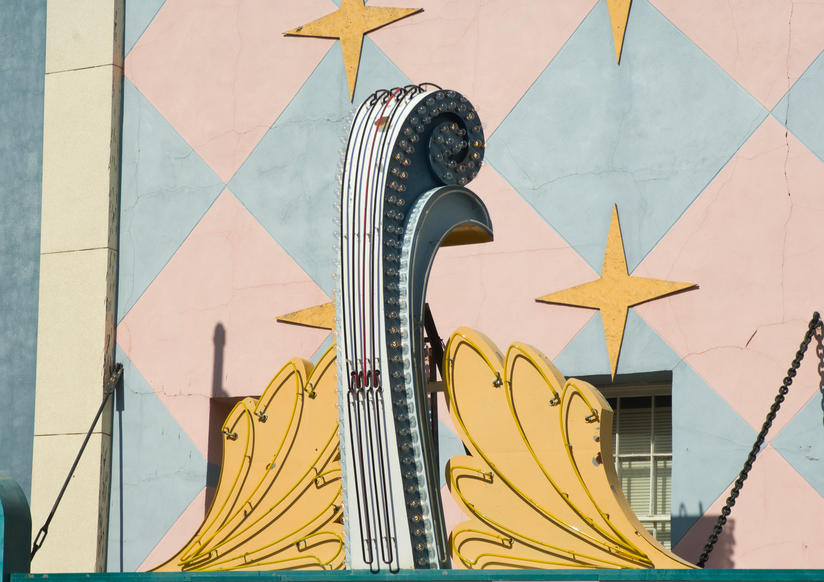 Radio City Music Hall, completed in 1932, was the last to be constructed. Audience numbers declined precipitously, dropping by one-third in just a couple of years (from 90 million per week in 1930 to 60 million).
Many theaters closed, and those managers who kept their theaters open developed "value-added" sales methods that would be familiar to marketers today: discounted prices, raffles, and product give-aways.
Ladies' nights and children's matinees were used to maintain audiences. Some theater owners raffled off prizes regularly; and to build regular attendance, many began the practice of product give-aways. One of the more popular items was what we know as Depression-era glassware. Audience members who attended regularly could pay just a nickel for the "dish of the night," and eventually they could amass a complete set of dishes.
While some of these theaters have undergone renovation and are still in existence, there is no doubt that the true era of the movie palace ended long ago.