Loretta Perfectus Walsh was the first woman to enlist in the U.S. Navy (March 17, 1917) and the first woman to reach the rank of chief petty officer. This opportunity also made her the first woman to serve in a non-nursing capacity in any branch of the armed forces.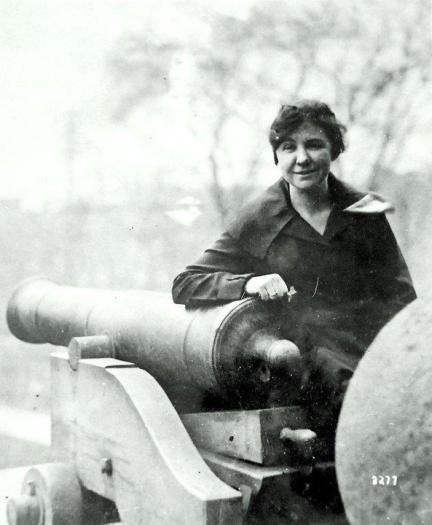 When World War I began in Europe in 1914, the United States hoped to stay out of the conflict, but by 1917 American sentiment was changing. On January 31, 1917 Germany announced that it would resume unrestricted warfare on all ships, including American ones. Shortly after, German U-boats attacked four different American ships, resulting in the deaths of fifteen Americans. Americans were further angered when Germany tried to get Mexico to join Germany to take on the United States. Though Congress waited until April to authorize President Wilson to declare war, Americans started enlisting before that.
Loretta Walsh: Desire to Help
Like other Americans, Loretta Walsh, who was almost 21, wanted to do her part, and she enlisted in the Naval Reserve. Days later, on March 21, 1917, she was sworn in as Chief Yeoman.
Her position change was as a result of a change in policy by the Navy. As of March 19, 1917 the Navy became the first branch of the U.S. armed forces to allow women to enlist in a non-nursing capacity. The Naval Reserve brought women in as what they referred to as yeoman (F), also referred to as yeomanettes. Their duties ranged from clerical work and recruiting to production jobs in ammunition factories as well as design work, drafting, translation, and radio operating responsibilities. Most of the women were stationed in Washington D.C., but some were stationed in France, Guam and Hawaii.
Notably, both men and women were earning $28.75 per month—one instance of equal pay for both genders. Women who became yeomanettes were also given the same benefits as men of comparable rank—another unique feature for the time.
When the armistice was signed about a year and a half later (November 11, 1918), there were 11,275 yeomanettes in the Navy and 300 "marinettes" in the Marine Corps. With the draw-down of the military, the need for yeomanettes declined. By 1919, those who remained were released from active duty. Walsh maintained her reserve status, drawing a small retainer salary, until the end of her four-year commitment.
Died Young
Walsh died in Olyphant, Pennsylvania, when she was only 29 years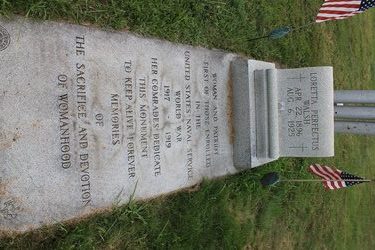 old. She had suffered influenza during the pandemic of 1918. She eventually recovered, but she remained frail. A few years later, she came down with tuberculosis and died on August 6, 1925.
She was buried in the Holy Cross cemetery in Blakely, Pennsylvania, and the Navy recognizes her for her "firsts." Her tombstone reads:
Loretta Perfectus Walsh
April 22, 1896–August 6, 1925
Woman and Patriot
First of those enrolled in the United States Naval Service
World War 1917–1919
Her comrades dedicate this monument
to keep alive forever
memories of the sacrifice and devotion of womanhood
Today there are more than 62,000 women serving in the Navy. Loretta Walsh was the pioneer.
With special thanks to LSC Brady Fuller who provided me with additional information on Loretta Walsh after participating in a ceremony at her gravesite on September 11, 2015.