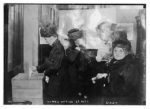 Sometimes simple facts tell a very compelling story.
While researching a project for Women's History Month, I started keeping a running list of some notable years when certain gender barriers were broken, and when I looked back I found that the list itself provided a fascinating snapshot of our country.
Scan through this information, which is very incomplete and totally random, but I think you'll agree that the facts speak volumes about the history of women in the United States. And if I've left out something you would like to add, please use the comments section below. This list deserves to grow.
1839-Mississippi passes the first married woman's property law, primarily to deal with the issue of slave ownership. Up until that time, women and widows in any part of the U.S. had few rights to hold property. (In 1848 a federal law was finally passed; it was still inadequate and it was amended in 1860.)
1849–first medical degree given to a woman (Elizabeth Blackwell).
1852–first nonsectarian college to grant women absolutely equal rights with men; Antioch College in Yellow Springs, Ohio.
1855–first hospital opens exclusively for treatment of women's issues. Known as the Woman's Hospital and considered the birthplace of gynecology, it originally opened on East 29th Street in Manhattan and was intended to serve poor women. Its reputation and patient list grew and in 1867, the hospital moved to a new building where the Waldorf-Astoria now stands. In 1906 it moved to 110th Street, and in 1954 merged with St. Luke's Hospital.
1861–first regular reporting by a woman about news from the White House (Emily Edson Briggs).
1869–first law school admitted women: St. Louis Law School, now Washington University School of Law
1869–first women's national labor organization, the Daughters of St. Crispin in Lynn, Massachusetts ( it was the counterpart to the male shoe workers' Knights of St. Crispin). The women struck for equal pay for equal work and were supported by the Knights, but the financial depression of 1873 weakened the economy and by 1876 the Daughters of the organization ceased to exist.
1870–first sexually integrated Grand Jury, Wyoming. (The first sexually integrated jury was in Albany NY in 1701.)
1892–first women's basketball team was created at Smith College. The game was introduced by Senda Berenson, director of physical education at Smith, and by 1899, she was asked to draw up the official rules for women's basketball.
1899–first national organization to promote rights of women lawyers; the Women's National Bar Association was created in this year.
1904–first trade school for women.
1910–first women appointed as regular police officers (Los Angeles).
1910–first national nonsectarian interracial organization for girls is created: the Camp Fire Girls.
1911–first agricultural training school for women. In 1911 Alva Belmont donated 200 acres of land in Hempstead Long Island to be used as a training farm and school for agriculture for women. The first class of twenty students were selected from 630 applicants.
1916–first birth control clinic opened (NYC); Margaret Sanger championed it. Five hundred women came for information during the first ten days of the clinic's operation. The clinic was soon closed down and Sanger was sentenced to prison for 30 days for her participation. (This is a mere fraction of what should be said about Margaret Sanger, but she'll be featured on my site later in the month.)
1920–for the first time, women have the right to vote in a federal election.
1924–first women barbers admitted to the barbers' union.
1942–first women allowed to join the Boilermakers Union
1944–first woman receives Bronze Star for meritorious service (Cordelia E. Cook).
1949–first enlisted woman entered the regular army. This date is because in 1949 a law was passed that the WACS and the WAVES were to be absorbed into the regular military, so after that time women who joined went into the regular military.
1967–first woman buys a seat on the NY Stock Exchange (Muriel Siebert).
1969–first women allowed in Sigma Delta Chi (an honorary organization of journalists).
1971–first women recruited for the Secret Service.
1972–first association forms to support women business owners.
1974–girls permitted in Little League baseball for the first time.
1975–election of the first woman governor who did not follow her husband into office (Ella Grasso, Connecticut).
1976–first women admitted to the military academies (Air Force, West Point, and Annapolis). The Merchant Marine Academy was first to admit women and did so in 1974.
2011–According to a report released by the White House yesterday (2-28-11), women earn more college degrees than men, but at all educational levels, men out-earn women. (After reading the above list, this is hardly a surprise…)
As I said in the beginning, this list is random and certainly not complete. Many additional firsts have been achieved. Please use the comments section below to add your favorite "firsts" for women, and please check my website for more stories about American women who have led the way.
In celebration of Women's History Month, I am going to be writing about thirty women under age 30 who have made a difference. The women range from women of the past, such as the first woman to be accepted as a veteran of the Civil War after having disguised herself as a man in order to fight, to women still living today such as Marian Wright Edelman, who not only established the Children's Defense Fund but who was the first African American woman to be accepted as a member of the bar in Mississippi, no small accomplishment. (You may check this site daily to read about each newly listed woman, or sign up to receive short e-blasts each day of March.)