In the 1930s during the Great Depression, Americans were looking for scapegoats, and in an effort to save jobs for "real Americans" they began rounding up and deporting many people who had moved to the U.S. from Mexico, a good number of whom were "real" U.S. citizens.  In addition to being a wrong thing to do, the "repatriation" was tragic for many, often resulting in the separation of parents and children.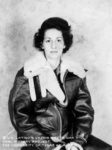 Despite this poor treatment, fifteen years later people of Hispanic descent volunteered to help in the U.S. war effort.  Latinos enlisted and served in every branch of the military.
To recognize the contributions of Latinos and Latinas of World War II, the University Texas, led by UT journalism professor Maggie Rivas-Rodriguez, established an oral history project in 1999 to commemorate Hispanic participation. (In 2010, the project expanded to include those who participated during the Korean War and the Vietnam War as well.)
The site provides access to hundreds of stories that would otherwise be lost.  With the thought that there are still more stories that should be added, it also provides instruction as to how additional oral interviews can be conducted.
Here are summaries of just two of the World War II Latinas highlighted on the website, but it will give you a flavor of the time and the dedication of the people:
Elsie Schaffer Martinez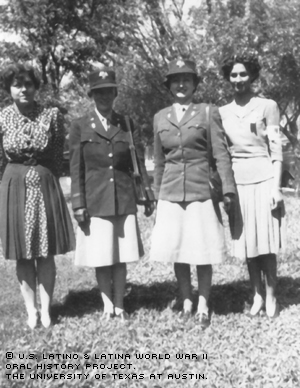 She never left the U.S. during her military service, yet she performed a job that was so top secret that she could not talk about it.
Elsie Martinez was born in San Antonio, Texas in 1922. She grew up as the only child of Isabel Tessada; her father was an Army sergeant and was assigned overseas when she was 6 months old.  She does not know the circumstances of his time in the service or his death.
At age 10, Elsie began working in her mother's potato chip factory while still attending school.  She remained in school through the 9th grade when her mother hired  a tutor for her to keep her away from what she considered bad influences.
Martinez couldn't join the Army until she was 21 so in the early 1940s she helped with recruiting women who might serve in the Women's Army Auxiliary Corps. When she was able to join, she was sent to Arkansas for a three-month training period after which she was assigned to a high-security base in Pueblo, Colorado.  She worked in a photo lab where three women and eight men were in charge of developing top-secret aerial photographs being taken by Army photographers.  The classified photos were then sent back for use by the proper military units.
After the war, Martinez married a fellow who opened a meat market in Mexico. Eventually the couple moved to Laredo, Texas where they had a family and ran a meat market business there.
Josephine Kelly Ledesma Walker
In the 1940s, Walker was trained as an airline mechanic. During the war she was assigned to several different bases, including Randolph Air Force Base where she was one of only three women on the air

base, and the only Mexican-American woman. In Big Spring, Arkansas, she was the only woman working on the base during the time she was there.
After two years working as an airline mechanic for the government, she was surprised to go back to civilian life and encounter discrimination.  She had been a sales clerk before the war and when she applied at a department store the owner said he would hire her only if she would use the name Kelly.
In her interview for the oral history project, Walker expressed the feeling that education was the only thing that would continue to create improvements for Mexican Americans.
 For more stories, please visit the University of Texas at Austin's Oral History Project.