One of first female government officials in New Mexico
First New Mexican woman and the first Latina to run for national office
Suffragist
Born into a well-to-do family that traced its heritage to eleventh-century Spain, Adelina "Nina" Maria Isabel Emilia Otero was born in 1881 in Las Lunas, New Mexico. Otero-Warren was given an excellent education, first in Santa Fe, and then at Maryville College in St. Louis (1892-1894) at a time when it was unusual for a woman to be given a college education. From St. Louis she moved to New York City for a time to work at a settlement house.
Her family in New Mexico was active and influential in politics at a time when growth and commerce were transforming the territory. When her second cousin, Miguel Otero, was appointed territorial governor of New Mexico (1897-1906), Otero-Warren opted to return to Santa Fe and take part in what was happening there.
In 1908 she married a cavalry officer by the name of Rawson Warren, but the marriage did not last long. After two years, Adelina divorced her husband. Divorce was frowned upon at that time, so she kept her hyphenated name and told people she was a widow.
In 1918 Otero-Warren was appointed to serve as Superintendent of Schools for Santa Fe; subsequently she was elected to this post. She proved to be gifted in her ability to work with all constituencies since she was well-respected and also bilingual.
Suffrage Battle Taking Place Nationwide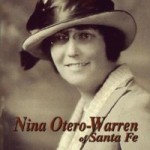 When the Congressional Union for Woman Suffrage leader Ella St. Clair Thompson arrived in New Mexico she soon found that her best ally was going to be Adelina Otero-Warren, the niece of the popular head of the state's Republican party and a prominent woman in her own right. By 1917 Alice Paul, who headed the national organization, asked Otero-Warren to lead the state Congressional Union (later known as the National Woman's Party). The task at hand was urging passage of the 19th Amendment in the state legislature. When the states ratified it and the federal amendment took effect, women of New Mexico finally gained full suffrage, one of the last states in the West to give voting rights to women (though it left off of the voting rosters the state's large population of Native American women).
From 1917-1929, Otero-Warren continued on as one of New Mexico's first female government officials: first as Santa Fe Superintendent of Instruction followed by chairing the State Board of Health. In 1923 she became Inspector of Indian Schools in Santa Fe County. Several years later she was appointed state director of the federal Civilian Conservation Corps by President Franklin D. Roosevelt.
Congressional Run
In 1922 Otero-Warren decided to run for Congress. She was an effective campaigner and talked of her work in education and her interests in temperance and social welfare. During the campaign, her second cousin, the former governor, publicly revealed that Otero-Warren had been deceptive about her marital status; her spouse was not dead, she had divorced him.
Though the divorce had occurred a dozen years before the election, the news was powerful enough to tip the scales in favor of her Democratic opponent. She lost by 10,000 votes.
Her Legacy
Otero-Warren's contributions to her community were not just in the political realm. She was involved in preservation of historic structures in both Santa Fe and Taos, and she worked closely with the arts community that congregated in the state. She was instrumental in renewing interest in and respect for Hispanic and Indian culture.
Her life on the family hacienda was recorded in her book, Old Spain in Our Southwest (1936). Until her death in 1965, she continued her life in New Mexico as a businesswoman, educator, writer, and political activist.