Governor (Jose Antonio) Romualdo Pacheco, Jr. (1831-1899)
American politician and diplomat
Only Hispanic (thus far) to serve as Governor of California
First Hispanic representative of a state in Congress (Hispanics had represented territories prior to Pacheco's election)
First Hispanic to chair a standing committee in Congress (Committee on Private Land Claims)
Romualdo Pacheco was born into a prominent family in Santa Barbara. His father was as an aide to the Mexican Governor of California, and he was killed in the Battle of Cahuenga Pass when his son was only 5 weeks old.  Romualdo's mother remarried a Scottish sea captain who arranged for Romualdo to get a European-style education in Honolulu. At age 12, Pacheco began a shipboard apprenticeship.
Political Life
Pacheco entered politics in the 1850s, and his party affiliation changed over time; he started as a Democrat but took a stand against slavery and switched to the National Union Party. He eventually ran as a Republican.  His first elected office was that of judge in the San Luis Obispo Superior Court in 1855.  He was fluent in both Spanish and English which gave him the ability to address the needs of the Anglos who were coming in because of the Gold Rush as well as the Californio families who had been in the area for a time.
In 1861 he was elected to be a state senator, but because of the Civil War, Governor Leland Stanford appointed Pacheco brigadier general with command of the State Militia's First Brigade as well as the 1st Battalion of Native Cavalry of the California Volunteers.
In 1863 Pacheco became California's state treasurer serving until 1866. His next elected office was that of lieutenant governor (1871-75).  When Governor Newton Booth resigned from office on February 27, 1875 to take a seat in Congress, Pacheco assumed the office of governor.
National Scene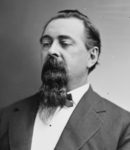 In 1876 he ran for the U.S. House of Representatives, beating by one vote the incumbent, Peter Wigginton.  President Garfield stepped in and said Pacheco should be seated but Wigginton contested the election. Four months later, the House Committee on Elections removed Pacheco and seated Wigginton.  Pacheco ran again in 1879 and was successful in gaining a seat in Congress where he served for two terms. He was appointed to the Committee on Private Land Claims. By his second term, he became chair of that committee, making him the first Hispanic to chair a standing committee in Congress.
From 1890-1893, Pacheco served as U.S. Envoy Extraordinary and Minister Plenipotentiary to the Central American States from 1890 to 1891, and served Honduras and Guatemala until 1893.
Personal Details
When he was 32 he married a woman named Mary McIntire who is described as a playwright.  They had a son and a daughter but the son died in childhood.  The daughter went on to have four sons.
After serving in Congress, Pacheco ran a large ranch in the northern part of Mexico.  He was an adept horseman and also very good with a lasso. It is said that he is the only California governor to ever lasso a grizzly bear, but I would put forth that he might be the only governor of any state to ever lasso a grizzly bear.  (There was also no information about what he did with the bear once it was lassoed.)
Governor Romualdo Pacheco died on January 23, 1899 in Oakland, California.
For more stories, see Marcelino Serna: Highly Honored Soldier in World War I.