First woman to be featured on the cover of Business Week (1954)
Almost every American home has plastic storage containers for leftover food or homemade goodies. In some cases, the containers are Tupperware; in other cases they are products imitating this category leader that became popular in the 1950s.
Tupperware plastic storage containers were first created by Earl Tupper (1907-83), and they were a unique product because plastic was rarely used for home products at the time. Tupper, an inventor, gained access to plastic that the DuPont company no longer needed, and he began experimenting. He found ways to fashion plastic containers that he thought would be helpful in storing foods, and he developed a "burping seal" lid that he patented to "lock in freshness."
Though the product was useful and innovative, people were skeptical of plastic and stuck with their old methods of food storage which usually involved keeping food in metal or glass, neither of which could be sealed tightly for temporary storage.
The person who was to lead Tupperware to prominence was Brownie Wise (1913-1992), who proved to be masterful at implementing a direct sales method that led to skyrocketing company sales and domination of the food storage market.
About Brownie Wise
Born Brownie Humphrey in a small town in rural Georgia, Brownie's parents divorced when she was young and her mother, who had been a hat maker, traveled a good deal when she became intent on organizing a union to protect hat makers. Brownie was left in the care of an aunt who was a dressmaker.
In 1936 Brownie won an art contest, and because of this she was invited to paint a mural at the Texas Centennial in Dallas where she met Robert Wise. Later that year, Brownie and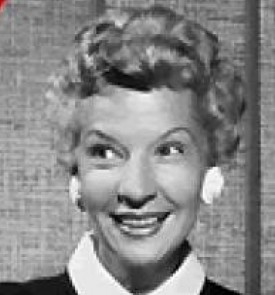 Robert married and moved to Detroit where Robert Wise became a machinist. Brownie gave birth to their only son but within three years, the couple divorced leaving Brownie to raise their son on her own.
To support herself and her son, Brownie took various jobs including ones at an ad agency and a millinery shop. She still needed extra cash so Brownie became a sales representative for Stanley Home Products. The company sold cleaning supplies, kitchen necessities, and mops and brushes via home parties that could be scheduled around her other work commitments. (The home party sales technique had actually been pioneered by Norman W. Squires (1908-2006) who worked for Aluminum Cooking Utensil Company of America; Squires moved to Stanley Home Products where he introduced the method there. He was eventually hired by Earl Tupper and started a Hostess party division but did not stay with the company for long.)
Brownie excelled at selling Stanley Home Products, and she and a few other reps began adding in Tupperware products to their home party system. By explaining to women the benefits of plastic and demonstrating how to "burp" the lid to get an airtight seal, Brownie did extraordinarily well selling the product.
Her sales results caught the attention of Earl Tupper who soon recruited her to run his marketing program and be vice president of the company. Tupper and Wise removed Tupperware from store shelves and switched it to be sold exclusively on the home party plan.
Growing the Company
In neighborhoods where the Tupperware company was trying to get a foothold, they would send a representative door to door to ask housewives to run a "carrot experiment." A few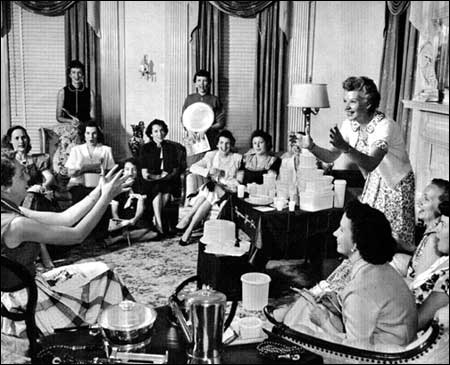 carrots would be placed in a Tupperware container and several other carrots would be placed in whatever the housewife would normally have used for storage. Several days later the representative would return to compare freshness; most of the time, they gained a new recruit to work as a Tupperware party-giver and sales representative.
Wise also developed what she called Tupperware's Jubilee, a four-day sales meeting that included motivational speeches, entertainment, and new product introductions. Wise incentivized her sales force by offering extraordinary gifts such appliances, trips, and even a speedboat or two.
In 1951 Wise had about 200 women selling Tupperware; by 1954 the sales force had grown to over 9000. This extraordinary growth led to her begin featured on the cover of Business Week magazine.
For several years, Wise was the face of the company; Earl Tupper preferred to avoid the limelight, but in late 1957 there was a power struggle and the board of directors forced her out. Wise sued but settled out of court for about $30,000. A few years later, Tupper sold the company for $16 million.
Wise went on to start several cosmetic companies employing direct sales, and later she invested in real estate but nothing ever brought the success that she achieved with Tupperware.
Today Tupperware is still marketed using the method begun by Brownie Wise with almost 2 million consultants worldwide.