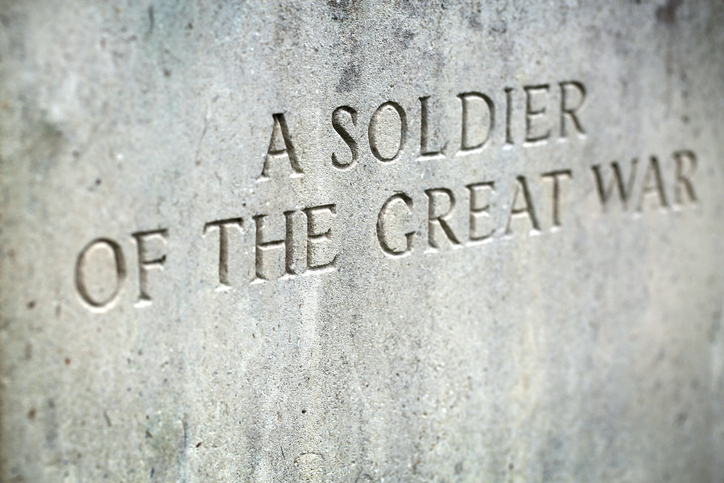 Nearly a quarter of the men who fought for America in World War I were foreign born, including many Asian Indians who arrived in the U.S. seeking education, a better life, and freedom from British domination of India.
It is no surprise that people from India made their way to the United States. Goods from that part of the world, including cotton, indigo, silk, maize, tobacco, spices, and opium, were imported from there as early as the colonial era. It was only natural that the people would come, too.
Why They Served
Almost 40 different ethnic groups served in the U.S. military during World War I. Each group had their own reasons for answering America's call. For Asian Indians in America, military service to protect civil life was part of India's heritage. It was felt that the rigors of military training taught punctuality, courtesy, dignity, faithfulness in performing duties, and thereby, established good character. (The Reveille, January 1909.)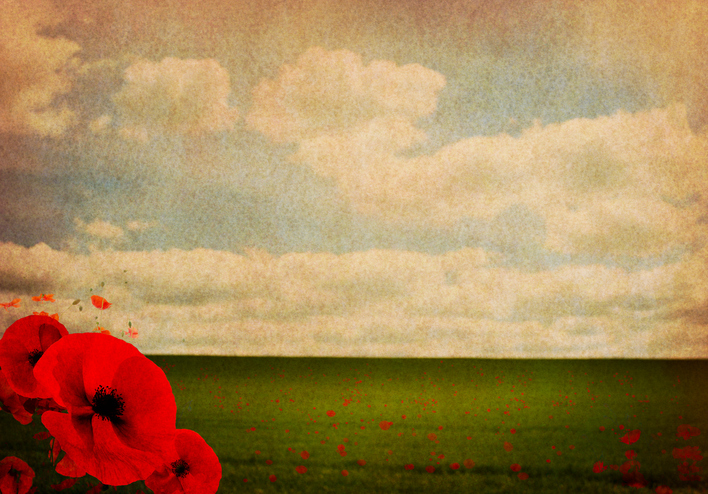 In another publication, the editor of Young India (October 1918, volume #10) wrote: "We hope the majority will not shrink from joining the army." The British Consulate announced that exemptions from service could be made for British citizens in the U.S., but the editorial noted: "There is nothing like being a unit of a democratic force, fighting for democracy, with equal chances of promotion and advancement regardless of colour, creed, and caste."
Representing a different interest, press baron William Randolph Hearst used his newspaper empire to advocate that newcomers should go to war for their new country to spare Americans. Hearst wrote that if we send "All-American" boys to the Western Front, these "birds of passage" — will take American jobs and toil in profitable safety while "real Americans" die in France.
Others saw service as a tool of assimilation. Franklin D. Roosevelt, then assistant secretary of the Navy, said: "The military tent will rank next to the public school among the great agents of democratization."
In his work for the World War I Commission, Tanveer Kalo assembled names of many soldiers who served the U.S. during the war.  Many of the Asian Indians went on to be dignified members of their community—the kind of people who represent all that is good in this country.
Here are three of their stories:
Dr. Karm Chandra Kerwell: Physician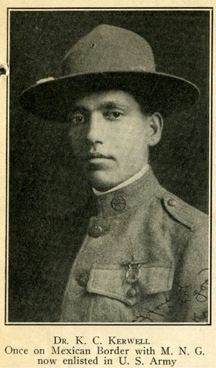 Dr. Karm Chandra (K. C.) Kerwell was born in 1889 in Lahore, Punjab, British India. He came to the United States to study medicine, enrolling in the University of Michigan at Ann Arbor.
While still a medical student, Kerwell signed up for the Michigan National Guard. During that time, he was sent with his unit to serve along the Mexican border. Later, when the U.S. was clearly going to enter World War I, Kerwell enlisted in the U.S. military (July 1917). By then he was 28.
After the war, Kerwell returned to Ann Arbor to complete his degree, and he heard of a job opening in the upper peninsula of Michigan. The Spanish flu was spreading throughout the U.S., and a doctor in Stephenson, Michigan, needed help.
Dr. Kerwell remember the date of his arrival in Stephenson—December 14, 1919. He noted that the temperature was 15 degrees below zero, and the ground was covered with four feet of snow. In an article published in a Green Bay newspaper (Green Bay Press-Gazette) Kerwell told the reporter he had planned to stay for a couple of years and "then look for a job in a better climate."
As it happened, he stayed for a lifetime.
What Kerwell Found in Stephenson
The Green Bay Press-Gazette featured an extensive interview with Dr. Kerwell in 1970. The community was honoring him for a lifetime of service. In the article, Kerwell reminisces about what Stephenson was like when he arrived in 1920.
The town was a remote logging town that was hard hit by the Spanish flu then. But pneumonia, logging accidents, and new babies also kept Dr. Kerwell and his employer, Dr. Sawbridge, busy.
Kerwell was proud of owning a Model T in the early 1920s, but he rarely got to use it. Though house calls were the norm at that time, roads were bad. Dr. Kerwell and Dr. Sawbridge frequently traveled by horse and cutter in the winter or by team and surrey in better weather.
Because of travel difficulties, surgery and births were generally managed in the home. The doctors always carried their surgical equipment with them. They would then rig up the best lighting available and carry out the procedure, usually in the kitchen.
Getting the Doctor
In 1920, Stephenson did not yet have telephone service. Word had to be sent to town, or sometimes when the doctor arrived at one house, he would be told that another neighbor also needed him. Occasionally, train crews carried messages from station to station until the information reached Stephenson. Only then would the doctor know to start his trip to see the patient.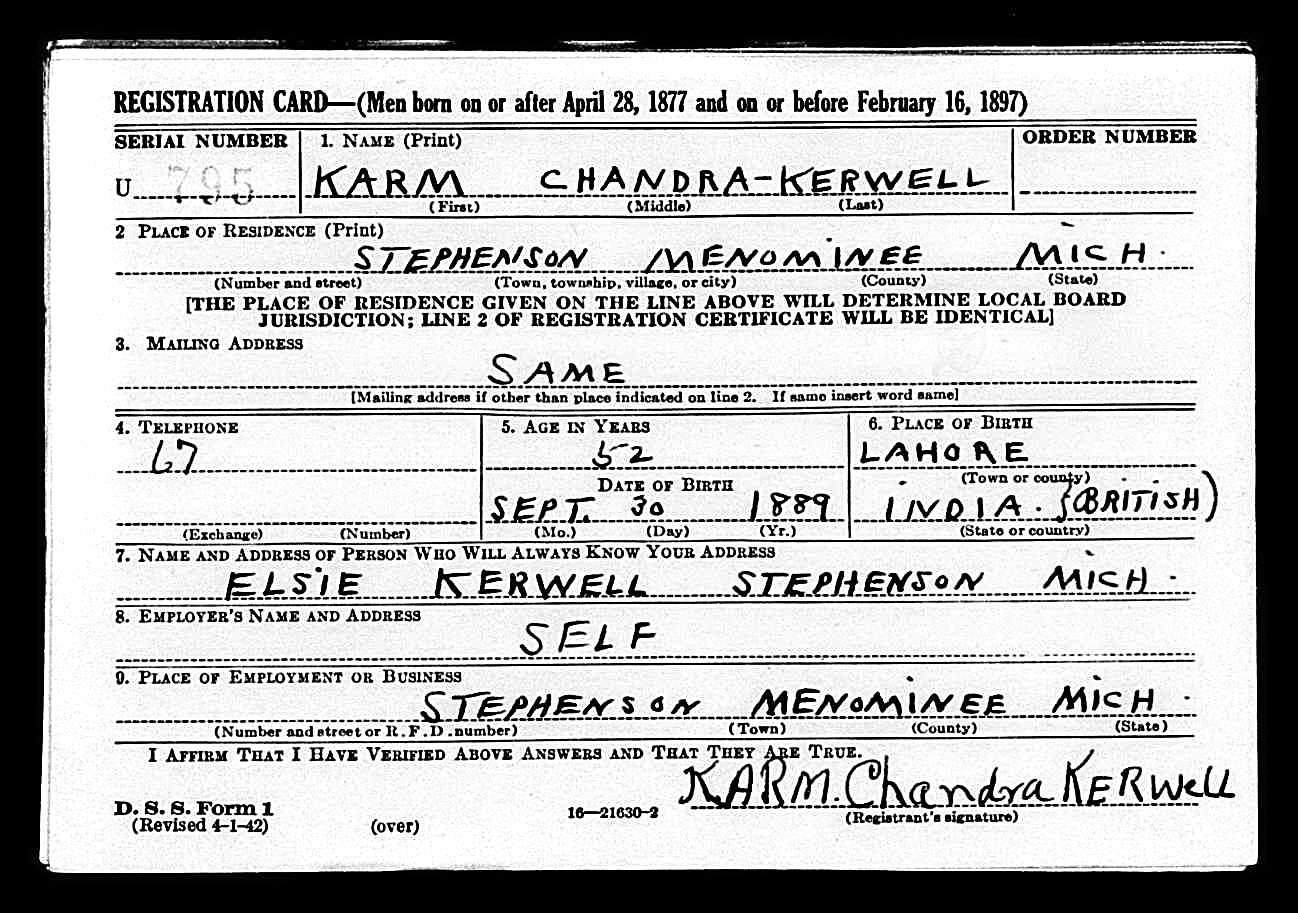 In 1931, one of Kerwell's cases made news. In an incident reminiscent of William Tell, a younger sibling agreed to let his 17-year-old brother shoot a glass bottle off his head. The older brother marked off 10 paces and turned to fire his rifle. He missed the bottle but not by much. The bullet grazed the head of the younger boy, embedding in his scalp. Dr. Kerwell treated the wound, and the boy recovered. (Ironwood Daily Globe)
Despite his original intention to move on, Dr. Kerwell came to love the area. He joined the Mid-County Men's Club, the Twin City Medical Society, Stephenson Masonic Order, and the Michigan Medical Society.
He married in 1932, and in 1937, he and his wife adopted twins. They owned a cottage near Shaker Lakes where he loved to hunt and fish.
Dr. K.C. Kerwell died at age of 83 on October 6, 1972. He is buried at the Stephenson Township Cemetery.
Colonel Pashupati Joseph Sarma: Surgeon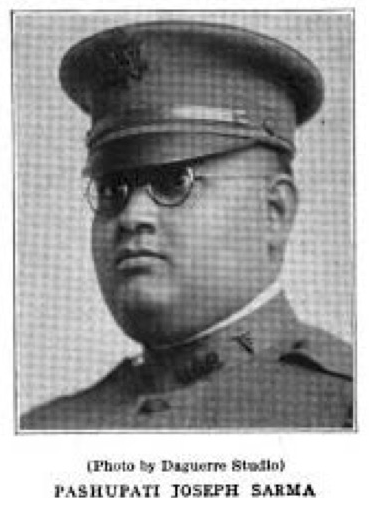 Colonel Pashupati Joseph Sarma was born 1893 in Calcutta, British India. During his teen years in India, he became politically active, writing and speaking out against British rule. The British police, aware of Sarma's published writings, pursued him.
Sarma knew he was in imminent danger, so without telling his family, he traveled to Bombay and found work aboard a ship sailing for Europe. Just before departure, he was able to get a letter off to his mother, explaining where he was and promising that he would bring honor to the family.
The overseas trip on the ship, the Mauretania, changed his life. According to his grandniece who shared memories of her relative with Tanveer Kalo of the World War I Commission, Sarma was befriended on the trip by a British doctor. The doctor was on his way to America, and encouraged Sarma to continue on rather than debarking in England as Sarma intended. The doctor assured Sarma that the United States offered more opportunity.
Arrival in New York
Sarma was 20 in 1912 when he arrived in New York. He knew an education was important and found work to pay for college and medical school. In 1916, he graduated from Hahnemann Medical School in Philadelphia with training as a surgeon.
He served in the medical corps of the U.S. Army during World War I. By the time of his discharge, he was a First Lieutenant. He also opted to remain in the military reserves.
After the war, he lived in Chicago. He married, had a private surgical practice, and was on staff at various medical institutions in the area, including Loyola Medical Center and later, the University of Illinois College of Medicine, among others.
Sarma and his wife remained in close contact with his family in Calcutta. They provided financial help for several members of the family to come to the U.S. for an education.
In 1941, Sarma was among the reservists called to active duty. He was sent to Camp Barkeley Hospital at Fort Sam Houston in Texas, to be in charge of the surgical department. The hospital was one of the largest military hospitals in the U.S. during the war.
In late 1942 while still serving in Texas, Colonel Sarma had a heart attack and he died on January 21, 1943. He is buried at Arlington National Cemetery in Virginia.
Nikanth Chavre: Automotive Engineer and Business Speaker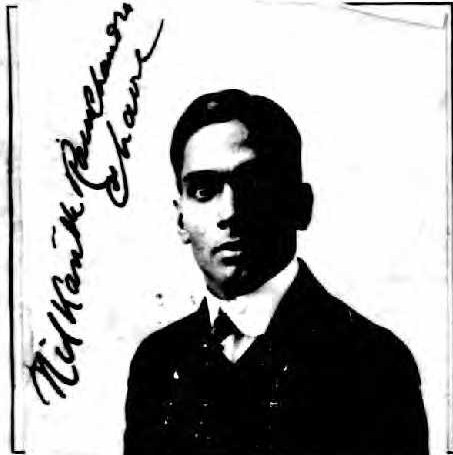 Nikanth Ramchadra Chavre was born in Vaduj (a small village near Kolhapur), British India in 1895. He arrived in the United States in February of 1916. Chavre made his way to Ann Arbor, Michigan where he studied engineering at the College of Engineering and Architecture at the University of Michigan. In 1917, Chavre, still an engineering student, registered for the draft and joined the Student Army Training Corps.
After the war, Chavre returned to Michigan and got a job working for the Columbia Motor Company in Detroit. He married around that time, and he and his wife soon departed for a two-year stint in Bombay, British India. His return to India led to a connection with Mathatma Gandhi, who was working to liberate India from British rule. This gave him fresh perspective and knowledge of the country of his birth. Later, he brought this perspective as a speaker back to the U.S.
Upon returning to Michigan, he was recruited by Ford Motor Company for a five-year project in the Soviet Union. He was hired to travel there to provide technical support in building the Gorkovsky automobile manufacturing plant.
After this assignment, Chavre returned to the U.S., this time settling in Foster, Ohio, where he worked as a civil engineer. In Ohio, he became active with the local Rotary Club. During the 1940s and 1950s, he traveled on behalf of the club, speaking to other Rotary Clubs on international business issues, and also conducting leadership training on these trips.
Chavre also created a scholarship program for Indian women to come to the University of Michigan to study engineering.
Nilkanth Ramchandra Chavre died in Seattle, Washington, in December of 1972.
They Are Patriots
In reading about just three of the many foreign immigrants that served the U.S. in World War I, we are reminded of the words of the late John McCain:
"We should all be guided by the principle that any American who wants to serve our country and is able to meet the standards should have the opportunity to do so – and should be treated as the patriots they are."
***
For more information on some of the immigrants who served in World War I, click here.
And to read about other soldiers from WWI who are featured on this site, start with Henry Johnson.