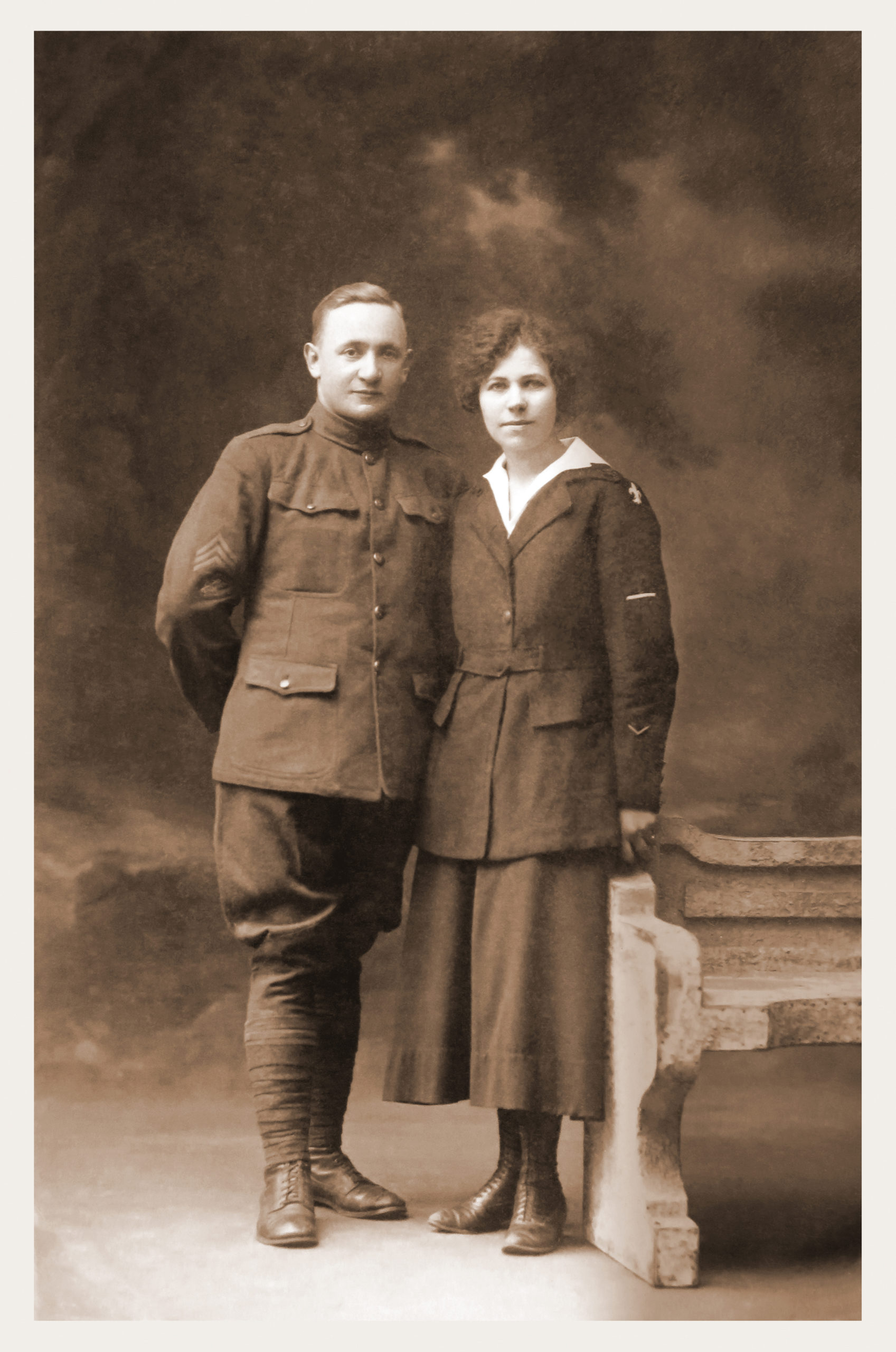 In World War I telephone operators were needed in Europe. General John J. Pershing, commander of the American Expeditionary Forces during World War I, quickly saw that women—American women–would be better at telephone work than the men. The Signal Corps was all male, and they were not only assigned to string lines but to handle all communications and were not doing well at the task.
A call was put out throughout America for women to serve in Europe as operators. The preferred candidates were fluent in French and English.
Background on the  U.S. and the War
When the U.S. entered the war in the spring 1917, the U.S. Signal Corps was immediately tasked with stringing new telephone lines. The communication system in war-torn Europe was in shambles. General Pershing even made sure that telephone elements were part of the equipment he brought with him on his arrival in Europe. He knew this was a priority.
As Pershing waited for the system to become operational, he saw that the men were skilled at stringing the lines. However, he noted they were slow and impatient when it came to plugging and unplugging the calls, as operators had to do at that time. The French offered their operators. Pershing tried the French women in the jobs for a time, but the women were not as adept as American operators, and the language difficulties were very frustrating.
Ads Sent Out in U.S.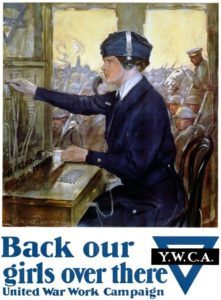 In November of 1917, Pershing ordered that advertisements be run across America, seeking bilingual women operators—or bilingual women who were willing to be trained. One thousand seven hundred fifty applied; 450 were accepted for training; only 223 qualified to serve.
Marguerite Martin (1894-1959), a resident of San Mateo, California, was among those chosen for training.
She had an ideal background. Her father was a Frenchman who contracted yellow fever when working to help build the Panama Canal, long before she was born.  He was sent north to San Francisco to recover. While there, he met another French immigrant whom he married.
Together the French couple set up a happy household and soon had seven children—one son and six daughters, one of whom was Marguerite. When the only son died from illness, Marguerite's mother was distraught. She had a mental breakdown and was unable to function. Her father could not raise six girls on his own, so he turned to the church and placed all six daughters in the Catholic orphanage in San Mateo. (During this era, orphanages were frequently used even when there was a living parent. Lee Duncan who served in World War I and found Rin Tin Tin grew up in an orphanage though his mother was alive.)
Bakery Delivery for Orphanage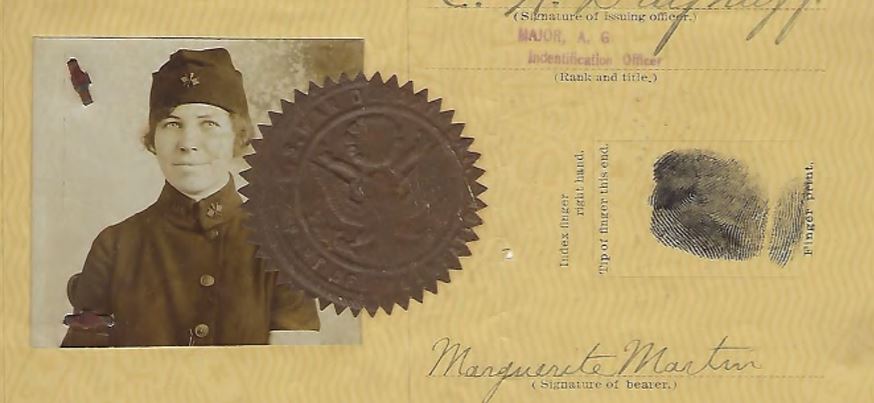 The story now turns to a man named Felix Anthony Rivera. (This story was shared with me via documents and family history by Patrick Lundquist, a Vietnam veteran, who was exploring the family papers after the death of his own mother.)
Lovera (1890-1964) was an Italian immigrant who came to San Francisco in about 1907. He got work as a delivery boy at a bakery, and as he helped in the kitchen, he also learned about baking bread.
The orphanage was among the bakery's customers, and one day in 1914, Lovera arrived with the bread for the orphanage. Marguerite was the young woman who accepted the delivery, and Felix was smitten.
The two became friends, but Marguerite refused all overtures of marriage as Felix was not a U.S. citizen.
The U.S. Enters World War I
In 1917 when President Woodrow Wilson made the declaration that the U.S. would enter the war, Lovera saw his opportunity. Immigrants were being recruited with the promise of citizenship for those who served. He signed up on June 6, 1917.
It is often said that an army travels on its stomach. Because of the truth to this, bakers and cooks were in high demand. Lovera was enlisted with the rank of Sergeant in the Quartermaster Corps. These men were also so designated as they were always in harm's way.  The kitchens needed to be close to the front lines in order to feed the men. With no preservatives used in bread at that time, all baking was also done close to enemy fire.
Call for French-Speaking American Women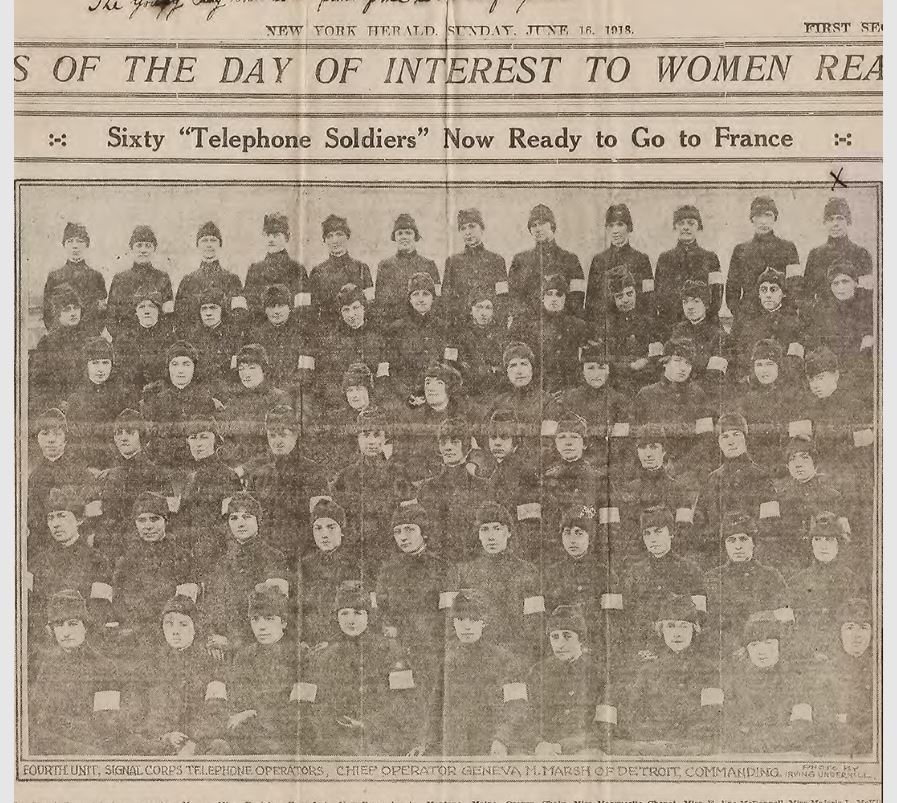 According to her grandson Pat Lundquist, this was a difficult time for Marguerite. She worried about Felix and wished for his safe return.
Then in November of 1917, Marguerite found a newspaper ad asking for French/English-speaking women to train as operators to serve in France. As the daughter of French immigrants, Marguerite was fluent in French. She saw this as an opportunity to serve her country and be closer to Felix.
Trained and Then Sent to Europe
Told to bring about $500 for her uniform and supplies, Marguerite arrived for training and was among those selected to serve. They were given the Army oath of office, and in June 0f 1918, she boarded a transport bound for Europe. The journey was long and difficult. The Germans used submarines to torpedo ships on their way to France. The captain steered defensively in an effort to avoid the torpedoes, though they did encounter and had to fire on a submarine as they neared shore.
Marguerite and the other women landed in England before being transported to France. Once in the French capital, they worked long shifts, plugging and unplugging calls. The military immediately saw a difference—the operators were soon managing three times the number of phone calls the men handled.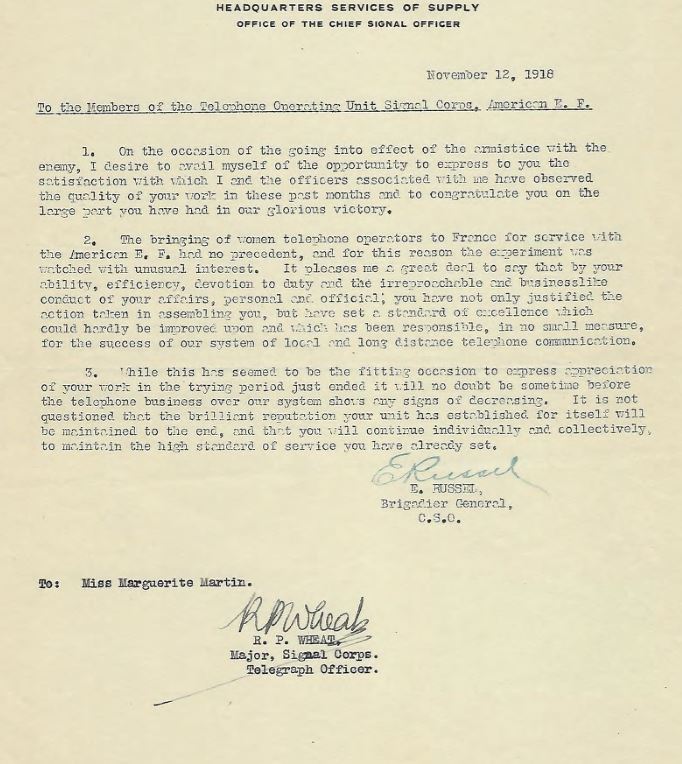 There was nothing routine about the work. Each day the priorities changed. If a certain unit was going into—or coming out of—battle, then that commander's calls needed to be a priority. The women had to keep all of this information straight in order to do their jobs.
Speaking French and English was also imperative. Sometimes, they were also held on a call in order to translate.
Marguerite was primarily based in Paris, but her grandson reports that her diary reflects artillery fire and nearby bombing, and occasional direct hits where citizens were killed. There was nothing easy about the work.
Armistice!
The Armistice established on November 11 was welcomed by all. Thank-you letters were sent out to many, and over time, troops began to be sent home.
Among the most significant letter to the women was one written by the Signal Corps Brigadier General on November 12, 1918—right after the Armistice. He expressed deep gratitude for their work, but noted that the telephone operation would still be needed for a few months—none of the women would go home immediately. He also wrote:
"The bringing of women telephone operators to France for service with the AEF had no precedent, and for this reason the experiment was watched with unusual interest. It pleases me a great deal to say that by your ability, efficiency, devotion to duty and the irreproachable and businesslike conduct of your affairs, personal and official; you have not only justified the action taken in assembling all of you, but have set a standard of excellence which could hardly be improved upon and which has been responsible, in no small measure, for the success of local and long distance telephone communication."
There was also a handwritten letter from Windsor Castle bearing the signature of his Majesty King George. It was sent to members of the Signal Corps for their work on England's behalf.
A Lovely Discovery
As grandson Pat Lundquist pored over the materials saved by his grandmother, he came upon something intriguing. He realized that Marguerite and Felix met up while still in Europe.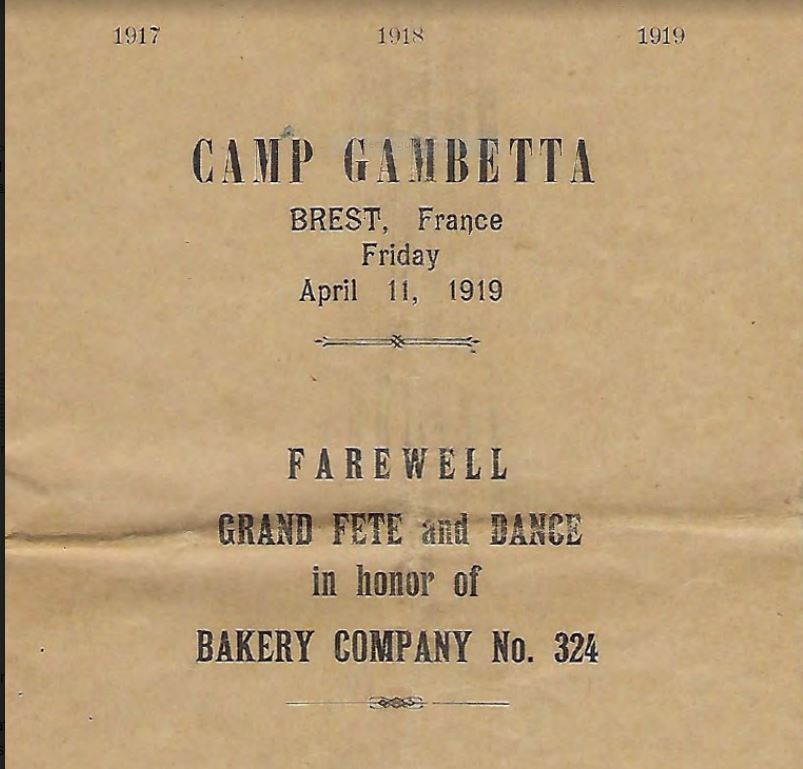 In her effects was an invitation to a Grand Fete and Dance in the port city of Brest, France, in honor of Bakery Company #324. The event was scheduled for April 11, 1919, just before Felix's bakery unit was set to sail home.
Lundquist also found that Marguerite had requested leave to travel to Brest, on or about March 28, 1919.
Next he found a photograph of Felix and Marguerite, both together in uniform and he points out: "Marguerite is wearing a wedding ring on her left hand."
Home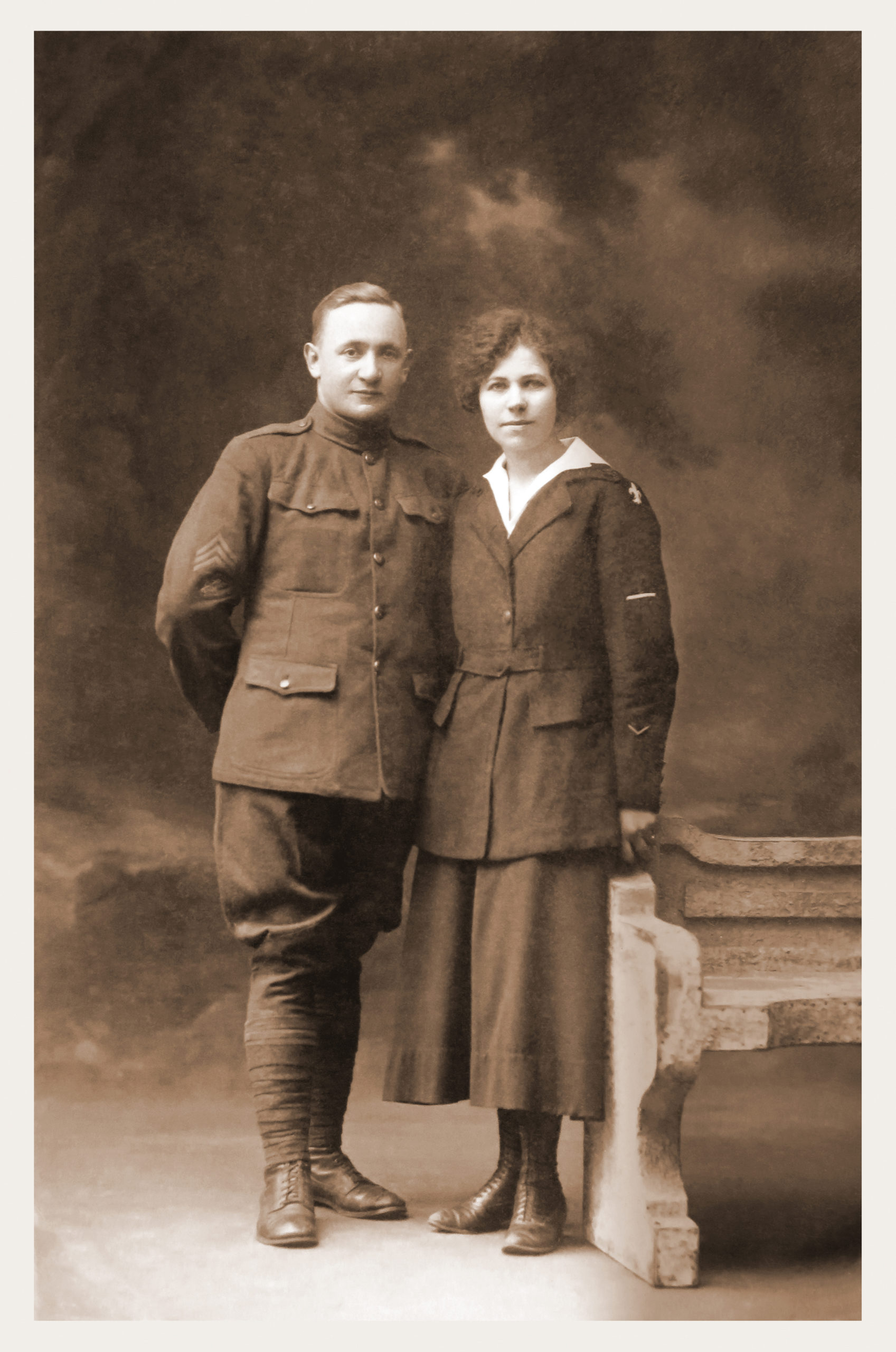 Felix Lovera was soon on his way home but Marguerite's unit was not relieved until August 6, 1919. Upon their discharge, the operators received official communication from General John J. Pershing, thanking the women who helped win the war. "The part played by women in winning the war has been an important one," Pershing wrote in General Orders April 30, 1919.
Marguerite Martin arrived home safely. She and Felix established a household together and bought a home in San Mateo, California, where they raised a son and a daughter. Both served in World War II. The dedication to duty continued on into future generations. Grandson Patrick Lundquist was a Vietnam veteran, and two great-grandsons served in the military as well.
Were the Women Operators Veterans?
During World War I, the women who served as operators were given every reason to believe they were members of the military. They took the Army oath of office, wore Signal Corps uniforms, and obeyed all military laws.
But in March of 1918—in plenty of time to inform the women—the legal counsel of the Army ruled that the women were not soldiers; they were contract employees. The women were never informed of this new definition of their status, one that would make them ineligible for veteran benefits.
This rude awakening occurred on their homecoming. When they were issued different discharge information and given different certificates of service, they realized what had happened.
For the next 60 years, female Signal Corps members, led by Merle Egan from Montana, petitioned Congress more than 50 times for recognition as veterans. Finally, in 1977, the statue was changed, and in in 1979, the women were finally granted the veteran status they deserved.
By that time, only 33 of the operators who served during World War I were alive to receive their Victory Medals and discharge papers.
Belated Recognition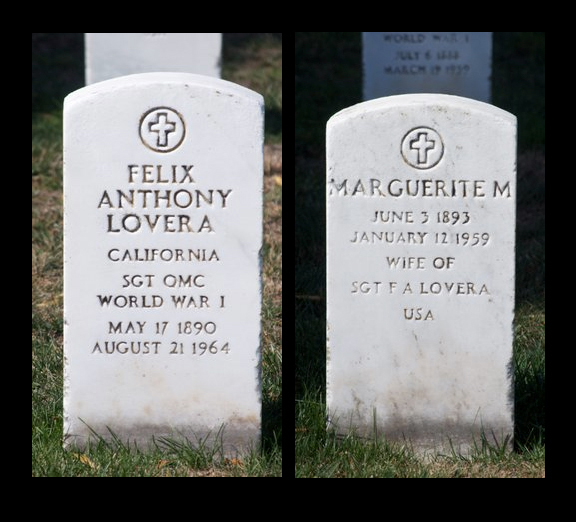 Marguerite Martin Lovera died in 1959, long before this acknowledgement.
Pat Lundquist was reminded of this, when he saw the photograph of his grandparents's headstones. Though his grandparents are buried side-by-side in the Golden Gate National Cemetery, only Felix's headstone bears any notation as to military service.
Patrick Lundquist wanted to correct the record. He pulled together his grandmother's documents as well as all pertinent statutes that defined those who qualified as veterans, and he contacted the cemetery.
Good News
He recently received good news. In December his grandmother's headstone will be replaced by one reflecting her military service.
And Lundquist continues the fight for more recognition for the World War I telephone operators and Signal Corps members. Currently a bill is before Congress that, if passed, would recognize the Signal Corps women with a Congressional gold medal.  He continues to stay in touch with government representatives, urging that this get done.
To read more about the WWI telephone operators—the Hello Girls—click here. 
Many thanks to Pat Lundquist for trusting that I would take his story seriously and handle it well. I love the stories I learn from readers.