First African-American woman to get a patent
Sarah Jacob was born into slavery in about 1850; she gained her freedom at the end of the Civil War and moved to Chicago shortly after.  In Chicago she met and married Archibald Goode, a carpenter.
The idea of being married to a carpenter and starting a furniture store must have seemed natural, there would have been nothing natural about a woman, a former slave, running the shop.  Despite this, Sarah built a thriving and well-known business.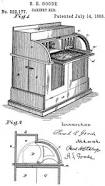 In working with her customers, she heard their needs and that led to her invention: a cabinet bed or a fold-a-way bed.  Her customers lived in small apartments and needed to maximize their space.  Sarah worked out a design for a bed that could be used for sleeping during the night but converted into a rolltop desk during the day. The bed, complete with mattress and spring support, was attached by hinges and could be raised or lowered as needed. Because it was a rolltop it also provided storage.
Sarah Goode and First Patent
On July 14, 1885, Sarah E. Goode, became the first African American woman to be granted a patent by the U.S. Patent And Trademark Office (Patent #322,17), for her invention, the cabinet bed. Today we have the Murphy bed and the hide-away bed/couch as a result.
Sarah Goode died April 8, 1905.

Not much else is known about Sarah Goode's life or her store, but as I kept looking I did find an interesting footnote of sorts…  While there have been many African-American inventors of both genders since Sarah' s time, I thought I would mention just one other woman I found: The first African-American woman doctor to patent a medical device was Patricia Bath (1942-  ).  She grew up in Harlem; her father was the first African-American subway motorman. She overcame color and gender barriers to becoming a doctor, and in 1988 she received a patent for a device she had been working on for 8 years., a Laserphaco Probe.  This is a laser device that removes cataracts easily and makes it easy for the ophthalmologist to insert a new lens.  Bath is still alive and continues to work on improvements.  She holds three patents on the laser device and in 2000 she was granted a patent for a device to remove cataracts using ultrasound.
Another great accomplishment for which we can be grateful.
To read about another important African-American woman who was an inventor, read about Marjorie Stewart Joyner, who invented a hair-waving machine.