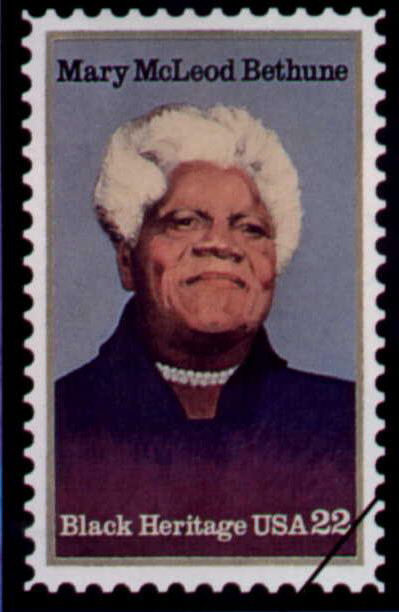 Made great progress for African-Americans in the fields of education and civil rights
Consultant to four presidents; most significantly FDR for establishing the Federal Council on Negro Affairs
First black leader and first woman to have a monument in a public park in Washington DC (1974)
In 1989, Ebony Magazine included Mary McLeod Bethune as one of 50 most important figures in Black History
Mary McLeod Bethune was one of 17 children born to former slaves, Samuel and Patsy McLeod.  The family lived in Mayesville, South Carolina, and growing up, Mary worked in the cotton fields along with the whole family.
She was eleven before there was a school for African-Americans that was somewhat close by. Even then Mary had to walk more than four miles each way to attend school.  A few years later, a benefactor offered to pay the expenses for one child to attend Scotia Seminary in North Carolina. Mary was selected by her teacher because she was an excellent student. She went on to earn a scholarship to the Moody Bible Institute in Chicago where she was the only African-American student.
She applied but was turned down for a missionary program in Africa but was sent to Sumter, S.C. where she taught for two years. She met and married Albertus Bethune in 1898, and they had a son, Albert in 1899.  The marriage did not work out so Mary moved on to Palatka, Florida to manage a new mission school.  She volunteered at the local prison and also supplemented the family income by selling life insurance.
She wanted to do more for young black girls so she moved to Daytona and in 1904 she opened the Literacy and Industrial Training School, where she had a student body of five girls plus her son. The school was in a small cottage for which Bethune had scrounged furniture but she made it work. Each child paid fifty cents a week in tuition. Before long, she also had several boarders and needed more space. Bethune and the students began baking sweet potato pies to sell to railroad workers, and within three years Bethune was able to relocate the school to a larger facility.  In 1923 the school became coeducational when it merged with Cookman Institute of Jacksonville, Florida. Eventually it became Bethune-Cookman College.
The Importance of the Vote
Women's suffrage was a hot issue in the early twentieth century.  In the South, African-American men were not actually permitted to vote so there was not much Mary could do until the passage of the 19th Amendment in 1920.  Once the amendment passed, she held night classes to help African-Americans prepare for the literacy test that was administered in many Southern states, and she went door-to-door to raise funds for the poll tax African-Americans would be required to pay in order to vote. Despite a visit from the Ku Klux Clan, Bethune led a procession of one hundred African-Americans to the polls that election day so they could vote for the first time.
In New York she founded the National Council on Negro Women in 1935. A year later she became a presidential advisor when Franklin D. Roosevelt appointed her Director of Negro Affairs for the National Youth Administration, making her the first African-American woman to head a federal agency.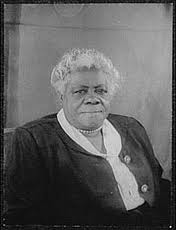 Her goal was to see African-Americans fully integrated into American life.  To that end, she gathered a group of prominent men at her apartment in for informal discussions; the group eventually became the Federal Council on Negro Affairs.
As World War II threatened, Bethune spoke out vehemently when African-American women were not going to be participants in the national advisory council of the Women's Interest Section of the War Department. She eventually won this battle, and as a result, African-American women were able to become officers in the Women's Army Auxiliary Corps when it was established the following year.
Her Pledge
When she founded the National Council on Negro Women in 1935, she wrote a pledge to the U.S. that is worth repeating:
"It is our pledge to make a lasting contribution to all that is finest and best in America, to cherish and enrich her [America's] heritage of freedom and progress by working for the integration of all her people regardless of race, creed, or national origin, into her spiritual, social, cultural, civic, and economic life, and thus aid her to achieve the glorious destiny of a true and unfettered democracy."