First African-American woman employed to carry the U.S. mail;
Traveled the mail route for central Montana for more than ten years.
Mary Fields was born into slavery in Tennessee in about 1832. She received her freedom when the war ended and slavery was outlawed but she stayed near her original owners, the Dunn family, as she and the Dunns' daughter had become good friends.  When Dolly became a nun and moved to Toledo, Ohio, Mary joined her there.  A good number of years later, Dolly, by then known as Mother Amadeus, took a position at a school for Native American girls in Cascade, Montana.  In 1885, Mother Amadeus became quite ill and asked that Mary be summoned from Ohio.  Mother Amadeus had pneumonia and she wanted the comfort of her childhood companion.
Mary Fields was well-suited for the West.  She was about 6 feet tall and weighed about 200 pounds. In addition to her size, her style made her stand out.  She wore trousers under her skirt and apron in order to keep warm; her apron was also handy for hiding her gun, which she was not afraid to use.
After Mother Amadeus got better, Mary stayed and began taking care of repairs to the school, doing chores, and hauling supplies from the rail station to St. Peter's Mission. She was a valued staff member, but unfortunately, Mary was known to speak her mind.  After a brawl in town over a harness, the bishop was so outraged by her behavior that he insisted that she be fired.
Shortly after this, the U.S. Postal Service was looking for someone who could handle the mail route in central Montana.  Mother Amadeus, who felt terrible firing Mary, may have put a good word in for her, or maybe the government just realized Mary was highly capable of handling the job.  One way or the other Mary was chosen to be the one to drive horses and wagon (and her mule Moses) on the central Montana mail route.  The weather never stopped her, though if the snow was too deep, she left the team at home and delivered the mail on foot.  Her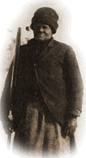 personality and integrity earned her the name Stagecoach Mary.
After ten years of delivering the mail, Mary decided it was time to retire, and she settled down in Cascade and opened a laundry. She often ended her day with a drink and a cigar at the local saloon with the men of the community. There, she earned respect for her business savvy. One day a fellow who had not paid is laundry bill came into the saloon; Mary saw him, stepped up behind him and knocked the man down with one blow. She then put her foot on his chest and wouldn't let him up until his bill was paid. After that, customers made sure their laundry bill was paid up.
She loved baseball and before each town game, she  presented the players with buttonhole bouquets from her garden; she also would help out the local mothers if they needed someone to watch their children.
She was known and loved in town, so when cowboy artist Charles Russell lived in Cascade for a time, he couldn't resist sketching a pen-and-ink drawing called  A Quiet Day in Cascade, which depicts Mary being upended by a hog and spilling a basket of eggs.
The town adored her. They declared her birthday a holiday and closed the school on that day.
In 1914 Stagecoach Mary died of liver failure.  The whole town participated in her funeral.