Ardent abolitionist and advocate for women's rights
First woman to cover a story from the Senate press gallery
Jane Cannon Swisshelm was born in Pittsburgh in 1815. Her father was a Presbyterian minister who died when Jane was only eight.  Without him to provide for them, the family faced financial hardship so Jane had to quit school and work with her mother at lacemaking. When she was fourteen she was able to get a job as a teacher. (At a later date, I will investigate the changes in teaching requirements in American schools.)
At the age of 21, she married James Swisshelm, and they moved to Louisville where Jane began helping with the Underground Railroad.
In 1839 her mother became ill, and Jane left for Philadelphia where her mother was living. This was in direct opposition to what her husband wanted her to do.  Jane wouldn't be swayed, and she took care of her mother until she died.  It was another 18 years before she got a divorce, but after that, Jane Swisshelm began to create an independent life for herself.
Her writing career began with articles against capital punishment for an anti-slavery newspaper in Pittsburgh.  That paper went out of business, so in 1848 Jane founded her own paper, the Saturday Visiter (sic).  The newspaper eventually reached a circulation of 6,000, and in 1856 it was merged into the Pittsburgh Journal. In 1850 she began contributing a column to Horace Greeley's Herald Tribune, covering the tumultuous politics surrounding the Compromise of 1850. She became well-known during this time.
The Move to St. Cloud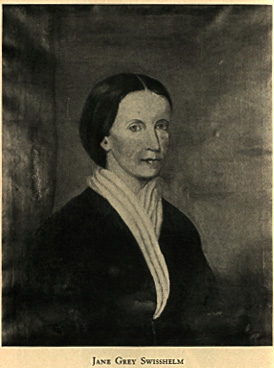 When her divorce came through in 1857, she moved to St. Cloud, Minnesota where she controlled a string of newspapers.  She wrote frequently about abolition and women's rights, including the fact that married women should have the right to own property. (Single women could own property but in the early 19th century, married women had no legal rights. This began to change on a state-by-state basis during the latter part of the 19th century.)  She also gave lectures on the causes that were important to her.
A major story that got a great deal of attention in Swisshelm's Minnesota papers was the presence of a slave-owning Southern gentleman named General Sylvanus Lowry. Lowry had moved into St. Cloud—a free territory–and maintained ownership of his slaves.  Lowry also ruled the political roost in the town of St. Cloud.
Swisshelm took him on, writing regularly about his ownership of slaves and other misdeeds.   To retaliate, Lowry, who was under consideration to be Lieutenant Governor, formed a "Committee of Vigilance" that broke into the newspaper offices, smashed the printing presses, and threw parts of the machinery into the nearby river.  Swisshelm stayed in business and intensified her attack;  over time, Swisshelm's voice was heard.  Lowry died in obscurity.
When the Civil War began and volunteers were needed for nursing, Swisshelm went immediately and was among the first to respond.  She worked throughout the war.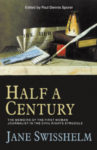 During a visit to Washington she connected with an old friend from Pittsburgh, Edwin M. Stanton, who was Secretary of War.  Stanton offered her a clerkship in the government, and so she sold her Minnesota papers and moved to Washington.  While living in D.C., she became friendly with Mary Todd Lincoln, and it is rumored that Swisshelm was the person who helped Elizabeth Keckley, Mary Lincoln's seamstress, get her book published.  (As noted in a previous entry, Keckley meant to help Mary Lincoln, but she was viewed by the white women of D.C. as having forgotten her "place" by writing a book.)
After the war Jane Swisshelm started her last newspaper, the Reconstructionist, which criticized  President Andrew Johnson's ineffective efforts at re-building the country.  As a result, she quickly lost her government job and eventually the paper went out of business as well.
Swisshelm continued to write, living at her home near Pittsburgh.  Her autobiography, Half of a Century, was published in 1881.  Swisshelm died in 1884.