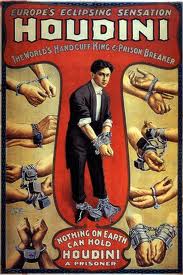 Though he died almost 90 years ago, Harry Houdini (1874-1926) remains a well-known figure to Americans of all ages. Other magicians, David Blaine, Doug Henning, David Copperfield, and Penn & Teller among them, have performed many of the magic acts originally introduced by Houdini, but Houdini lives on as a cultural icon. He performed at a time when little was documented on film so audiences flocked to theatres, street corners, or bridges, wherever Houdini promised to perform. At that time — long before the era of "special effects" — seeing was believing.
When the crowds witnessed Houdini's escapes from handcuffs, chains, ropes, and straitjackets, or attended later performances when he perfected new feats like escaping from the Chinese Water Torture Cell or surviving a Buried Alive stunt, the people remembered Houdini and loved the new puzzles with which he presented them. Audiences were left scratching their heads and saying, "How did he do that?"
Houdini frequently emerged from his latest self-selected torture trap and would conclude his performance with, "Will wonders never cease?" Audiences in the early twentieth century must have wanted to answer: "We hope not!"
"Houdini: Art and Magic," is the first major art museum exhibition to examine Houdini's life, legend, and his enduring influence on our culture. The exhibit is currently at New York's Jewish Museum (1109 Fifth Avenue at 92nd Street) through March 27.
While most people have knowledge of Houdini as an escape artist or magician, few people probably know much about the man. A recent visit to the exhibit told a very interesting story. While Houdini may seem exotic and "of another world," his story is actually very much an American story of an immigrant who made good.
I hope you'll visit the exhibit when it comes to a city near you, but here are five mysteries revealed through the exhibit that I'll share with you:
1. Who was Harry Houdini? Harry Houdini was originally Ehrich Weiss from Budapest, Austria-Hungary, one of seven children born to Rabbi Mayer Samuel Weiss and his wife Cecelia. Rabbi Weiss brought his family to the United States in 1878 when he was offered a position with a reform congregation in Appleton, Wisconsin. Ehrich was called "Ehrie," which he eventually transformed into "Harry." In 1887 the family moved to New York City, which must have greatly improved Ehrich's opportunities for performing.
2. How did Houdini get so good at getting out of handcuffs? According to the museum exhibit, Ehrich's family needed extra money, so while he was growing up, Ehrich apprenticed to a locksmith where he learned a great deal about the mechanics of locks. A museum placard also notes that Ehrich had a sweet tooth so his mother locked up the baked goods. This gave Ehrich the opportunity to practice a skill that was to became an art form. He was also drawn to athletics; he ran, he swam, and he boxed, and this early regimen gave him the discipline to maintain a rigorous training routine required of being a magician and escape artist.
3. Why did he call himself Houdini? Ehrich thought highly of the French magician Jean Eugene Robert-Houdin, so he began calling himself Houdini in tribute.
4. Who was his first partner? His very first performances were with his brother, but he soon met and married a Coney Island song and dance performer named Bess Rahner, who became his performing partner as well. As Houdini began performing more special escapes, however, Bess was happy to fade into the background working more and more as a behind-the-scenes stage assistant.
5. Houdini died young (at age 52); did he die doing one of his stunts? The cause of Houdini's death has been much speculated upon. Some said he died in the Water Torture Cell. Others say he faked his own death but actually escaped. Experts now say that Houdini suffered from appendicitis and died of peritonitis. It is sometimes said that a backstage visitor punched him in the stomach to test his reputedly strong stomach muscles and that this caused his death. While the blows Houdini suffered were certainly not helpful, he did not seek medical attention for what turned out to be appendicitis, so the end result was not going to be good in any case.
After the exhibit closes in New York, it will travel to the Skirball Cultural Center in Los Angeles (April 28-September 4); the Contemporary Jewish Museum in San Francisco (September 30, 2011-January 16, 2012), concluding with an exhibit at the Madison (WI) Museum of Contemporary Art (February 11-May 13, 2012).