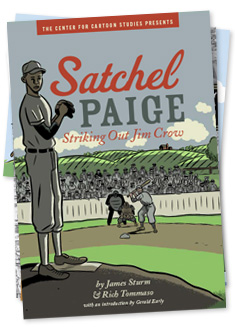 Comics used to be for kids, and nobody really approved of them. Whether the comics were about Archie, Richie Rich, or Batman, no one felt they had any redeeming value. Parents and teachers saw them as time-wasters that kept children from reading "real" books.
Then the world began changing. Will Eisner (1917-2005), known as the "father of the graphic novel," expanded his cartooning, and he began using sequential art to tell visual narratives that were of interest to adults. The first book of this type created by Eisner was "A Contract with God and other Tenement Stories." During the next decade, Art Spiegelman wrote his two-volume Maus, about Nazi Germany and the Holocaust, and in 1992, Spiegelman was given a special Pulitzer Prize for his work.
From that day forth, comics — graphic novels — took on a more literary reputation. Suddenly, "comics weren't just for children anymore."
And it hasn't been just literary comics that have pulled the attention of adults; they also flock to Comic-Con. In 2020, it will celebrate its 50th year. Attendance at this annual event is about 150,000 (and is limited by being held in the San Diego Convention Center, a quite large venue that the convention has actually outgrown). 
Authors, Publishers, and Educators
As educators have struggled to compete for children's attention with the new technologies and the graphic presentations of websites, they have come to realize that comics — graphic novels — are a great asset for school teachers and librarians. As a result, publishers are investing in producing these books on all types of subjects.
The Center for Cartoon Studies, a two-year MFA program in cartooning in White River Junction, Vermont, entered into a contract with Hyperion Books that appears to be a win-win relationship. Hyperion has thus far contracted with the Center for Cartoon Studies for historical biographies about Houdini, Satchel Paige, Amelia Earhart, Thoreau, and Annie Sullivan and Helen Keller.
"We knew we didn't want to create the equivalent of a Wikipedia entry with pictures, so we've shown students the process of researching these figures and selecting some compelling aspect of their story that can resonate with readers," explains James Sturm, director and co-founder of the Center for Cartoon Studies. "Our students get to observe and help with the process from concept through production."
Graphic Novel about Satchel Paige
Sturm and artist and writer Rich Tommaso worked together on "Satchel Paige: Striking Out Jim Crow," released in 2007. Satchel Paige's story is told in short scenes by a former Negro League baseball player. Through the narrator's eyes we experience the culture that not only barred African Americans from playing Major League baseball but also kept them from sitting in the stands at baseball games played by white players. Through words and pictures, readers feel the incredible power of Satchel Paige and witness how he understood just how to play the crowd, play the game, and then leave quickly. He was often expected the next day at another paying gig, but it was also safer for him not to stick around.
By choosing a former player to tell the story, Sturm and Tommaso are able to provide perspective on life for "coloreds" in this country in the 1930s and '40s where the narrator is regularly subjected to taunting by whites and harbors a very real fear of being lynched.
Through the sequential art, readers feel the tension of the various scenes, and perhaps because the words are so spare, they have more impact. When the lead character wonders aloud about the men who have threatened his family's security, he says: "How do men so small get so large? Who made it so?"
What more needs to be said?
Another Form of Storytelling
"Today instructors have come to evaluate comics as just another form in which to tell a story, and they ask 'what can comics do well that other forms can't?'" says Joe Sutliff Sanders, Ph.D., an assistant professor in the Children's Literature who will be speaking on comics at a Celebration of Teaching and Learning, a professional development conference sponsored by WNET and Channel 13 in New York City in March.
Sanders feels strongly that the nuances of literature can be discussed in a classroom when the focus is on a good graphic novel. "Students are less likely to be intimidated by a graphic novel; dramatic irony, point of view, and foreshadowing are just a few of the literary devices that can be viewed when discussing comics."
Sanders, who is currently at work on a book about classic orphan girl novels for Johns Hopkins University, first realized how strongly comics sometimes related to literature when he was taking a college honors class in mythology: "I kept knowing where the professor was going with the different myths; I was so familiar with the plot lines which are often re-told in super hero comics. Ultimately — albeit reluctantly — the professor let me write my paper on that topic."
The Value of the Graphic Novel
Other educators agree that graphic novels have value. "So many nonfiction text books assume a level of background knowledge that not all students have," adds Jill Lauren, a learning specialist in New York City. "When a graphic novel format is used, it brings the concepts into 3-D. Research shows that the more senses we activate with kids, the better they will remember what they read."
Joanne Kaminski, of the website, www.theskypingreadingtutor.com, says, "With graphic novels, children can jump into the past," she adds. "I also find it interesting that the wording used in many of these books is at a higher level than an author might have selected otherwise; they know that kids will also have picture clues for understanding the story.
"But ultimately, when you have kids who are struggling at reading, what you really want is to find something that excites them," says Kaminski.
Graphic Novels and Kids
Graphic novel artist and educator Alex Simmons, has a long list of professional credits in cartooning, voice-over work and teaching, but among his projects is an Imagination Literacy Program where Simmons works directly with kids as well as sharing his methods with teachers via professional development programs.
"When I work with students, we may read a graphic novel, but I also want them to create their own," says Simmons. "I've found that if students are introduced to the concept that drawing — even with something as simple as stick figures — is a way to get a story going, you have given them yet another pathway to explore.
"You can't build a house with just a hammer," says Simmons. "Teachers need many ways to engage students. Once you have them involved, they'll go on and explore something else. To take ownership of their actions today, they need to be able to imagine a future, and that's what I stress in my teaching."
In 2007, Simmons put together the first of what has become an annual Kids Comic Con with supplies donated by Canson Art Papers. "Kids meet professional artists, and they learn to create their own comic books; it really stimulates their imagination."
Simmons adds: "As a matter of fact, one of the reasons we were able to get backing for the second year of the convention was because that first year, Hyperion had donated copies of the Satchel Paige book that had just been published. When adults came and found kids sprawled all over the floor reading that book, we didn't have to say much more."
The Future Will Include the Graphic Novel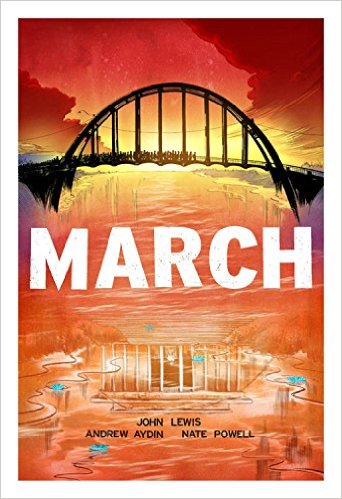 And, in a perfectly timed moment, Joe Sutliff Sanders shared with me an e-mail that came into his inbox just before I interviewed him. For the first time ever, a sitting member of Congress, John Lewis D-GA, had just signed to write a graphic novel about his life experience. The book will be called March and will focus on Lewis' involvement in the Civil Rights movement. (The book is written in three parts and is now available.)