Hazel Bishop's intention to be a doctor ended with the stock market crash of 1929. Instead, she got a job as a biochemical technician at a hospital. Eventually, her chemical expertise led her to invent greatly-improved cosmetics.
Hazel Bishop: Growing Up
Hazel Bishop grew up in New Jersey; her father and mother ran several small companies so dinner table conversation frequently concerned business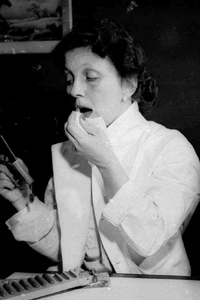 issues. Bishop's mother often advised her daughter: "Start your own company."
Bishop enrolled in a pre-med program at Barnard College. She graduated in 1929, and by the following autumn, her plans for continuing on at Columbia med school had to be set aside. There was no money for tuition.
As an undergrad, she excelled at chemistry.  In 1930, she found a job as a biochemical technician at the New York State Psychiatric Hospital and Institute in New York City.  Five years later, she became a research assistant to a leading dermatologist at Columbia University Medical Center.  Her boss developed the hypoallergenic products known as Almay Cosmetics.  Bishop's work for him was identifying allergens so that they could be removed.
World War II: Career Change
When World War II began, defense-related jobs needed to be filled. Hazel Bishop moved to Standard Oil Development Company and was put to work creating a new form of aviation fuel for bombers.  In 1945 she moved to another oil company as a specialist in petroleum research.
In 1956, the American Chemical Society cited Bishop for notable contributions in the field.
Cosmetic Work At Home Lab
Despite her day job working in petroleum research, Bishop continued to experiment with cosmetics.  She set up a home laboratory so she could continue to tinker with formulas. Working at night, she developed an acne cream and sold the formula to another company that could manufacture and market it.
Bishop also knew there was need for a longer-lasting, smudge-proof lipstick. Women disliked having to reapply their lipstick frequently. Bishop also knew that no one appreciated lipstick that transferred to coffee cups or napkins.
As she worked, Hazel Bishop discovered that if she used bromo acids in her formula, the lipstick lasted longer As a general rule, bromo acid stains the skin for a longer period of time. Bishop's challenge was mixing it with the right amount of lanolin so it didn't dry out the lips.
By 1949, she was ready to try it out with a broader audience. She introduced it to the public for the first time at a Barnard College alumnae fashion show.  Its warm reception led her to raise money to form Hazel Bishop, Inc. Her mother introduced her to an attorney to help set up a business structure.
Hazel Bishop, Inc. Launched
One of Bishop's prime concepts was practicality. She believed Hazel Bishop Lasting Lipstick was practical, and she also focused on color names that were descriptively accurate, not dream-oriented.  Examples of her color names were Red Orange, Real Real Red, and Light Pink.
Bishop began advertising and distributing the product locally. The lipsticks sold well, but Bishop couldn't turn a profit. She took a bold move and approached a major promotion company, Raymond Spector.
Spector's company became prominent by introducing the Lone Ranger to the public. He was a big deal, and Bishop couldn't afford him, so she gave him equity.
Spector liked television advertising for the products he took on, and he soon launched a $1.4 million ad campaign ("It stays on you, not on him!")  Spector also came up with a tagline: the "won't eat off, bite-off, kiss-off" lipstick.
Success But a Loss for Bishop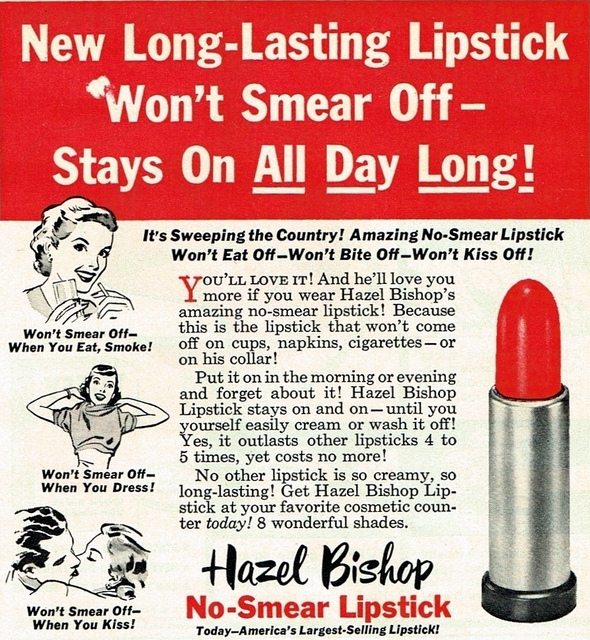 Sales went from just under $50,000 the first year to over $10 million four years later,  Bishop's agreement with Spector offered her no protection, and soon Spector had control of the company.
In 1952, Bishop sued him for mismanagement.  The case was settled in 1954 with Bishop receiving a buy-out of only  $295,000 of what was by then an enormously profitable company. The settlement also prevented her from associating in any way with the company.
Hazel Bishop Lipstick captured a huge chunk of the lipstick market but its creation also set off lipstick wars among the major cosmetic companies.  As a result, the company merged with Lanolin Plus in 1962, at which time other skin and hair products were added to the line.
Bishop  Invented Other Products
Bishop went on to create "Leather Lav," a leather cleaner that could be used at home. An aerosol foot spray "to refresh tired feet" was her next venture.  In 1957 she created Perfemme—this creation was a perfume concentrate that was packaged in a lipstick tube and was easy to carry.
Entered Financial World
In 1962 she opted for a total career switch. With the business acumen she had acquired running her businesses, she got a job as a stockbroker at Bache & Company in New York, specializing in chemical, cosmetics, and drug companies.
Later, she returned to her roots in the world of fashion. She was offered a teaching position at the Fashion Institute of Technology, to teach about the cosmetic industry.  Eventually she was given the Revlon chair, specializing in cosmetic marketing. There was irony to the appointment because at one point, she had been a major rival to Revlon.
She was active in many professional organizations including the American Chemical Society and the Society of Women Engineers. She was on the board of the Women's Medical College of Philadelphia.  All these positions helped pave the way for other women in the field.
Throughout her life, Bishop continued to experiment with cosmetics. She only wear products she had made on her own.
She died in 1998.
**
To read about another woman who created a cosmetic empire, read about Harriet Hubbard Ayer.