Achieved freedom in 1855
Became successful dressmaker in Washington, eventually working for Mary Lincoln
Founded Contraband Relief Association in 1862 to help former slaves
Published autobiography about her life
 Elizabeth Hobbs Keckly* (1818-1907) was born into slavery in North Carolina. Her mother was a seamstress, and Elizabeth was originally told that her father was George Hobbs, a slave who lived on a plantation one hundred miles away.  For the first eight years of Elizabeth's life, Hobbs visited his wife and child at Christmas and Easter. Then Hobbs's owner moved away, and George was never again able to return to see his family.
As Elizabeth's mother was dying, she revealed to Elizabeth that though her husband was George Hobbs, Elizabeth's true father was the owner of the plantation where they lived.
Keckly was only age 4 or 5 when she took on nursemaid duties for the plantation family.  There were four white children under the age of ten, so it was decided that Elizabeth would look after the most recently born infant daughter.
When she was in her teens, Keckly was sent to another household to work for the son of the plantation owner. She became a target of abuse by the village schoolmaster who summoned her for beatings. Later, she was sold and sent to St. Louis where she was raped.  She gave birth to her only son, George, named after her own presumed father.
Looking for a Way Out of Slavery
Keckly approached her owner, a Mr. Garland, and asked that he give her a dollar amount for which she could buy freedom for herself and her son.  At first Garland refused to give a price. After several more requests from Keckly, he stipulated $1200.   Keckly's income as a seamstress primarily went to support the Garland family who hit upon rough times. She found it impossible to save money.  Because she discussed her situation with some of her customers, one of them came forward and put up about $400 of her own money. The woman also got friends to donate the remaining amount needed. Keckly and her son were free.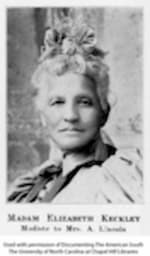 Elizabeth Keckly wanted her son to have an education. When he was old enough, she enrolled him in Wilberforce University (founded in 1856 in Ohio near one of the stops of the Underground Railroad.)
Keckly continued to run her St. Louis-based business and then decided to move on.  Her first relocation was Maryland, but laws were tightening on former slaves. In 1860, she moved to Washington D.C., where she acquired an excellent reputation among the society women. Soon she was doing work for women such as Varnia Davis (wife of Jefferson Davis) and Mary Anne Randolph Custis Lee (wife of Robert E. Lee). 
Keckly's Son Goes to War
When the war started, her son, George Jr. wanted to fight for the Union. Because his father was white, he looked white enough to enroll in the Union Army.  (African-Americans could not enlist until 1863.)  Sadly for Elizabeth, her son was killed in August of 1861 at the battle of Wilson's Creek in Missouri.
In Washington, she was recommended to Mary Todd Lincoln when the Lincolns arrived in D. C. She was soon the First Lady's favorite seamstress.  (One of Keckly's dresses is in the Smithsonian as Mary wore it for the second inauguration.)
Elizabeth Keckley became one of the few people who could calm Mary when she was upset, so Keckley not only made Mary's dresses but she was at the White House each morning to help Mary get dressed. As a result, she had an unusual view of the White House and its inhabitants.
Keckly Helped With War Effort
In Washington in 1862, Keckly came up with the idea of forming the Contraband (former slave) Relief Association.  She noted that white people in D.C. were raising funds for relief of the soldiers. Keckly suggested that the "colored people" form a group to raise money for their own unfortunate. The group raised money and gathered food and clothing. they sponsored Christmas dinners for the sick and wounded from the war. After the war, they helped find teachers for the schools for the newly freed.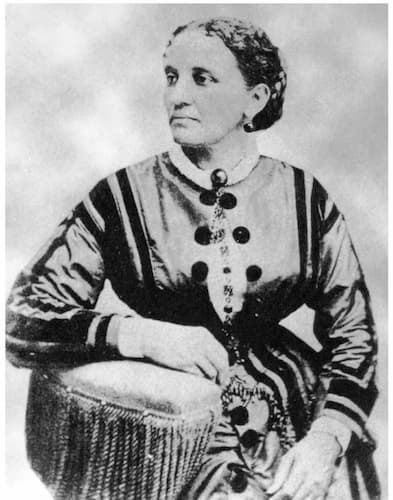 In 1864 the organization changed its name to the Ladies' Freedmen and Soldiers' Relief Association.  While the organization eventually disbanded, they set a standard and exposed the very real needs of the displaced black community.
After Lincoln's Assassination
After her husband was assassinated, Mary Lincoln moved to Chicago to be near her son Robert.  Keckly escorted her, but Keckly returned to Washington after Mary was settled.  The two women remained close and corresponded. When Mary Lincoln ran into financial difficulty and wanted to sell some of her clothing, Keckly met her in New York to help her find buyers. Unfortunately for Mary, the story came to light and became known as the "old clothes" scandal. Mary Lincoln was attacked in the press for daring to sell her clothes to raise money.
Keckly's Autobiography
Keckly published her ghostwritten autobiography, Behind the Scenes, Or, Thirty Years a Slave and Four Years in the White House in 1868.  Keckly apparently thought her book would help restore her former employer's reputation. In that day, the idea that a "colored" stepping forward to tell "behind the scenes" stories was viewed poorly. Mrs. Lincoln felt betrayed by the woman she described as "my best living friend." Elizabeth Keckly's reputation was ruined, and the Washington women turned elsewhere for a seamstress.
Wilberforce University Hires Her
A representative of Wilberforce University, the college Keckly's son attended, came forward to help.  In 1892, she was offered a faculty position at Wilberforce University as head of the Department of Sewing and Domestic Science Arts.  Within a year, she was organizing a dress exhibit for the Chicago World's Fair.
Her last years did not sustain this positive momentum.  She ended life in Washington in 1907; she was living at the National Home for Destitute Colored Women and Children when she died.
*Recent research reveals that Elizabeth Keckly wrote her own name as "Keckly." While many sources still refer to her as Elizabeth Keckly, this article uses her preferred spelling.
For more information about Mary Lincoln, read Mary Lincoln's Shopping Habits in Perspective.