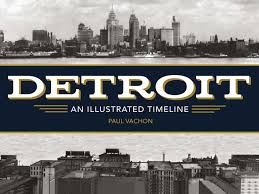 Detroit's story is a truly American story, and it's unique because of its prime location in the Midwest. By understanding what happened in Michigan through the years, we can more fully comprehend the story of our country, from the earliest settlers to the growth of a city and the development of a wide variety of American businesses.
Detroit: An Illustrated Timeline by Detroit resident and author Paul Vachon is a new book out from Reedy Press that tells Detroit's stories in vignettes.  In style, the book is a beautiful coffee-table book. In substance, it makes for delightful reading. While the vignettes are written so they are easily sampled, the chronological timeline makes the book easy to read straight through.
Here are some interesting take-aways:
Location, Location, Location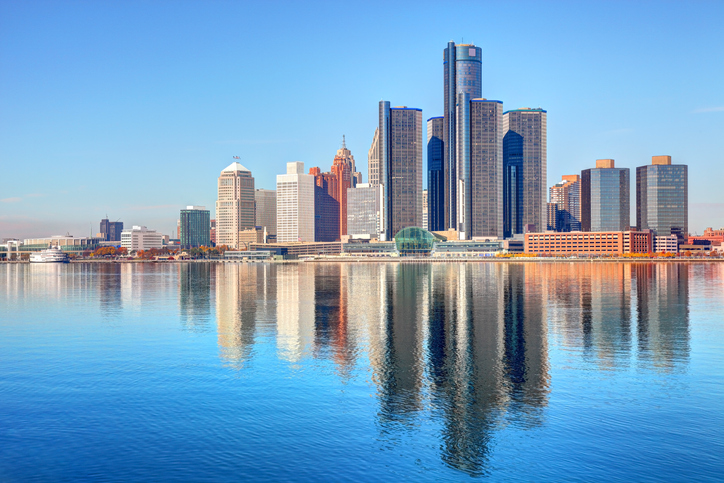 Like other parts of the country, Detroit's location affected the ebb and flow of the population. Native Americans saw that transportation was easier by the river, and white fur traders followed their example.  Later, settlers realized the river was one of the few waterway connections from the Great Lakes to the Saint Lawrence Seaway. This meant that furs and other good could be shipped all the way to the East Coast.
Militarily, the location was sought after by both Britain and France.  Antoine de la Mothe Cadillac (1658-1730) established Fort Pontchartrain du Détroit in 1701 on behalf of Louis XIV. France maintained its hold until 1760, when the British assumed dominance during the French and Indian War. The British held it until the American Revolution, and as that war concluded, the area around Detroit was taken over by the United States.
Later on, the nearby water for power and the ease of shipping brought various industries to Detroit, and the town grew.
Slavery and the Civil War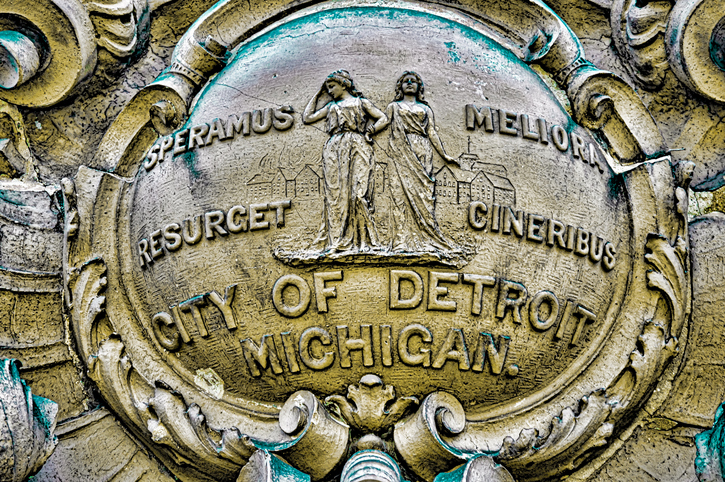 Though Detroit was part of the Northwest Ordinance where slavery was forbidden, many settlers arrived with slaves and met with little interference.
Seymour Finney, a Detroit hotelier, was a hero of the Underground Railroad. Finney advertised his hotel as a place for slave hunters to stay, and they happily bought liquor from him. Meanwhile, Finney maintained a barn nearby where he sheltered slaves until they could be transported to safety in Canada.
When Detroit citizens were called to fight for the Union, Michigan provided many infantry regiments, sharpshooters, cavalry members, and engineers. Over the course of the war, over 90,000 men from Michigan fought for the Union side.
As the war continued, it was clear that it was going to be a protracted and bloody war. In 1861 a Commission was formed to conceive of how these people would be memorialized.
Ultimately, 14,000 people from Michigan died during those years…some from combat and many from disease. As a tribute to all who sacrificed, the commission opted to raise money for a Soldiers and Sailors Monument.
Dedicated on April 9, 1872 and designed by neoclassical sculptor Randolph Rogers, the monument remains an important part of Detroit.
Detroit Becomes a Hub of Industry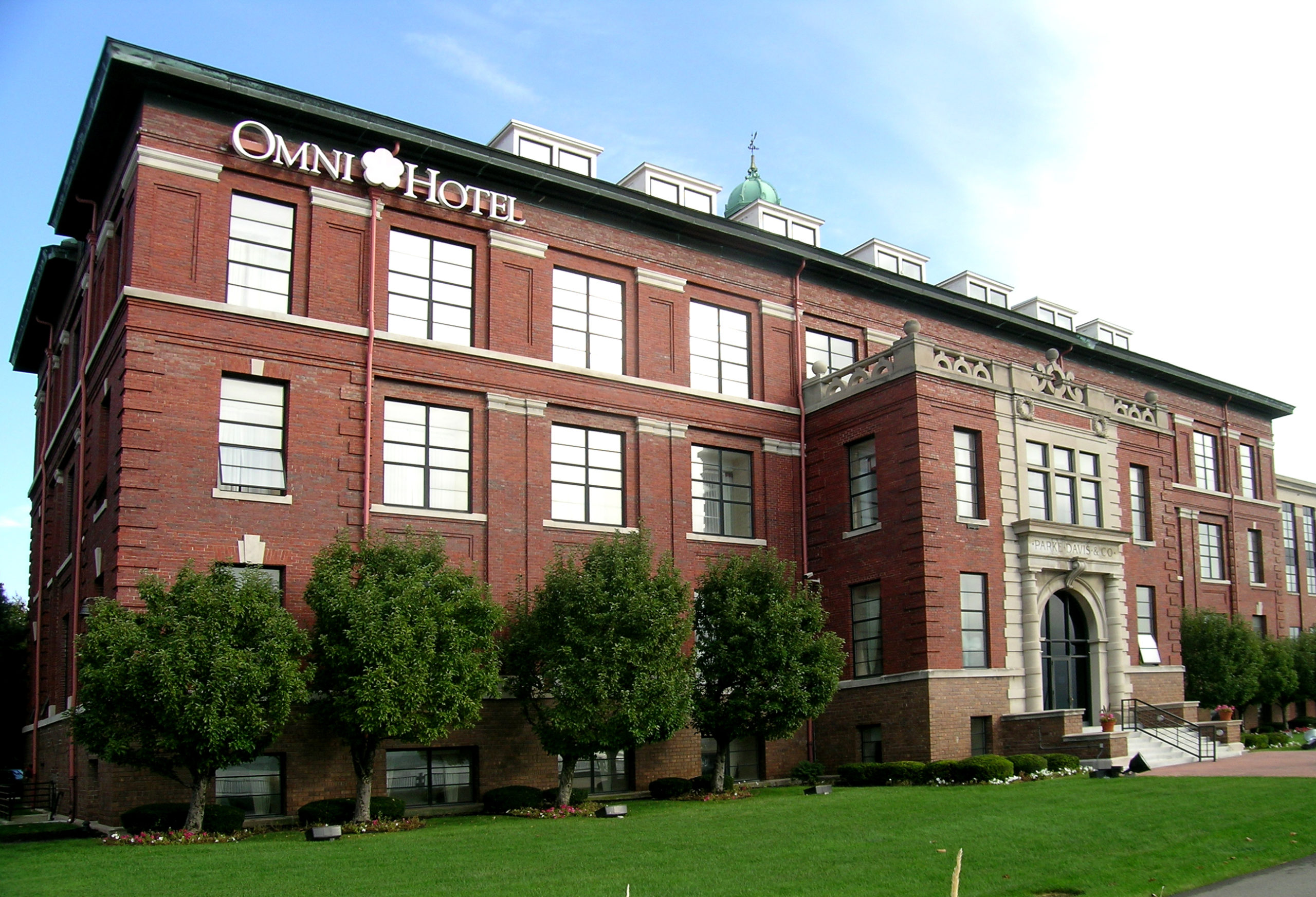 Cars and Motown music are inextricably linked with the city of Detroit, but Detroit is also the location of a good number of other important American advances in business and science. Here are a few:
Parke-Davis Research Laboratory was started by physician and pharmacist Samuel Duffield with Hervey Coke Parke in 1866, and they were joined in 1867 by George S. Davis. The company became one of the world's largest pharmaceutical companies and is now part of Pfizer.
Parke-Davis changed the face of medicine by establishing the importance of standardizing medicines. They also worked toward a method for conducting clinical trials. These trials continue to be a vital method used for testing the safety and efficacy of new drugs.
Stroh's Beer (1850) was an early and popular product of Detroit. The company existed as a separate entity for 150 years (until 2000). In the U.S. The Stroh's brand is still sold by Pabst Brewing Company.
The best-known name in adding machines started in St. Louis, but when it was time to build a factory for large-scale production, the Burroughs Adding Machine Company (originally called the Arithmometer Company) moved to Detroit. Eventually the company was purchased by ElectroData and is now part of Sperry Corp.
Motown Music began when Berry Gordy tried his hand at songwriting and started his first record label in 1959. Less than a year later, Gordy incorporated as Motown Record Corporation. While he had skill as a songwriter, he proved that what he did better than almost anyone was recognize talent. The music industry is forever changed.
By 1972, Motown moved to Los Angeles, but even today, the mere mention of "Motown Sound" brings thoughts of Detroit.
The Auto Industry Comes to Town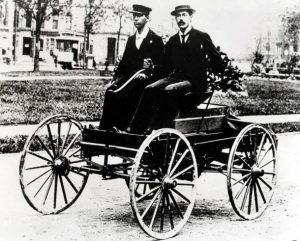 Because early experimentation with horseless carriages in the Detroit area proved successful, the city gained a gravitational pull for others who wanted to learn about the industry.
Charles Brady King's early success attracted notice. In 1896, when he set out to test his first automobile on the streets of Detroit, he was followed by his colleague Henry Ford riding a bicycle. They were also accompanied by several policemen. When King stopped the car at the end of his route in Cadillac Square, the police tried to ticket him for "disturbing the peace."
Other men who arrived here with automotive dreams were Ransom Olds  Brothers James Ward Packard and William Doud Packard. The Packards started out in Warren, Ohio, but when they heard that the best architect for  factories was operating in Detroit, they moved their operation north and hired Albert Kahn.
The Dodge Brothers got their start making parts for other automotive companies. It wasn't until 1914 that they made a car of their own, marketing it as a Dodge Touring Car.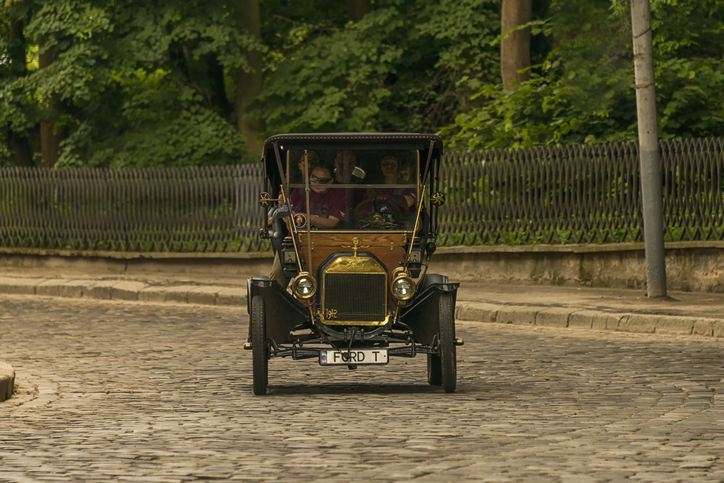 And of course, Henry Ford and William Durant were two of the biggest names in Detroit's early car industry. Ford opted to perfect one design and make it affordable, and breaking sales records with his Model T.
William C. Durant made a fortune selling horse-drawn vehicles, but when he saw that automobiles were the future, he began buying and taking over struggling brands, creating General Motors.
Arsenal of Democracy
The term "Arsenal of Democracy" arose in a speech given on December 29, 1940, by President Franklin D. Roosevelt. His speech was a "call to arms" to support the Allies by providing assistance in the form of weapons, planes, trucks, and tanks.
Roosevelt stressed that a German victory would be disastrous for the U.S.
Because Detroit already invested in plants and equipment for making cars, it was easier to transform those operations than to start new. Factories halted the production of automobiles for civilian use and began producing jeeps, M-5 tanks, and B-24 bombers.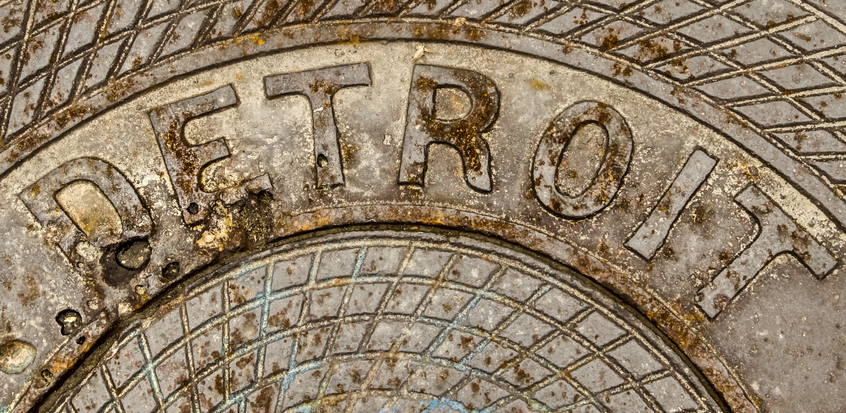 Within the first year and a half following the attack of Pearl Harbor, 350,000 workers from the American South and elsewhere moved to Detroit to join in the war effort. Women were also hired for factory labor.
When the government turned to Henry Ford for help with production of the B-24 Liberator, Edsel Ford, Charles Sorenson, and one of Edsel's sons undertook research and soon a new plant was built west of Detroit, near Ypsilanti, Michigan. By the summer of 1944, Willow Run was building a bomber an hour, and eventually almost half of all bombers were made at Willow Run.
Roosevelt honored Detroit's contribution by declaring it "the great arsenal of democracy."
Bones of a Beautiful City
From very early in Detroit's history, the city held promise of being a beautiful place.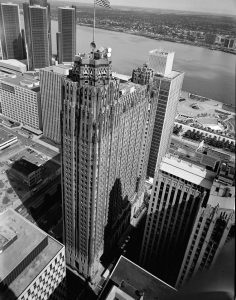 In 1805, the city was largely destroyed by fire. When a new layout was planned, it was copied from Washington D.C.'s plan designed by Pierre L'Enfant, with a hub-and-spoke system radiating outward.
Over the years, citizen generosity and city government's foresight have added to Detroit's potential. Palmer Park is on land dedicated by the Palmer family with the provision that the virgin forest there be preserved.
Belle Isle, an island retreat and now a park in the middle of the Detroit River, became a Detroit preserve because of the wisdom of the city government. The town purchased it from the estate of Joseph Campeau.
Detroit hit bottom in 2013 when it declared bankruptcy, and the downtown blight was worrisome. But small businesses and individuals followed the lead of a precedent set in the 1890s. When times are tough in the inner city, start gardens and farms. Now there is an active urban farm movement with greenery dotting some of the downtown properties.
The center of the city features some of the most distinguished buildings in the world. Architects Albert Kahn, Daniel Burnham and Cass Gilbert are just a few who have left their indelible mark on the city.
In 1884, James Scripps, who made his fortune in the newspaper business, had the foresight to promote the idea of a major art museum. It is now the Detroit Institute of the Arts. Scripps later donated much of his priceless collection of Dutch and Flemish Art.
Future Looks Bright
Because the core of the city is sound, companies are moving into Detroit, realizing it's a good investment.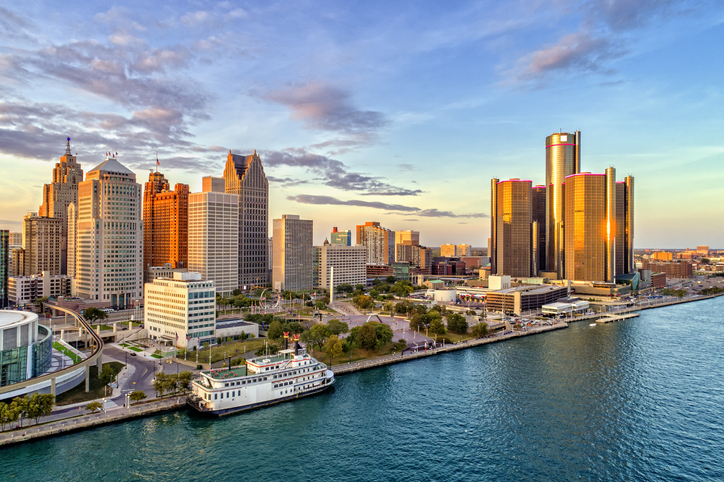 Shinola, a luxury goods company founded in 2011, made a big commitment to Detroit, and Dan Gilbert, the founder of Quicken Loans made a deal with Detroit that he would move his headquarters there. The initial commitment brought 1700 people into the city center. Since that time, Gilbert and others have continued to invest.
To enjoy reading about Detroit's past, Detroit: An Illustrated Timeline is available wherever books are sold, including online retailers, Amazon and Barnes & Noble.
***
To read about other stories from Detroit, click here to read about Paul Vachon's book about the People of Detroit.
And click here to read about Former Newsboys of Detroit Doing Good.