During World War II the movie-making business in Los Angeles continued but was changed by the fact that the nation was at war. Like other companies, Hollywood was affected by shortages.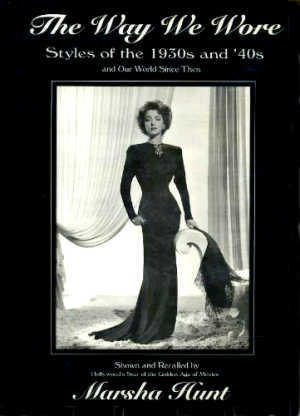 Rationing, blackouts, and other wartime restrictions meant that filmmakers had to cut back on location shooting, set construction, and materials for costumes.
Despite this, the industry also took on new importance—stars and film industry employees enlisted or reported for duty; star-studded fund-raisers were held to raise money for relief funds and war bonds; and many entertainers traveled in the U.S. and abroad to perform before the troops to boost morale.
Yet the film-making itself remained important. People longed for stories that would take them away from their worries, and while the movies of the '40s were more realistic than the escapist fare of the 1930s, they still offered audiences a reprieve from their daily worries, even if only for an hour or two. (Some films were made in cooperation with the Office of War Information and seeded their stories with messages that the government felt needed to be conveyed to the public.)
Movietone News
When audiences did get out to see a film, the fact that the movie was preceded by Movietone News was extraordinarily important. At a time when radio news and daily newspapers were the lifeblood of Americans seeking war news, Movietone provided a narrated story of the sights and sounds of the war. Though the news was heavily censored by the government, the American people were eager for anything they could learn about their loved ones, about their country, and about when their world might become normal again.
Small Sacrifice Says a Lot
A month ago I was sent a review copy of a beautiful coffee table book, written by Marsha Hunt who was a very popular actress and well-known beauty of the day. Her book, The Way We Wore: Styles of the 1930s and '40s is a book that should be required reading for anyone studying costume design, but I was particularly taken by one passage about a dress she wore in a film in 1943. Hunt was cast in Metro Goldwyn Mayer's Human Comedy, originally written by William Saroyan (later replaced with a new writer). She writes: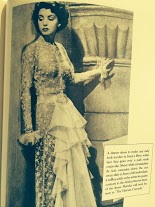 "Designer Irene (Lentz) wanted to provide me with a memorable formal to wear at a party that my very rich parents give (and of which my new interest, militant working man James Craig comes without a tie). But alas, there were no fabulous fabrics left in the Wardrobe Department stock; all had been used up, and no more to be had for the "duration." American mills were no longer turning out luxury fabrics; instead, they were providing what the war required. All imported fabrics had long since ceased to arrive. German submarines, the dreaded U-Boats, were plying the depths of the Atlantic, on the prowl to sink any ship, be it merchant, passenger, or warship that dared to try to cross that ocean.
"One lone piece of exquisite imported lace remained in stock, but it was not quite large enough for a whole gown. Irene put her creative gifts to work. She used every inch of lace she had to work with, and made a graceful insert of white mousseline de soie, forming a long triangle from waist to floor, topped and edged with cascading ruffles. Thus, the gap was filled. To make it look intentional, Irene placed full, rippling ruffles of mousseline at each wrist.
"And voila! An entirely original style was born, and isn't it lovely?"
While this is a very frivolous way of "making do," something about it caught my attention. Perhaps it was the spirit that no matter the circumstance, it's still important to create the best product you can. In this case, the best costumes for what they all hoped would be a great film.
Hollywood Talent Also Employed for Many Other Aspects to Help with the War
I don't want to leave you with the idea that in Hollywood, doing without some lace was considered "helping with the war effort." Of course, it wasn't.
In addition to fundraising and entertaining the troops to keep up morale, Hollywood artistry was put to work for something very important.
To safeguard against attacks at home, blackouts kept cities dark at night measures were also taken to disguise obvious U.S. targets. Los Angeles was a major aircraft production center, so LAX, Burbank, Santa Monica, and other area airports and their adjoining factories were shrouded under netting that was scenically painted—with help from the studios—to look like farms and subdivisions. At Lockheed, designers took the extra steps of covering runways in fake alfalfa.
From today's vantage point it is hard to imagine the fear and the patriotism that went hand-in-hand during these years. Hollywood embodied the spirit of the British watchwords, "Keep calm and carry on," and they also employed their skills and their talent in whatever way possible to try to assure that the Allies saw victory.