The "Tiffany Girls" was the term used for the Women's Glass Cutting Department at Tiffany Studios. It was created in 1892 when Louis Comfort Tiffany feared his all-male production staff would go on strike.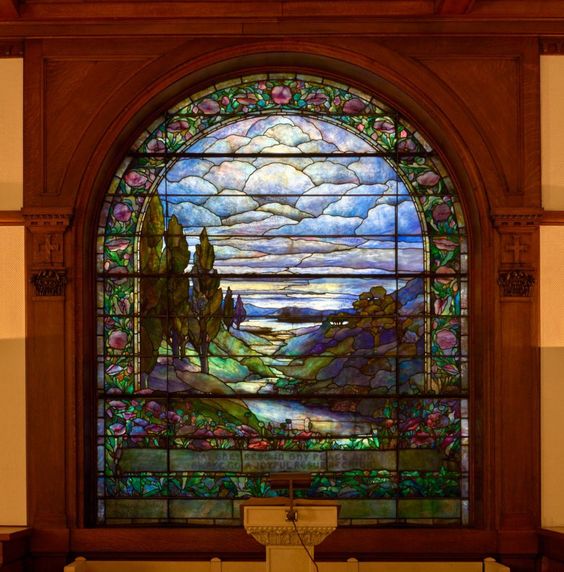 The women's department continued even after the strike threat passed, but the work of the women designers was not publicized. Tiffany preferred to be known as the artist behind most of the work. The contributions of women have only been written about more recently. (Also read Tiffany Designer Clara Driscoll.)
How Tiffany Studios Grew
Louis Comfort Tiffany trained to be a painter, but he was also interested in the decorative arts. Wealthy people were just beginning to hire artists and designers to decorate their house interiors. Tiffany, textile designer Candace Wheeler, and painters Samuel Colman and Lockwood De Forest formed a company to provide this service.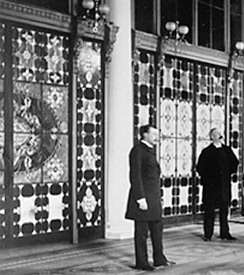 Calling themselves, Louis Comfort Tiffany and Associated Artists, they began the company in 1879 and collaborated on interior design work for clients. Candace Wheeler often used hand-embroidered materials created by women in the company's employ. Tiffany became aware and appreciative of the work done by these women. This may have cleared the way for hiring women for the glass manufacturing company, he started later on.
During the six years that Associated Artists existed, they had wealthy and often well-known clients. In 1881, Mark Twain hired Associated Artists to decorate his house in Hartford, Connecticut. (The house with the work by the design firm can still be visited today.)
Later that year, Chester Arthur refused to move into the president's executive mansion (now known as the White House), until some redecorating was done. He commissioned Louis Tiffany and Associated Artists. Several of the formal rooms on the ground floor were painted and refurbished under Tiffany. Tiffany also installed a floor-to-ceiling glass screen in the entrance hall (removed by Teddy Roosevelt, perhaps because he was moving in with young children). Some think this screen may have been what inspired Tiffany to focus on glasswork.
Glasswork Factory
In 1885, Louis Tiffany left Associated Artists to spend more time working in glass. He was fascinated by the use of glass for desk accessories, lampshades, and stained glass windows. When he first began to specialize in this, he purchased his glass from an outside vendor. He was troubled by the fact that his competitors could purchase similar materials from the glassmakers he used.
As a result, he wanted his own glassmaking company. Contemporary glassmakers were working to refine glass so that windows became more clear. Tiffany found beauty in glass that was not yet refined. Opalescent glass fascinated him, and he particularly liked the way glass bottles and jelly jars refracted the light because of impurities within the glass.
Because Tiffany's primary inspiration for his art was from nature, he particularly wondered how glass might mimic rippling water or how glass with a green hue might depict subtle shifts of color the way foliage does.
Tiffany Meets Glassmaker Arthur Nash
Arthur J. Nash (1894-1934) was born near Stourbridge, England, and went to school to study the chemistry of glassmaking. He found work with well-respected firms in England and was head of glass design at Edward Webb & Sons near his hometown. But in 1890, business in England slowed. When a friend suggested he travel to New York to meet Louis Comfort Tiffany, Nash was amenable.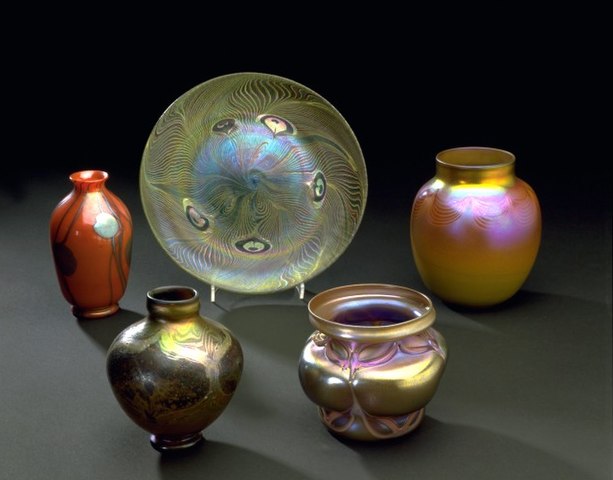 Tiffany recognized in Nash the talent that he needed. In 1892, he set up the Corona Glass Factory in Queens and put Nash in charge. In that era, stained glass windows were generally created of painted glass. Tiffany aspired for Nash to create glass that embodied the colors. As the men worked alongside other chemists hired by Nash, they saw that various minerals could be used to create colors.
While Tiffany must have been on site a great deal in the beginning, it was Nash who created the formulas for the glass. The men saw, for example, that uranium produced yellow; iron oxide made green. In addition, various mixes altered shades of the color in question. It was particularly exciting when they saw that gold added to a mixture created a vibrant, eye-catching ruby red.
Secrecy Important
Eventually, Nash had a list 100 possible ingredients (quartz, antimony sulfide. uranium oxide, silver nitrate, arsenic, etc.) he used to make the colors Tiffany desired. Arthur Nash kept the formulas in a locked notebook in a separate laboratory in the factory. While a few other chemists would have worked with the colors, it is doubtful that even Tiffany knew the formulas. (Arthur Nash's collection of notebooks is kept at the Corning Museum of Glass.)
As Tiffany worked with Nash, they found that they had a new type of glass: As Tiffany had wanted, the glass caught the eye and reflected the light. Much of it shimmered and had an iridescence that was unique to Tiffany Studios. Tiffany trademarked the glass, as Favrile glass, The glass was patented under Tiffany's name, as Favrile glass. (The patent was dated November 13, 1894, U.S. Patent no. 25,512.)
As Tiffany and his artists saw, the glass could look like a rippling stream, the wing of a butterfly, or the petal of a beautiful flower.
Secrecy was so important that Nash recorded the formulas in a code known to just a few of his workers. The color batches themselves were mixed in wooden bowls in the lab away from other people. After the basic color was prepared, the chemists would bring out the color being made to be added into the mixer before the item was mixed, formed and fired.
Other Creations
Louis Tiffany and Arthur Nash were both obsessed with what could be created in glass. They developed ways to combine two or more colors within a single piece of glass, and Nash came up with ways where the glass was veined, changing throughout a single piece of glass. Depth was added to some piece of glass by placing one color behind another and fusing them.
The Art of Tiffany
The creation of the glass was only a first step in creating what Tiffany wanted in his art. He and a design department (including Agnes Northrop, see below) planned the design for windows or screens and other decorative household items.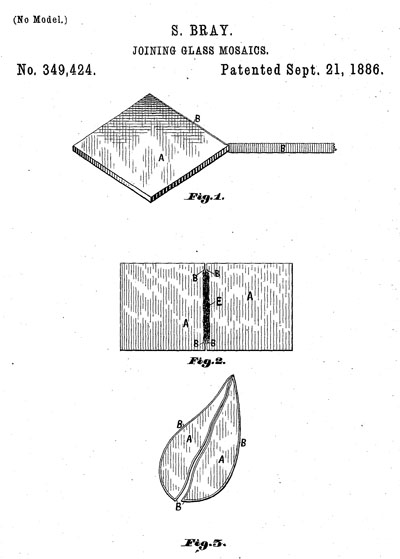 The next part of the intricate process was selecting each piece of glass for the project under design. The nuance of the art came from each piece of green, for example, being the right green as the structure of a leaf was assembled. This work was highly detailed and required full concentration. For that reason, the glass workers were paired. One person made the glass selection and specified how the piece should be cut. The second team member cut the glass.
For works of stained glass, the assemblage of the pieces was key to the beauty. Louis Tiffany saw that glass worker Sanford Bray's system of linking glass pieces together was the best. Bray held a patent on a "copper foil" technique that permitted each piece of glass to be edged and then soldered together. The method was seamless and did not detract from the art. Tiffany purchased the right to use Bray's process, and it was the key to all that was made by the Studios. (This patent was for "Joining Glass Mosaics," and it was issued on September 21, 1886, U.S. Patent no. 349,424.)
Strike Threatens Studio
In 1892, a potential strike by the all-male staff of Tiffany Studios threatened production output at Tiffany Studios. Louis Comfort Tiffany requested that Clara Driscoll, one of the women who worked for him, put together a women's glass-cutting department to prevent a work stoppage.
Driscoll started out with six women, and the department grew to be as large as thirty-five. However, in 1903, the men complained about the women's department and threatened another strike. In order to keep the men working, Tiffany made an agreement that he would not employ more than 27 women.
Women's Department
Society at that time looked down upon married women being employed. Everyone from teachers to clerks were let go when they were to marry. Clara Driscoll served as Tiffany's department manager. Her letters home reflect the frustration of having to let talented women go because they were engaged. Because of this rule, Clara spent a notable amount of her time hiring and training new workers. (See more about Clara Driscoll here.)
Clara's letters, otherwise, provide a wealth of information about the women's department. She writes of camaraderie among the women. At times it sounds almost sorority-like. They sometimes vacationed together, taking leisure expeditions to beaches at Staten Island, New Jersey, and New Rochelle.
Agnes Northrop: Longtime Tiffany Designer
Agnes Northrop (1857-1953) started with Tiffany in about 1884 and continued on with him for almost 50 years. Northrop was hired for the design department and worked her way up to having a separate studio as a few of the men also had. She never took on management responsibilities, nor was she ever included as one of the "Tiffany Girls."

Like Tiffany, Agnes Northrop, loved working from nature. She was an avid photographer and was often out in the field to document the flowers or leaves that were to appear in an upcoming window or other work of art.
Under Tiffany's aegis, Northrop introduced wholly new subjects to stained glass—landscapes and gardens—for both religious and domestic settings. She also designed some of the most memorable windows to emerge from Tiffany Studios.
Recognition at the Paris World's Fair
In addition to the stained glass windows for which she is remembered, she also oversaw designs for silks and carpets made by the company.
The Paris World's Fair of 1900 was notable for the fact that the rules stated that the artist of each piece needed to be separately identified. As a result, those who worked for Tiffany were singled out for their accomplishments. Northrop was awarded a silver medal for her stained-glass designs. Arthur Nash, Clara Driscoll, and Tiffany himself were also recognized that year.
The Tiffany Girls, however, were the unsung heroes. Today we know they were responsible for much of the beautiful design work of the day.