When chemistry students at Vanguard University in Costa Mesa,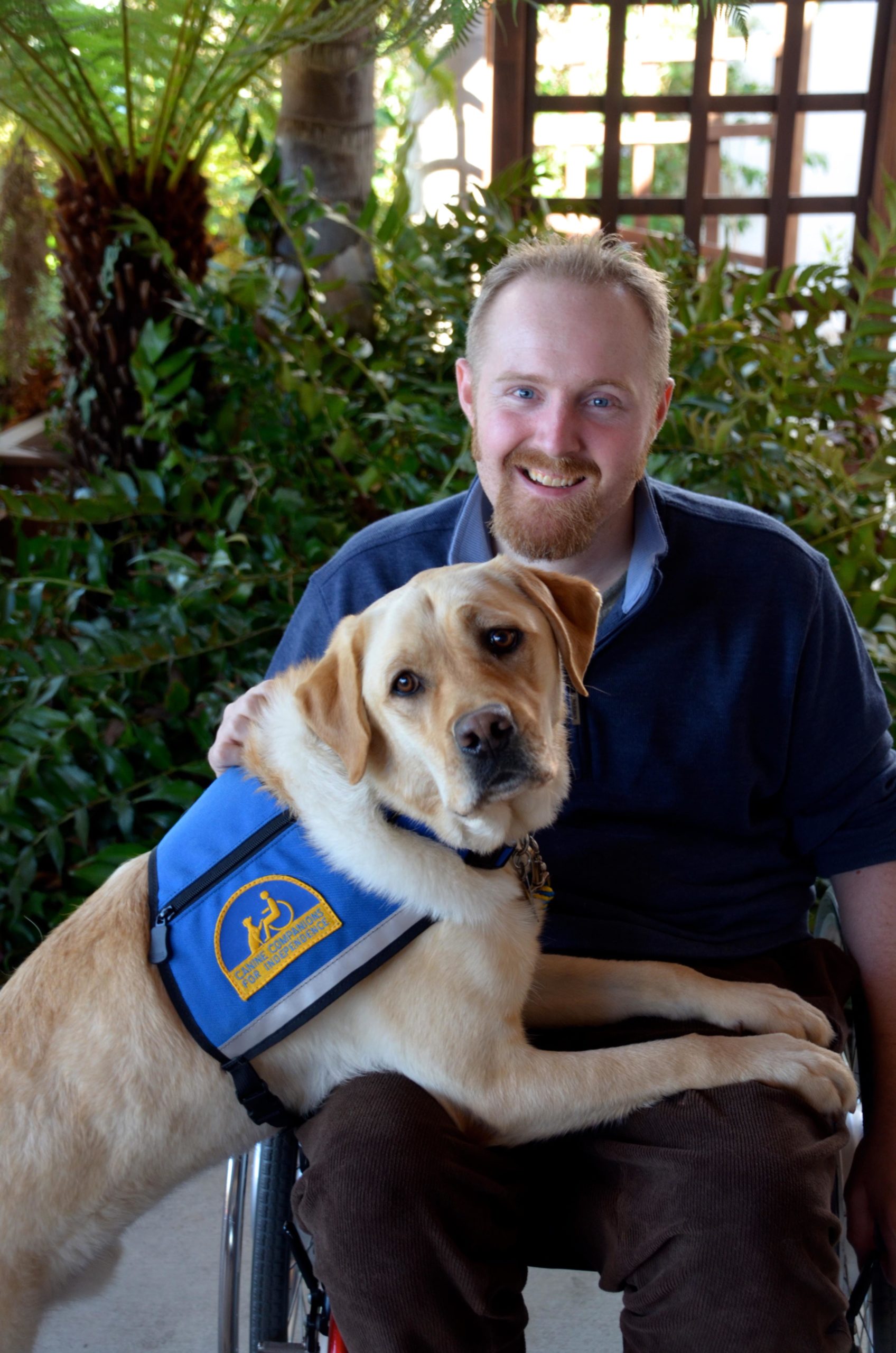 California, enter their classroom with big smiles, one might presume their faces represent their enthusiasm for learning chemistry.
Their professor, Dr. John Terhorst, knows otherwise. He is well aware that the huge smiles, and certainly the hand-waves, are actually for his service dog, Yan.
Terhorst received Yan from Canine Companions for Independence in 2015. This was just a couple of years after Terhorst accepted a teaching job at Vanguard. Since that time, the two have become a well-known team on campus. Terhorst says that Yan's usefulness to him is immense but that it's also nice to see smiles on people's faces just because they see the two of them out and about.
John Terhorst's Need for a Service Dog
As a child, John Terhorst had a congenital vascular issue that required several surgeries. But from age 6 through most of his high school years, he was able to live normally. By the time he entered college at the University of Redlands, he was having difficulty walking long distances but he solved the problem by buying a racer scooter. He used it to get across campus, to get to classes, and to keep up with his friends as they walked along.
In college, Terhorst decided he wanted to teach chemistry, and therefore, he would need an advanced degree. When he was accepted into Yale University's Ph.D. program, his family was very excited for him, but there was the issue of mobility.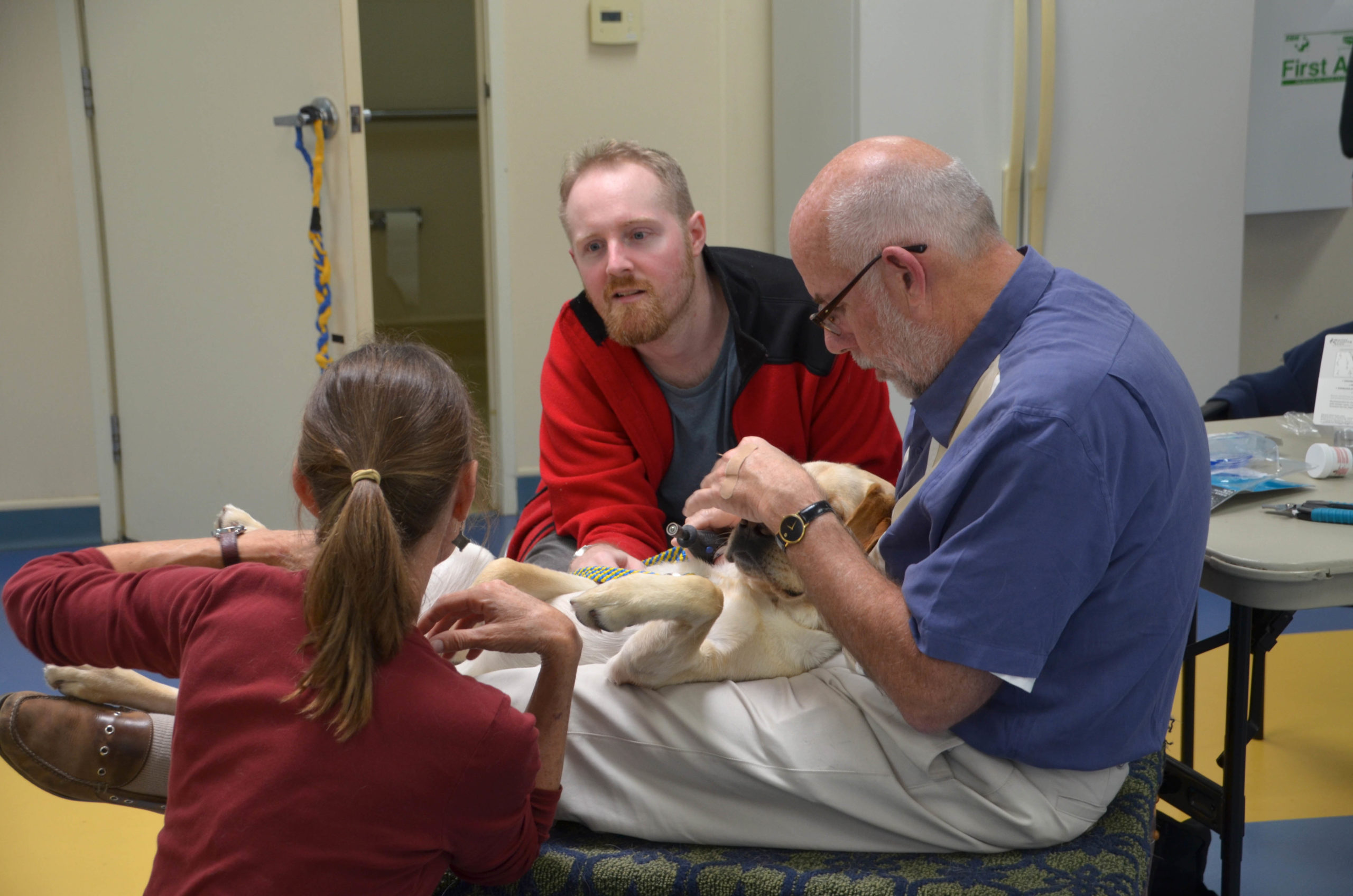 "What about a Segway?" his dad suggested.
John was able to navigate his first four years in New Haven with the aid of a Segway. In 2008, he received his Master of Science in chemistry, and in 2009, he was awarded the Dox Research Fellowship by Yale University for excellence in academics and research.
Unfortunately during this time his health was worsening.  His doctors there suggested experimental surgery. To everyone's great disappointment, the surgery affected nerves feeding into the spine. His mobility issues grew worse.
With only a couple of months to go to finish his Ph.D., John Terhorst met with his doctoral advisor. Together they worked out a plan that would let John complete his dissertation, earn his degree, and return to his home in Southern California.
Getting Hired
While most academics balance research and teaching, John Terhorst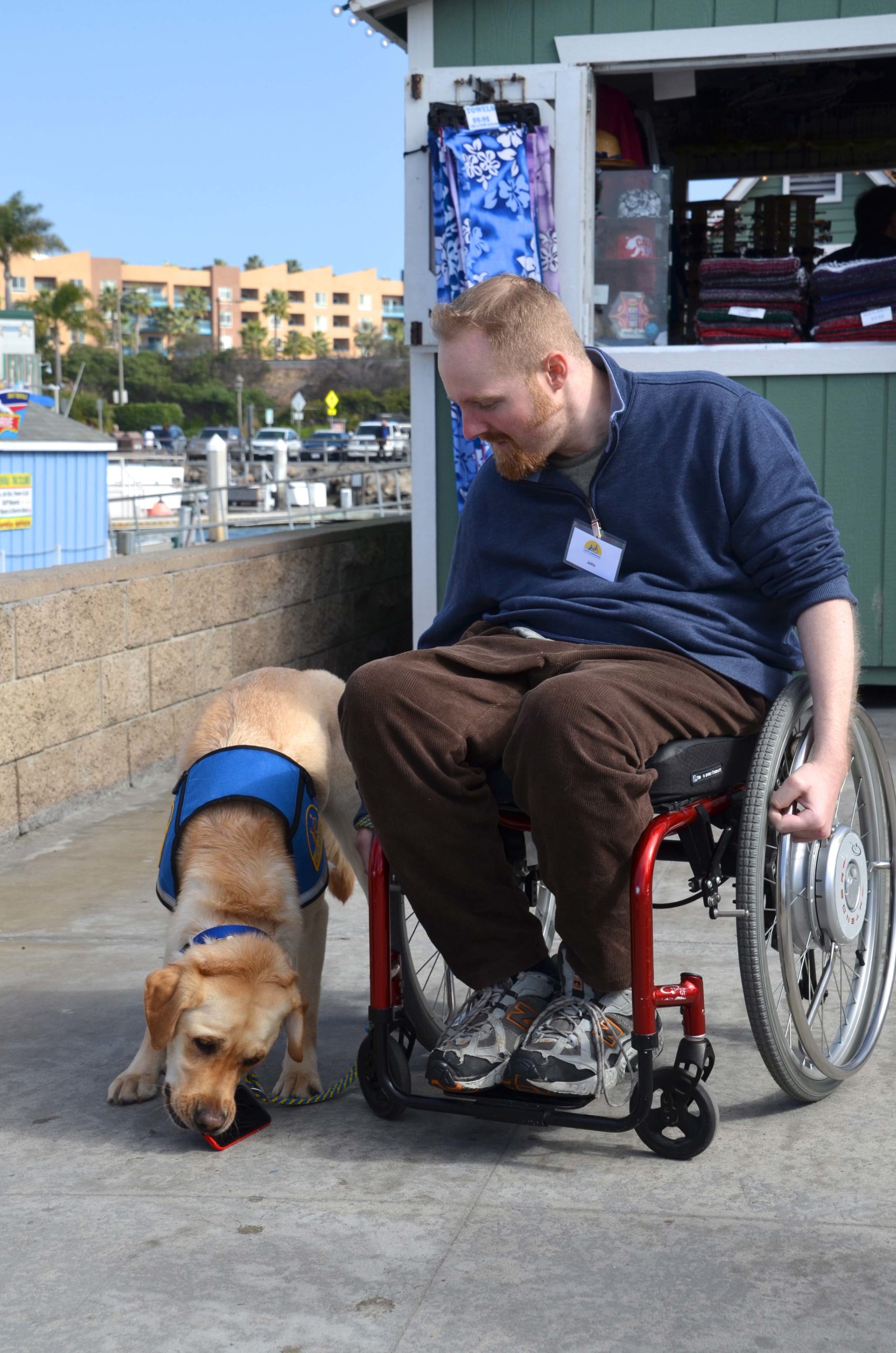 knew he wanted to work at a liberal arts college where the focus for professors is more heavily weighted toward teaching. When he was hired to be an adjunct professor of chemistry at Vanguard University in 2012, he knew it was a perfect fit. Dr. Terhorst now teaches multiple levels of chemistry, and he coordinates the Summer Undergraduate Research Program.
To navigate campus, he chose a power-assisted wheelchair. It was small enough to fold and put into a regular car, and yet the power boost from the attached motor makes the going a little easier.
As Terhorst began to settle into his new life, his family suggested he might like to apply for a service dog.
"At first I didn't see how a service dog would benefit me, but as I thought about it, I realized it was a good idea," says Terhorst.
Applying for a Service Dog
The application process at any of the service dog organizations throughout the country tends to be a lengthy one. Not every applicant can be accepted. There are a limited number of dogs with the proper training, so each organization must select those applicants who will benefit most from having a service dog. In addition, human and canine partners need to be matched on many levels, and it takes time.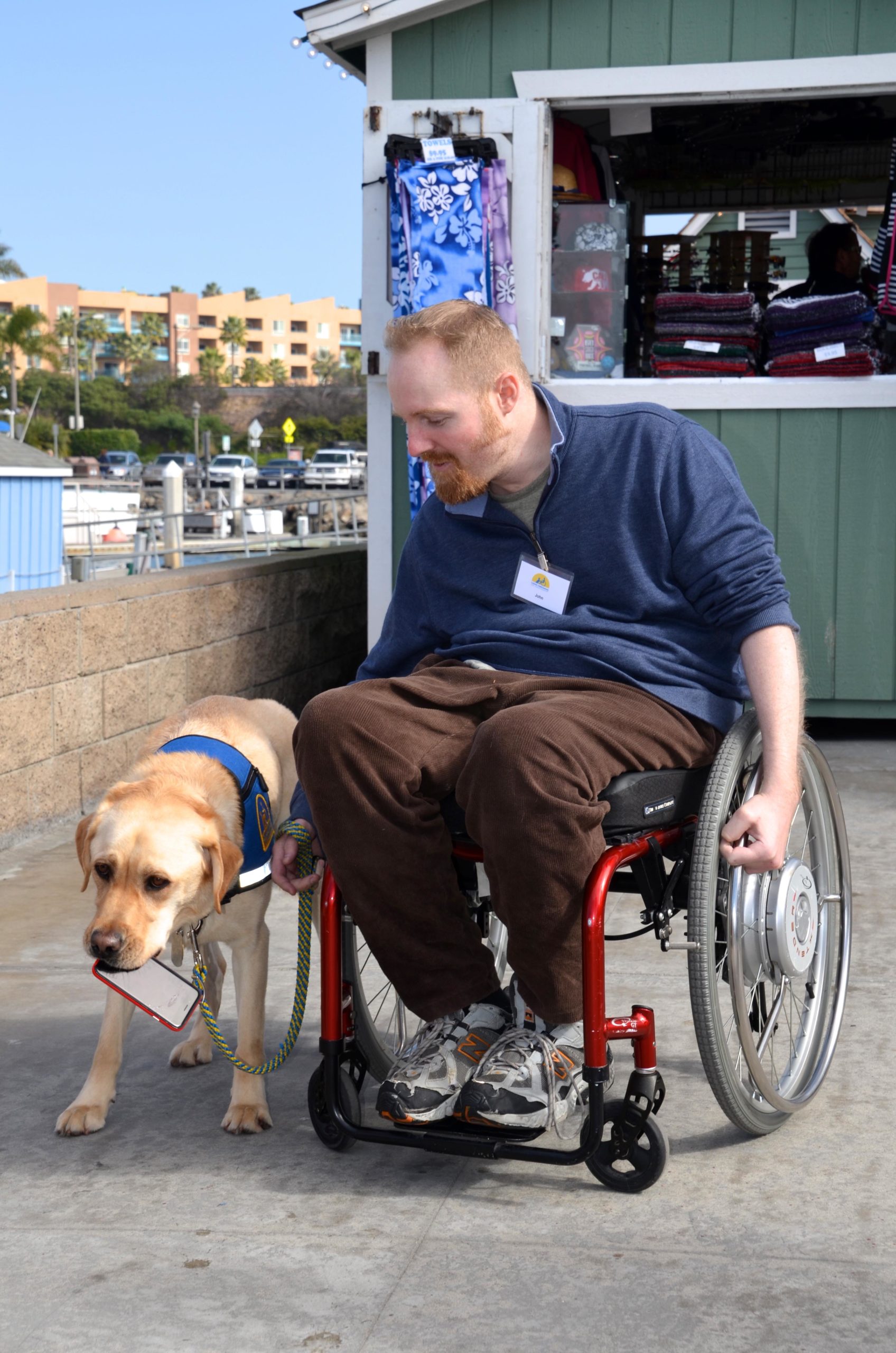 The process begins once a person submits a written application. The needs of the applicant are assessed through phone and personal interviews. Then the organization needs to select a few possible dogs that might make a good match. In some cases, the ideal dog may not yet have completed training.
Canine personality and exercise requirements are also taken into account. John Terhorst spends long hours in a classroom and at his computer, and he lives in a condominium without a backyard. For that reason, the ideal dog for him was a calm dog that did not need an excessive amount of additional exercise.
In all cases, the connection between the dog and the person is all important. The potential in the relationship is evaluated over several training sessions when applicants are paired to work with several possible dogs.   Canine Companions hosts a residential program to train and observe their possible teams.
In early 2015, John Terhorst received the good news that he would be included in the next Canine Companions training program. He was one of 12 people in this particular application group. Over the course of the two weeks, the applicants worked with 17 dogs. (The greater number of dogs does not mean organizations have "dogs to spare;" it is the way Canine Companions makes certain that each person gets a good match. The five dogs that were not matched will be considered when the next applicants come in.)
Service Dogs: The Excitement of Match Day
"On the day the matches are announced, there isn't a dry eye in the room. The relief among everyone is palpable," says Dr. Terhorst. "Everyone is thrilled to see the new teams."
In Dr. Terhorst's case, Yan, a golden-Labrador mix, has been perfect.
Yan responds to 40 different commands. Two of his most important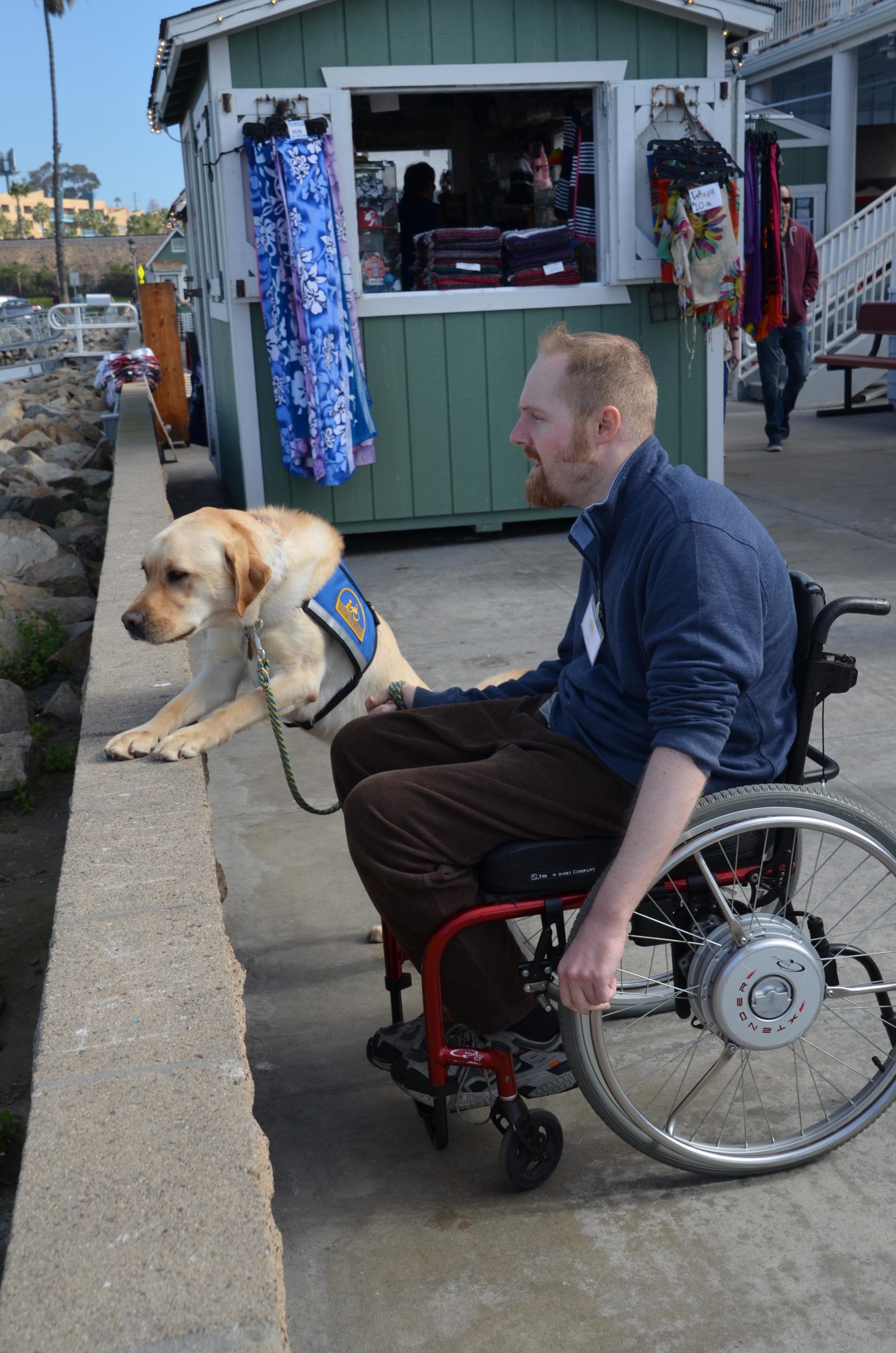 responsibilities are picking up things John has dropped—anything from John's cell phone to bottled water that has rolled away— and helping with doors.  At school, of course, Yan is expert at tapping the buttons to open the automatic doors throughout buildings. But Terhorst explains the challenge is at home:
"In order to be self-sufficient, I need to close the front door as I leave my house," explains Terhorst. "When you think about how doors open and close and where a person is in a wheelchair, you see that it's almost impossible for the person to do. We've added a rope to the front door at my condo, so after I go through, Yan goes back and pulls the door closed behind us as we leave."
Terhorst needs his hands free to maneuver his chair. As a result, Yan is important for carrying small packages or items that John worries might fall out of his lap.
John Terhorst's condition also can result in unexpected leg spasms, and Yan is trained to cover John's legs with his body so that it can keep John safe and help the spasm pass.
In addition, John notes that Yan makes his life better. "It's easier to be out with Yan. I get a more friendly reaction from people because of having him with me.  While Yan can't be petted when he is working, people still smile when they see a service dog at work."