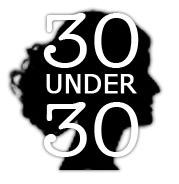 I arrive at today with mixed emotions: Part of me will be very glad not to have the pressure to post every day, but a bigger part of me will miss the inspiration I found from these women. There is not a woman I have written about where I did not stop to say, "Wow. Thank goodness I'm telling her story."
Telling these stories reminds me of why I believe in America, and why each of us must feel empowered to encourage goodness and strength in others. Whether in the workplace or in friendships or in doing volunteer work, one American saying to another, "That's a great idea—let's do it" is a powerful thing.
My blogs often quote Margaret Mead's statement: "Never doubt that a small group of thoughtful, committed citizens can change the world. Indeed, it is the only thing that ever has." And I have been reminded this month that it is often female activism that leads to important political and social changes.

Next March, "30 Under 30" will return with new women, so if you have favorites I should include, send them along.
In the meantime, I'm switching topics for a bit. I'm introducing a new series that will start next week, called "Close Up of the Week." The next four weeks will be short takes on the history of some our favorite baseball fields; in May, we will celebrate changes in parenting—there were many theories that preceded helicopter parenting!
If you signed up for "30 Under 30" you'll begin to receive these weekly notices as well as my monthly e-letter (March was on scouting). If it's ever too much, let me know, I can take you off until Thirty Under Thirty returns next March.
In the meantime, I appreciate your reading and your comments more than you'll ever know.