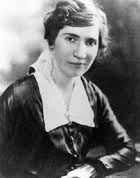 Implemented program for young people that became 4-H
Though most of us currently live in urban or suburban areas, our country's roots are rural. To recognize a woman who put into action a program to inspire and encourage young people who lived on ranches and farms seems very appropriate for our final "Thirty Under Thirty" woman.
Celestia Josephine "Jessie" Field was born in the southwest corner of the state of Iowa in 1881. She graduated from Shenandoah High School in 1899 and attended Western Normal College in Shenandoah until the spring of 1901, when she accepted a teaching position at Goldenrod School in neighboring Page County, Iowa. In 1903, she accepted a job in South Dakota near where a brother was living, but Page County asked her to stay on as superintendent of the schools—quite an accomplishment for a young woman in the early part of the twentieth century.
Beginning of 4-H
Jessie Field may not have formed the first club, but she would appear to deserve credit for the growth of a hands-on program like what 4-H came to be.
The 4-H website traces its actual beginning to a farm club that was begun by a man named A.B. Graham who was superintendent of rural schools in Clark County Ohio. In 1902 Graham established the Boys and Girls Agricultural Experiment Club. A similar farm club was started in Douglas County, Minnesota at about the same time.
In Iowa, Field was doing something similar. As a teacher, Field had learned that the students could be more deeply engaged in learning if their regular studies were supplemented with hands-on types of projects. Field developed an after-school curriculum that related to the children's environment and future occupations. She developed a Girls Home Club and Boys Corn Club. (The first boys club was intended to teach the boys about how to select the best corn to become the following year's seed corn, a decision that could make a big difference in the success of a crop; that's why it was originally called a "corn club.") The Clubs met on alternating days with the boys studying agriculture with scientific emphasis and the girls studying gardening, cooking, sewing, and other homemaking arts.
Field's program seems to have been the model for other schools. In 1908 Page County was recognized for having "the Best Rural Schools in America by the National Educational Bulletin, and so superintendents from all over came to visit. They took back the ideas from the school as well as the hands-on clubs.
Field's groups are credited with developing the emblem. The original symbol was a three-leaf clover with an "H" in each leaf, standing for Head, Heart, and Hand. A kernel of corn with "Page" (the county) was in the center of the three leaves, and IA was written on the stem to indicate the state of Iowa. (The fourth leaf, for Health, was added later.)
In 1914 Congress created the Cooperative Extension System as part of the U.S. Department of Agriculture, and it allotted funding for boys' and girls' clubs involved with agriculture, home economics and related subjects. This effectively nationalized the 4-H organization, and by 1924, these clubs became organized as 4-H clubs, and the clover emblem was adopted.
Today the 4-H clubs still participate in many agricultural and livestock projects—visit any state fair and 4-H is still very much in evidence. The clubs have expanded to urban areas and also work with young people on subjects like computer programming and space exploration.
In 1917, Field married Ira Shambaugh, who ran a milling business southwest of Page County, and they raised a family.
Jessie Field Shambaugh lived until 1971, and in one of the obituaries that was written about her, her daughter Ruth cities her mother's philosophy: "Everywhere through the country, for those who have learned to see and understand, are lessons which point toward the richness and strength of life."
The Iowa Public Television Station produced a history of 4-H and Jessie Field Shambaugh's contribution. For more information, you might enjoy watching this clip.