Professional Boxer
Poet
Leader in the movement for justice and equality for Mexican-Americans in the Southwest
Rodolfo Gonzáles was born in Denver, Colorado, the youngest of eight children.  His mother died when he was two so the children grew up in a household with only their father. The family lived in a tough section of town, Denver's "Eastside Barrio."  Gonzáles attended schools in Colorado and New Mexico, and he worked in the beet fields with his family when he didn't have to be in school.
His nickname of "Corky" came from an uncle who noted that young Gonzáles had a hot temper that could pop like a cork.
His father, Federico Gonzáles had moved to Colorado from Chihuahua, Mexico,  and he brought with him strong feeling about Mexico's struggle against domination by Spain and by Porfirio Diaz, a president of Mexico who ruled as a dictator.  Federico's political feelings were imparted to his children, and his youngest son paid close attention.
In 1949 Gonzalez married Geraldine Romero and they had eight children, six daughters and two sons.
Gonzáles' Dream
Gonzáles intended to go to college to study engineering, and during high school he worked toward that end.  However, one semester of college quickly burned through his savings, and he turned to professional fighting.  Gonzáles fought as a featherweight in 75 fights. He won the Golden Gloves and Diamond Gloves Tournaments and became Colorado Regional Amateur Flyweight Champion in 1946, soon becoming bantam weight champ in the National Amateur Athletic Union.  The following year he went pro and compiled a 65-9-1 record in the featherweight division, but he never took a national professional title.  He retired in 1955.
After his boxing career ended, Corky opened Corky's Corner, a sports bar in Denver.  A few years later he sold the tavern and opened a bail bond business.
Gonzáles believed Chicanos needed better representation in government and in 1960 he ran unsuccessfully for state representative. When he lost, he turned his attention to the presidential campaign and ran the Colorado division of "Viva Kennedy."  The group registered more Mexican- Americans than any other time in Colorado's history. Kennedy carried the state won the presidency by a narrow margin.
In 1967 Gonzáles ran for mayor but was again defeated.
Poem Very Influential
While Gonzáles may not have achieved his dreams of being an engineer or getting elected to political office, perhaps he did something more important through his poetry.
In 1965 Gonzáles wrote Yo Soy Joaquín (I Am Joaquín),  an epic poem where the narrator struggles with leaving behind his culture to achieve economic stability in the U.S., fighting for his people's rights and privileges in the process.
The poem resonated with Mexican-Americans throughout the country; it was reprinted In many newspapers and often mimeographed and taped to walls and telephone poles.  It was eventually staged by Luis Valdez's theatre group, Teatro Campesino, and the show toured nationally.  The poem became an influential piece of literature in the Chicano movement.
In 1966 he founded the Crusade for Justice, a cultural center that tried to persuade the city of Denver to eradicate poverty and deal with racial injustice.  In 1968 he led a Chicano contingent in the Poor People's march on Washington and issued "plan of the Barrio" which demanded better housing and education.  Gonzáles was  also instrumental in organizing the Annual Chicano Youth Liberation Conference; its purpose was to create unity among Chicano youth.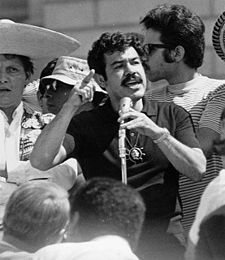 Gonzáles did not believe that the establishment would provide equality in education, so in 1970 he established a private school in Denver, calling it Escuela Tlatelolco (after an area of Mexico City that was once a city-state under the Aztecs).  He felt that helping kids gain self-esteem was a key element to improve the quality of education. (Today the nonprofit school and a health care center nearby are run by Nita Gonzáles, one of Corky's daughters.)
Gonzáles was also a figure on the national scene joining Cesar Chavez and Reverend Dr. Martin Luther King Jr. in their causes.
In 1973 violence broke out in Denver when a man was arrested for jaywalking near Gonzáles' headquarters.  The group took affront at this overstep by the police and demonstrations broke out. Gunfire erupted and a bomb was set off in a nearby apartment building.  One man was killed and 17 were injured, 12 of them police officers.
The disruption hurt the cause and Gonzáles took a lower profile, restricting most of his work to the Denver Chicano community.  In 1987 he was injured in a car accident and his health continued to fail over the following years.  His friend columnist Roberto Rodriguez, in an interview with Democracy Now, noted that his health problems really slowed him down in his later years but he was actively working to build a coalition between the Chicano Movement and the American Indian Movement.
In 2005 Gonzáles died at home surrounded by friends and family.