President William Howard Taft (1857-1930), who served as president from 1909-1913, was a big man.  At about 6 feet tall, his weight fluctuated from 255 to over 350 pounds, and he was constantly fighting to keep the pounds off.
Taft's career of choice was in the judiciary, but fate intervened and he found himself being offered new challenges that began via political appointments. When Taft was eventually prodded into running for president, he had to endure all types of weight comments and "fat jokes."  Had he remained on the bench, he likely could have fought his weight demons privately and perhaps more effectively.
Taft's Rise In Politics
Taft was born into a well-to-do and powerful family in Cincinnati, Ohio.  He attended Yale University followed by Cincinnati Law School. After a few years of legal practice, he was appointed to a judgeship. At the young age of 34, he found himself with a major appointment to be a Federal circuit court judge.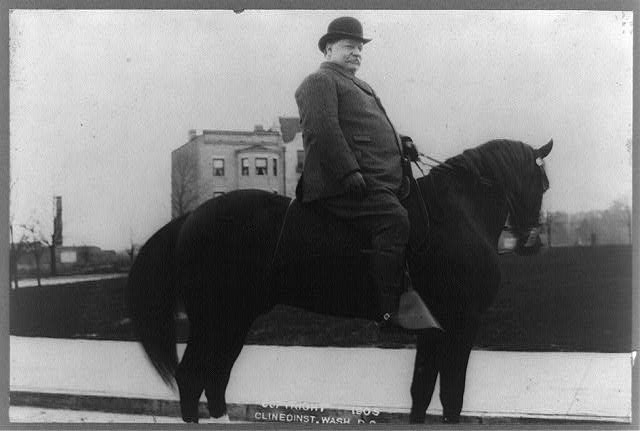 Taft's first career change of fate occurred in 1900 when President William McKinley asked Taft to move to the Philippines to organize a civilian government there after its annexation following the Spanish-American War. Taft dove happily into the job and was well-liked by the Filipinos. When McKinley died in office in 1901, his presidential successor, Theodore Roosevelt, asked Taft to return to the United States to serve as Secretary of War, Taft turned him down.  After three entreaties from Roosevelt, Taft finally moved back to D.C. and accepted the Secretary of War post.
Roosevelt again affected Taft's fate when he decided Taft should succeed him in the presidency—a job Taft had little interest in for many reasons including his distaste for campaigning.
President Taft's Weight: Contending with Campaign Jokes
Once on the campaign trail, Taft became fair game for the opposing party as well as for the press. Cartoonists loved to lampoon him, and Taft, who often rode horseback, had to endure frequent snide remarks about the fate of the unlucky horse.
Numerous other jokes followed. On a website maintained by Dr. John Sotos, M.D. some of the jokes about Taft's weight are reprinted. Among them: 'Taft is the politest man in Washington; the other day he gave up his seat in a street-car to three ladies.'"
Later Taft would repeat the comments in speeches and laugh along with the audience, but having personal weaknesses pointed out is painful for all but the truly thick-skinned.
Taft Made Effort at Weight Loss
Three years before any active campaigning for the presidency, Taft wrote to a well-respected diet doctor at the time, a Dr. Nathaniel Yorke-Davies of London. The two men never met in person but they set up a correspondence system that worked—most of the time.
Dr. Yorke-Davies method of weight loss was one that would be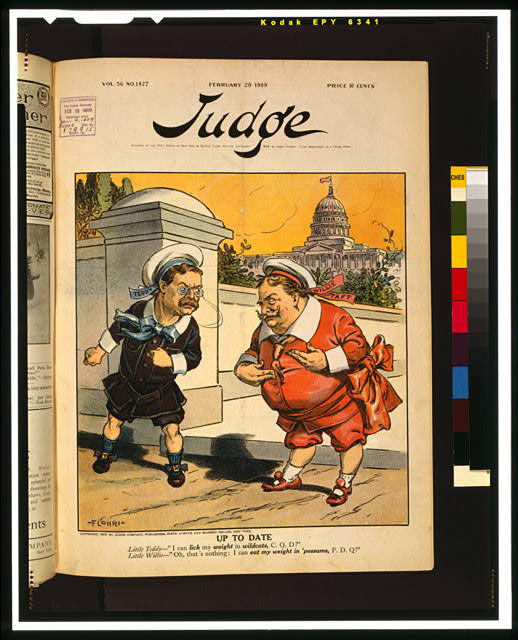 acceptable to doctors today. He believed in carefully portioned meals (weighing each portion to understand quantities) and parceling out snacks throughout the day.
Initially Taft was very good about writing to the doctor regularly, and the doctor amended his advice based on what Taft's concerns were.  In the first six months of working together, Taft lost 60 pounds.  He reported feeling constantly ravenous, however, and perhaps this was why he quit checking in regularly.  At any rate, he soon gained back 19 of the lost pounds.
By the time Taft was inaugurated as president in 1909, he had regained all of his initial weight loss and then some.  He was about 354 pounds when he took office.
With this information in mind, it is interesting to read about how President Taft spent his first Thanksgiving in office. Even for the very careful eater, the holidays are a time of over-indulging.
Taft's First Thanksgiving in the White House
In 1909 William Howard Taft enjoyed a fine meal with his family that featured a 52-pound turkey from the Vose Farm.  The Pie Bakers Union had promised to deliver a 50-pound mince pie (50 pounds!)  but something happened and the pie was either not made or not delivered. Press reports were vague as to the fate of the pie.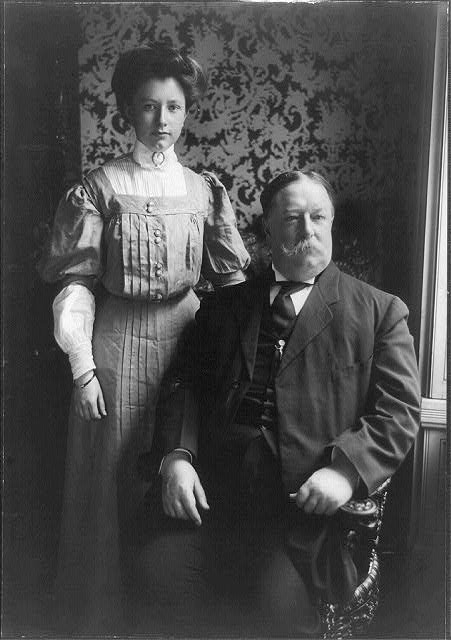 After an afternoon holiday meal with his family, Taft had an attaché phone Attorney General George W. Wickersham to invite him to accompany Taft on after-meal walk.
A reporter for The New York Times wrote: "The President and the Attorney General then struck off on a walk that lasted more than two hours.  They left the White House grounds by the rear gate that opens on the Mall, and their course took them over the wind-swept stretches of the Potomac River bottom well down toward Alexandria, Virginia.  When they returned Mr. Taft looked as fresh as when he started…"  (11-26-1909)
The reporter wrote that no Secret Service accompanied the two men, however it is possible that Taft was accompanied by his military aide Captain Archibald Butt. No matter, President Taft certainly enjoyed a level of personal freedom that presidents today can't even hope for.
President Taft's Weight
Taft had a challenging time in the presidency, and his personal happiness was marred by the fact that one year into Taft's term of office, his wife Nellie (1861-1943) suffered a stroke from which she never fully recovered.
As for his weight battle, he never gave up.  When he died in 1930, he was down to 280 pounds.