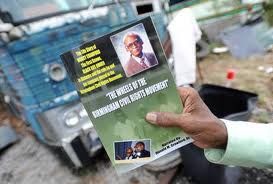 To teach about civil rights, we need the stories of Martin Luther King, Jr. and Rosa Parks, but we also need the stories of the unsung heroes like Worcy Crawford (1917-2010). Crawford started a bus company that provided transportation for the Ensley All Stars, and it grew to be a company that provided vital transportation for all African Americans in the Birmingham area.
In 2006, several years before his father's death, Donald M. Crawford, Sr., had the foresight to sit down with his father and record his life experiences as a black business owner (the first known black bus owner) in Birmingham, Alabama. His stories begin in an era when Jim Crow laws were in effect and go through the Civil Rights era and beyond. The resulting book, "The Wheels of the Birmingham Civil Rights Movement," tells an important story of everyday life for African Americans in the South from the 1940s through the end of the century.
In an interview this morning (April 12, 2011), Donald Crawford, Sr., a jazz musician and band instructor in Birmingham, told me of sitting down with his father to capture his thoughts for the book: "My father's first memories were of his own father, a sharecropper, worrying about how he was going to feed his family since the land owner took the bulk of the produce. From that day forward, my father resolved that he was going to have his own business."
Getting Started
The first third of the book is remarkable because, to some degree, it could have been about "any man U.S.A." Worcy Crawford attends school, helps earn money for the family, and eventually strikes out for the big city (Birmingham) where he gets a job with the Mulga Mine, beginning what will be 38 years of service for the Woodward Coal and Mine Company. (All his entrepreneurial efforts were in addition to holding a full-time job with the mining company.)
In the meantime, Worcy Crawford falls in love, marries, and he and his wife Christine start a family. In an effort to ease his financial worries, Crawford is always looking for ways to increase his income while still working at the mine. He invests in a club and a café, and we learn about his business ethics when he is approached by someone who offers to set fire to the club so Crawford can collect insurance money. Crawford turns him down, the first of many times when readers see a man who is committed to doing the right thing.
Until this point, the book could have been about a white or a black businessman serving his "own kind," but the story changes when the manager of the Ensley All-Stars, a Negro League baseball team, approaches Crawford about using his truck (which Crawford used to haul coal) to provide transportation to the games so the players didn't have to drive themselves.
The team travel brings Crawford and the team into the realities of dealing with a white world with Jim Crow laws. The team's popularity took them throughout Alabama, Georgia, Mississippi, and the Carolinas. Crawford's job at the mine meant that others often drove, but Crawford was with them often enough to experience that when they stopped for gas, there were no restrooms for blacks; the team carried their own food as there were few places where they could buy anything to eat, and if they had to stay overnight, it was three to a bed in a shack someone loaned them—there were no motels that would accept African Americans. During the early 1950s, the Ensley All-Stars played a game against an all-white baseball team in Laura, Mississippi. The score was close, until they were approached by a resident of Laura who told them, "You Niggers better lose this game if you want to leave Laura alive."
As the book states: "That convinced the guys that winning the game wasn't worth losing a life."

The Business Beyond Baseball
Though the Ensley All Stars folded in 1953, Crawford had replaced the coal truck with a bus (the "Orange Blossom," called such for its color) and he soon added another bus to provide services for church groups who wanted to charter his buses. African-American churches could not have booked rides on a Greyhound charter, so Crawford's business offered opportunities that had not been available to them.
When Crawford went to the county clerk to get the required license for operating a bus company, the people in the county clerk's office laughed at his request, responding with: "Ain't no such things as a Nigger bus company." The fellow in the office proceeded to explain that the only kind of black-owned bus that would be eligible for a license would have to be a church vehicle.
Worcy Crawford always intended to do the right thing but when faced with an obstacle, ingenuity came to his rescue. Crawford contacted an attorney and the Trinity A.M.E. Church and worked out a deal. He went back and applied for a bus license for the Trinity Church; it cost $1.50 instead of the $22 a commercial license would have cost. In addition, insurance rates were lower for church vehicles, and churches were exempt from income tax. In this one case, Crawford writes: "…thank you racism!"
As the title of the book indicates, the Crawford buses soon became important vehicles with Crawford donating the buses for trips to Montgomery and Washington for various marches with the civil rights movement, with Crawford asking only for gas money for the trips. In the online guest book following Worcy Crawford's death, Rachael Doughty from the Greater Birmingham NOW office notes, "I have fond memories of riding with the Crawford Bus Lines to several marches in Washington DC…Anti-War Marches…the Women's Rights Marches…the Crawford [& Sons] Bus Lines were truly the 'Wheels of the Movement'…and touched many lives."
So, too, has his only surviving son, who is making sure his father's legacy lives on. By telling the story of one of many African Americans who ran the grocery stores and doctors' offices and other essential businesses during the days of Jim Crow, Donald Crawford, Sr. adds a significant story to our country's past.
In an interview today, Donald Crawford Sr, notes that while the world is far from perfect when it comes to race relations, "Life in the South is better. I live in a mixed neighborhood—something my father could never do—and there are no more signs over water fountains or bus waiting rooms.
"There is still room for improvement, but we've come a long way, and I think my father is an important part of the story."
Indeed.
To read about Jackie Robinson and what he faced in traveling to spring training with the Brooklyn Dodgers, see "Airline Passengers Needed Their Own Rosa Parks."