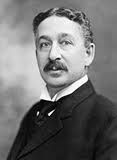 King C. Gillette (1855-1932) came up with the idea for a disposable razor during his years as a traveling salesman. He realized how handy it would be to use and replace.
Growing Up
Gillette was born in Wisconsin but the family moved to Chicago in 1859. King's father owned a hardware store but it was lost during the Chicago Fire of 1871. King Gillette was 17 by then, so he set out to make his own fortune.
He became a traveling salesman, which gave him a great opportunity to observe what sold and what didn't. The experience taught him that companies that sold frequently-used, disposable items did well.
Idea for Disposable Razor
In his travels he used a Star Safety Razor to shave each morning but the razor used a heavy wedge-shaped blade that had to be stropped and honed regularly.
Gillette wanted a thin blade that could be tossed out after a few times. At this time the technology to create a thin piece of steel eluded most people, including metallurgists at MIT.
Six years after he began looking for a way to make a thin blade, he met William Emery Nickerson. Nickerson was MIT-trained and understood what Gillette was looking for. He began experimenting.
In 1901, Gillette and Nickerson formed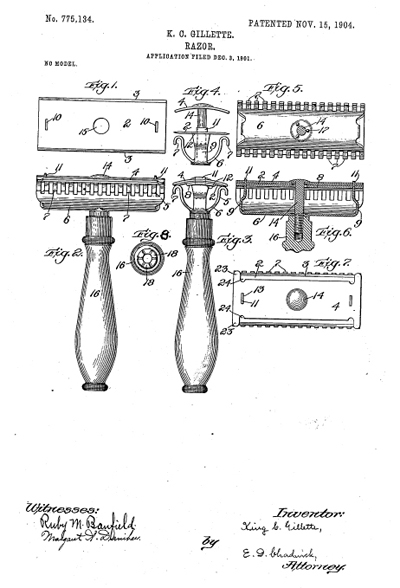 the American Safety Razor Company. By 1903, their company began production on thin blades that could be sold in a package. The company also made and sold safety razors.
By the second year in business, the company sold 90,884 razors and 123,648 blades and business grew. Automated manufacturing and low prices helped build sales as did Gillette's marketing.
Fame for Gillette Disposable Razor Blades
Gillette obtained a trademark registration for his signature and likeness on the product, and he became a celebrity of sorts. His picture became familiar to people all over the world. (One article notes that Nickerson's name was dropped from the packaging because of the unfortunate connection between "nickerson" and shaving.)
Unfortunately, Gillette did not manage to hold on to his fortune. The crash of 1929 was hard on his finances. He spent great sums fighting patent infringement battles.
However, the Gillette Company lived on. After several different owners, it is now part of Proctor and Gamble.
Gillette Ranch
In addition, Gillette left another legacy. He purchased a 588-acre ranch in the Santa Monica Mountains that is now a state park.
For more stories of inventors see Fathers of Invention and Mothers of Invention.