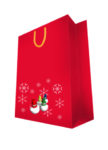 Today we awoke to news that a shopper at a California Walmart used pepper spray on other shoppers to gain an advantage on getting into the store for Black Friday shopping bargains. That's a new one for the books.
In years past there have been other safety issues that stores have had to guard against around holiday time. In the 1920s and 30s fire was a huge concern, and an article in The New York Times in 1929 noted that the store was taking these precautions:
• Post guards at entrances to stop persons from carrying lighted cigars and cigarettes into the building.
• Instruct all floor-walkers to stop all smoking by smokers.
• Do not place paper shades over electric lights.
• Organize and maintain a fire brigade.
For more stories of safety at holiday time–including the amazing foiling of a robber–click through to a story I write two years ago: "Holiday Hazards of the Past."
Safe shopping!