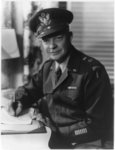 Served as president from 1953-1961
Dwight D. Eisenhower came to national prominence and was elected to the presidency in 1953 because of his esteemed military career. During World War II, he served well and honorably as the Supreme Commander of Allied Forces in Europe.
No one would have predicted this future for Dwight Eisenhower, who was born into a Mennonite family that did not support the military. They believed pacifism was the way to solve world problems.
Dwight D. Eisenhower was the third-born son of seven brothers. When he was only a year old his family moved to Abilene, Kansas. The family was quite poor and relied on their garden for most of what they ate. The boys were expected to help with chores such as feeding the chickens, gathering eggs, and milking the cow and bringing in firewood. Eisenhower found that he could make money for the family by selling some of the family's unneeded vegetables to other residents of Abilene.
Eisenhower was a good athlete and hoped to go to college but older brothers' education took precedent. Ike went to work at the local creamery, where his father was employed, in order to help put his older brother Edgar through law school. Eisenhower learned, however, that the Naval Academy and West Point would provide a free education in return for years of service.
He eventually received an appointment to West Point, and while his mother was saddened by his acceptance to a military school, she didn't interfere. Ike believed strongly that an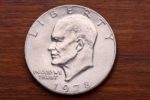 education was worth going against his family values. Of course, ultimately, he proved to be an excellent leader and was put in command of all the Allied Forces during World War II.
He returned home a hero and both Democrats and Republicans sought him for their party's presidential nomination. He eventually accepted the nomination of the Republican Party and served as U.S. President from 1953-1961.