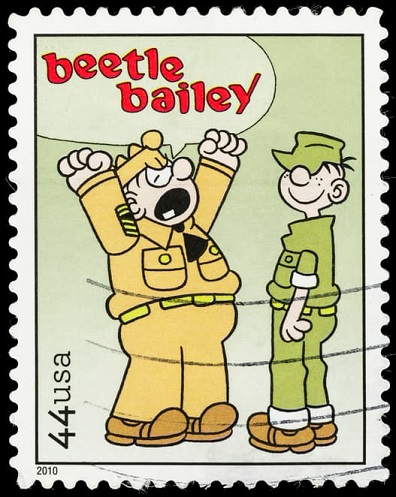 Beetle Bailey, created by Mort Walker (1922-2018), first appeared in 1950. Despite the changes in our military since that time, the comic strip remains a culture icon.
Everyone can identify with the hierarchy of Beetle's position–a boss like Sarge and bosses above him–as well as the assorted characters who spend their days on base with Beetle Bailey.
Mort Walker died in 2018, but he contributed to the strip until the very end. Now the business is run by his son, Greg Walker, who worked alongside Mort. Greg has been joined by brothers Neal and Brian.
In the Beginning
Mort Walker began sending out cartoons as a young teenager. His first published cartoon appeared when he was only 15. After high school, he took a staff job at Hallmark Cards (based in Kansas City, Missouri) but in 1943 he was drafted. During his military service, Walker kept a diary in which he drew sketches of many of the soldiers with whom he served, and this was to prove useful later on.
After the war, he returned home to attend journalism school at the University of Missouri. He moved to New York City upon completion. Walker began selling to national magazines including The Saturday Evening Post, where his editor encouraged him to draw "what he knew" and suggested cartoons based on his college experiences. Walker did so and pitched the idea for a strip about frat boy Beetle Bailey to King Features Syndicate. The strip debuted in 1950 in a dozen newspapers.
The strip performed well with its first clients, but the syndicate noted that there were no new takers for a strip about college life. The Korean War was heating up, and Walker's editor said, "Put Beetle in the Army." Beetle was drafted, and suddenly the subscribing newspapers increased. Beetle had become someone to whom more readers could relate.
The Premise of the Strip
Beetle Bailey is stationed at Camp Swampy where he works hard at doing as little as possible; he is frequently caught napping by readers as well as his supervising officer, Sergeant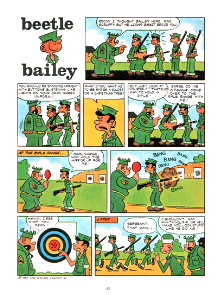 Snorkel. Snorkel is often accompanied by his uniformed dog, Otto, who also takes a dim view of Beetle.
In addition to Sarge, Beetle Bailey has a large recurring cast, from General Halftrack and his buxom secretary, Miss Buckley, to Cookie, the "chef," and "Killer," the good-looking ladies' man. Lt. Fuzz is the young apple-polisher whom the other infantrymen avoid. Zero is the empty-headed farm boy, and Plato is the resident intellectual. Those who follow the strip know that this brief list only scratches the surface of the character line-up.
During its seven-decade run, Beetle's eyes have never been shown. If he leaves the base and his military cap behind, he is wearing a pork pie hat that covers his forehead and eyes. One early strip of Beetle in college actually includes his eyes, but it was never published in a newspaper. Another strip features Sarge scaring Beetle's hat off, but his eyes are not revealed as Beetle is wearing sunglasses.
Censorship
While Walker sometimes self-censors, the strip occasionally runs afoul of one of its client newspapers. At one point, the military newspaper, The Stars and Stripes, felt that the strip encouraged disrespect of officers, so they refused to print it.
Another time a belly button was shown and the strip was pulled from some papers. In yet another instance (2006), Rocky is asked about where he worked when he was a civilian. Rocky notes that he sold used cars. The punch line comes when Beetle asks, "Where did you do that?" Rocky's original answer: "Across from the parking lot where I stole them."
After editors complained, the strip was edited to read "Across the street from the junkyard."
Ironically, censorship tends to boost readership, so Beetle tended to get a bump up when strips were refused.
Success on Many Fronts
The first African American character to appear did not do so until 1970 when Lt. Jackson Flap entered saying "How come there's no blacks in this honky outfit?" Three southern papers refused to run strips with Lt. Flap. The Stars and Stripes initially dropped those strips, too (think about it–1970), but they soon reinstated it.
Walker Added "Hi and Lois" Strip
Beetle's success would have been enough for many cartoonists, but Walker was not content with one strip. In 1954 he introduced Hi and Lois, based on Walker's family life with his seven children in suburban Connecticut. (Lois is actually first introduced through Beetle; she is his sister whom he visits while on furlough.) Boner's Ark began in 1968 and is a delightful commentary on modern day featuring all types of zoo animals.
Ironically, the laziest character in the history of comics was created by one of the hardest working cartoonists of all times.
Walker was active in the Society of Cartoon Artists and founded a National Cartoon Museum in Connecticut. The museum was absorbed by a Cartoon Library and Collection at Ohio State University in Columbus, giving OSU the largest collection of cartoon art in the world.
Beetle Bailey is set on a military base, its appeal extends beyond there to anyone who has been "low man on the totem pole." Incompetent bosses and unreasonable rules of the organization appeal to almost everyone, and as a result, Beetle has become a hero to millions of readers.