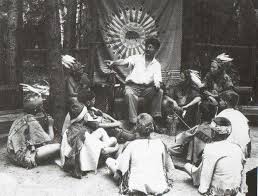 The Woodcraft Indians organization was an American forerunner of the Boy Scouts. Ernest Thompson Seton (1860-1946) was its founder. In forming the Woodcraft Indians in 1902, Seton places himself among the two or three people who introduced environmentalism to America in the early twentieth century.
Ernest Thompson Seton was a British-born gifted illustrator and writer, who had already produced several scientific books about wildlife. But his contribution to society came through undertaking to teach young people about the value of the natural world we lived in.
The Development of the Woodcraft Indians
The concept for forming the Woodcraft Indians began in Cos Cob, Connecticut, a wealthy town adjacent to Greenwich. Seton's opportunity to change lives presented itself when he was trying to solve a problem of his own.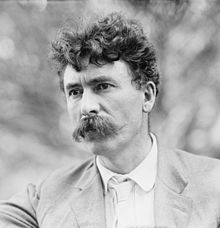 Seton and his wife purchased a home called "Windygoul." The house was surrounded by beautiful land, part of which was wooded. The area had long been used by locals as a place where young fellows came to hunt small game. Seton wanted to prevent hunting on his property so he fenced it. This angered the local teens who still wanted access to the property. On several separate occasions they vandalized the fence and the gates into the property.
With the vandalism repeated several times after repairs were done, Seton understood that the problem was not going to go away. He could have called the police but wasn't certain that was the right approach. The school year's Easter break (1902) was approaching, and Seton decided the solution lay in instructing the boys. He invited those he thought were involved to come and spend the weekend camping on his property.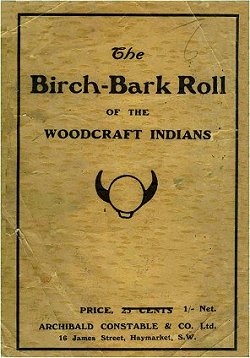 Wary but curious, the boys came. They found Seton well prepared with plans for the weekend. Seton felt Native Americans had a lot to offer in teaching man how to relate to nature. He had many stories to share of Native Americans of the area, and he taught games and activities that would let the boys explore the fields and woods in ways that did not involve hunting.
He also encouraged them to establish their own leadership hierarchy. The group elected a Chief, a Second Chief, a Keeper of the Tally, and a Keeper of the Wampum, as well as other roles for all of the boys. They also fashioned their own clothing to wear as tribe members, and each boy selected their own tribal name.
The Woodcraft Indians Spread Nationally
Seton's effort worked so well that Seton developed plans for more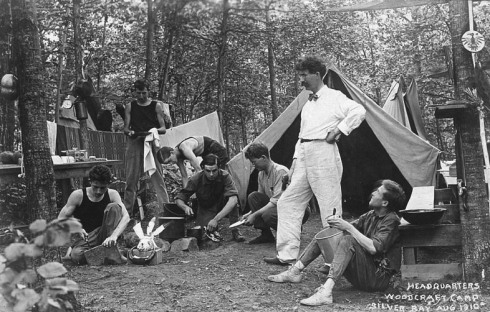 groups of what he came to refer to as the Woodcraft Indians. The Ladies Home Journal editors were familiar with Seton's writing, and he was asked to prepare a series of articles about "Seton's Boys," which appeared in the magazine later in 1902. The national publicity for Seton's project led to the establishment of other groups of Woodcraft Indians elsewhere in the country.
Seton was to write: "[The Woodcraft Indians] would help bring together young people from various so-called stations, break down the barriers that society has foolishly placed upon them, and establish in their minds when they are young a finer kind of humanity, a real understanding that the important thing is the association of a human spirit."
Prolific Writer and Now Leader of a Movement
Though he took on the Woodcraft Indian movement with gusto, Ernest Seton continued writing and illustrating books. His how-to for the Woodcraft movement was published as The Birch Bark Roll of the Woodcraft Indians, but he was also writing nature stories, such as Bannertail: The Story of a Gray Squirrel and Johnny Bear, Lobo and Other Stories as well as books like Sign Talk of the Indians.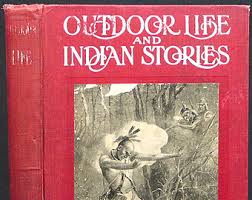 Later on, he wrote additional guides for forming other groups: Woodcraft Manual for Girls, The Laws and Honors of the Little Lodge of Woodcraft, and The Manual of the Brownies. (The original Brownies organization was established for girls and boys, ages 6-11, and was said to be based on a Seton's book, Woodland Tales.)
Environmentalism in the Early Twentieth Century
Seton was not totally alone in his belief that we must preserve nature. During this time, John Muir was very active, particularly in the West, protecting and preserving land. Muir had Teddy Roosevelt's ear which was very helpful to Muir in getting things done. Muir was also co-founder of The Sierra Club (1892).
Another environmentalist, Gifford Pinchot, was appointed by President Teddy Roosevelt in 1905 to be the first chief of the U.S. Forest Service. Pinchot believed that nature needed to be protected but that progress needed to continue; at a certain level, modified control over nature was inevitable.
Roosevelt himself was a huge believer in protecting nature, and he advocated that young people participate in sports and rigorous exercise; he himself had overcome a sickly childhood by exercise regularly.
Ernest Thompson Seton differed from Roosevelt in that he felt that the key to understanding the human spirit lay in the natural world, and for that reason, children to be encouraged to spend more time outdoors in rural and wooded areas.
The Woodcraft Indians and the Boy Scouts
The Boy Scouts is an organization recognized today as being founded by British military hero, Lord Robert Baden-Powell.
After the Boer War, Baden-Powell returned to England, and because of his heroism, he was frequently asked to address groups to tell about his experiences. He soon learned that one of the booklets, "Aid to Scouting," that he had prepared for his soldiers was being used by groups in England to guide young boys. Based on this, the leader of the Boys' Brigade, an interdenominational Christian organization, asked Baden-Powell to expand and develop a program that groups could use to teach young men good citizenship.
Baden-Powell had heard of Ernest Thompson Seton's work in the United States and invited him over to discuss it. Seton hoped that England would establish chapters of the Woodcraft Indians and took a copy of the The Birch Bark Roll of the Woodcraft Indians to Lord Baden-Powell.
Ultimately, Baden-Powell decided to go a slightly different direction, but he wrote to Seton explaining why, and noted that Seton's book was a tremendous help in formulate his thoughts. Baden-Powell went on to create the organization of the Boy Scouts.
Initially, Seton opted to follow Baden-Powell's lead, and Seton co-founded the U.S.-based Boys Scouts with Dan Beard in 1910. He merged his Woodcraft Indian chapters into the newly formed group. Seton served as Chief Scout Executive until 1915 when he left the group over philosophical differences. Perhaps since Baden-Powell came from a military background, the scouts began to teach the use of firearms. This was offensive to all Seton stood for, and so he withdrew from the Scouts and went on to form other new groups.
Seton Continues His Work
This time Seton returned to his concept for the Woodcraft Indians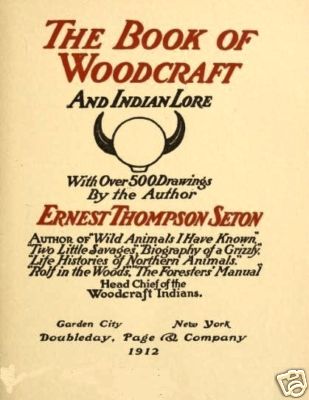 but made it coeducational and called it the Woodcraft League of America. It was open to all children "between the ages of 4 and 94." Possibly because of his numerous books, the Woodcraft League programs spread worldwide.
An offshoot of the League continues today in Los Angeles. Known as the Woodcraft Rangers, the organization runs nature camp and summer activities for inner city children and also runs after-school programs. The emphasis is on helping children mature into healthy productive adults. Their reach is reported on their website as being about 12,000 children annually.
Seton's Later Life
IN 1930 Seton bought 2300 acres in Santa Fe, New Mexico, and founded the Seton College of Indian Wisdom. By this time he was married to his second wife, and they both taught summer courses in the arts, outdoor activities, and leadership.
Today Seton Village still exists; the learning institute is now called the Academy of the Love of Learning. There is also a Seton Memorial Library.
While some critics now look back at Seton's books and see them as overly sentimental and containing illustrations that are more artistic than scientific. But no one can dispute that his knowledge and work led him to spread the word about conservation and preservation to America's youth.