When the Nixon family moved into the White House, they arrived with two canine family members: Tricia's Yorkshire terrier named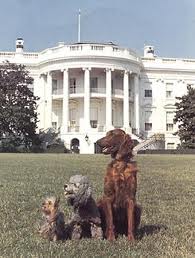 Pasha, and Julie's French poodle, Vicky.
Another family dog arrived shortly after the inauguration, but the sentiment surrounding Nixon and this dog seems to have been obscured by a probably erroneous story being spun around the web by so many sources that it appears as fact.  For that reason, it is worth re-examining the story.
Timahoe and Richard Nixon
The story goes that the staff decided to get a dog for Richard Nixon (1913-1994) to "warm up his image." The dog they gave him was an Irish setter that Nixon named King Timahoe. He arrived as a puppy, and it has been written that the dog so disliked the President that when Timahoe was brought to the Oval Office the only way the dog would approach Nixon was if Nixon offered dog treats that he kept in a desk drawer.
This was an interesting story and paints Nixon as the type of person many people felt him to be, but I began to doubt the story's truth when I visited the Nixon library recently.  There, amidst other family memorabilia was a snapshot of Nixon and his dear friend, Charles (Bebe) Rebozo (1912-1998).  Standing between the two men was none other than King Timahoe looking quite happy to be along on whatever outdoor expedition the men were embarking upon.
For that reason I began to dig deeper into Nixon's relationship with dogs. 
A Dog Family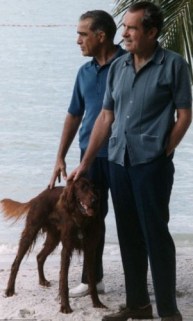 The Nixons really were a "dog family."  Checkers (see previous story) lived with them for many happy years, and when they moved into the White House, each of the Nixon daughters brought with them their own dogs.  Photographs of seven-year-old Vicky and two-year-old Pasha napping in the Oval Office are easy to find online, so this "canine distrust of Nixon" story gave me pause.
Here's what I have learned about King Timahoe: On January 9, 1969, Richard Nixon turned 65 only days before he was to take office. His staff, with planning spearheaded by Nixon's devoted secretary Rosemary Woods, presented him with a model of an Irish setter, with an explanatory card attached: an Irish setter puppy would be forthcoming once the Nixons were in the White House and the puppy was old enough to leave the litter.
Nixon had had another Irish setter at a crucial time in his life, and the staff knew this dog had been important to him. For that reason, they felt the setter was the perfect gift.
When the puppy arrived, Nixon chose the name, King Timahoe, after a town in Ireland from which his mother's ancestors had emigrated.
During the Nixon years, the dogs lived in a dog run located just behind the West Wing. The enclosure featured a heated doghouse with three separate suites, one per dog. The daughters were said to visit frequently.
White House Dog Handler
For several presidents, the unofficial "dog handler" had been an electrician by the name of Traphes Bryant.  He maintained the dogs of the Kennedys, LBJ, and others, and now he would be responsible for a new puppy.
Most presidents would probably agree that housebreaking and training a puppy has to be left to someone else when one is fulfilling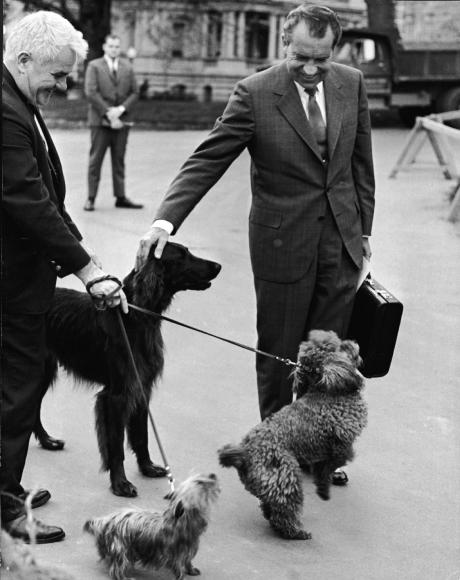 the responsibilities of the presidency, so the dog care-giving was Traphes Bryant's job.  As a result, Timahoe's bond with Bryant was very strong because he was the main presence in Timahoe's life during the early months at the White House.
A Dog's Life
Bryant was often summoned to bring the dogs to the family.  He generally stayed nearby when Timahoe was with the President, and he writes in his book, Dog Days at the White House (1975), that Nixon found watching the dogs very relaxing. Nixon was said to like nothing better than to have dinner on the Truman balcony and have the dogs brought out to play on the South Lawn where he could watch them.
Bryant also recalls a time when King Timahoe went into a full pointer position, body tall and taut with nose stretched outward and one paw raised, his full attention focused on a bird in a bush.  Bryant describes Nixon as well, standing totally still for a full ten minutes watching the scene until the bird finally flew away.
Tim had been taught to shake paws on command, and this became a very popular photo opportunity.  When foreign dignitaries came to visit, it was not uncommon for someone to request a picture be taken of the dignitary and Timahoe in a hand-paw shake.
Nixon did keep dog biscuits in a desk drawer in the Oval Office in order to lure Tim to him when a lot was going on.  From reading more about the circumstances, Nixon is described by several sources as a man with nervous habits and awkward physical movements. (One example noted by Bryant was the President's tendency to get tangled in the dog's leash.) This level of awkwardness may have made Timahoe slow to approach when he visited the Oval Office, where the stress level was undoubtedly high much of the time.
Perhaps it was not that Timahoe dislike Nixon; it may have been that during these early days, Bryant was the master, yet Nixon would have loved to have been the dog's sole focus.
Life with All of the Dogs: Timahoe, Vicky, and Pasha
Pasha was a particular favorite of Tim's and they happily romped together despite their size difference.  Vicky might have been more eager to participate if she hadn't had another hobby—she loved watching the goldfish in the White House pond. Once she snagged one, which must have been an interesting scene.
As further and final proof that the Nixons really loved their dogs, King Timahoe, Vicky, and Pasha were part of Tricia's wedding day. When the President and Tricia walked down the steps of the South Portico as they came down toward the wedding aisle, they turned and could see the three dogs, bedecked in collars adorned with flowers, sitting attentively to be part of the big occasion.