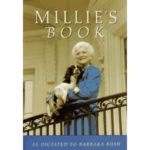 There is no doubt that the Bush family members who lived in the White House are "dog people." The photos of the two families depict people who absolutely relish being with their animals.
George H.W. Bush (41) and his wife Barbara lived in the White House from 1989-1993 and brought with them their Springer spaniel, Millie. Millie had at least one litter of puppies. One of them, Ranger, stayed at the White House with George and Barbara. Another puppy, Spot, was given to George W. and Laura who would eventually bring Spot back to the White House. (This was the first time the country had a second-generation First Dog).
In addition to giving birth to a future First Dog, Millie also wrote a book. Barbara Bush thought Millie would be the perfect voice to tell the behind-the-scenes story of the White House. Millie describes a day in the life of George Herbert Walker Bush and family, discussing morning briefings, deliberations in the Oval Office, and of course, her own short breaks for squirrel hunting. Both children and adults enjoyed the book, and it remained on the bestseller list for many weeks. For Barbara Bush, the book was important because it gave her an additional way to raise money for literacy.
Barney and Miss Beazley
When George W. Bush (43) and wife Laura moved into the White House in 2001, they brought with them Millie's offspring,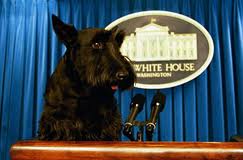 Spot, then age 11, and Barney, a young Scotty. The dogs ingratiated themselves to most people at the White House, however, in 2008, Barney did take issue with a Reuters reporter who tried to pet him. This was the only known Barney biting incident, so after the initial flurry of headlines–and some antibiotics for the reporter–life for the dogs at the White House returned to normal.
Total joy is reflected in almost all photos of George and Laura Bush and the dogs. In scanning through the photos, there are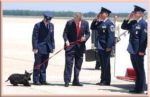 a few of Barney that will give any dog owner a laugh: Barney had no interest in boarding the presidential helicopter. Reports were that if he were to accompany the first family, he had to be followed, nabbed, and carried on to the chopper.
On January 6, 2005, after Spot's death, President Bush gave Laura a new Scottish terrier for her birthday. Miss Beazley started her time at the White House as you might expect–with a press conference.
Barney was never in danger of being eclipsed by the newcomer. During the Bush White House years, Barney had his own website, and each year at the holiday, the family would release a Barney's-view video or life at the White House. They are no longer available on a government website but they can be found on YouTube.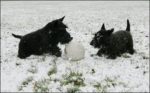 Service Dog Helped Former President After Barbara's Death
Update: Barbara Bush died in the spring of 2018. The President was hospitalized shortly after her funeral. At 94, he suffered from Parkinson's. When the family saw that he would be healthy enough to return to their summer home in Maine, they arranged for him to have a service dog. Because the former president was a veteran, he qualified for a dog through America's VetDogs. To read about Sully and his months with the Bush family, click here.
President George H.W. Bush died on November 30, 2018. Generally, these specially trained dogs are sent on to another assignment. Sully came from America's VetDogs.
To read about another dog who served one veteran and then went on to another, read about SSD Slate.