A PATCHWORK OF PEOPLE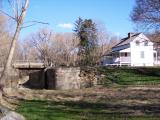 What did your great-grandparents do? If you think about it, they were probably important players in helping develop our country, no matter what their role. And have you ever thought about how very different their lives were than the lives we lead today?
I was reminded of this difference on my recent visit to Frederick, Maryland when I was provided with a small booklet containing the reminiscences of Lavenia Waskey; the book was a collection of her memories of growing up along the C&O Canal. The stories were undated, but Lavenia must have been born about 1905-08 as she was still relatively young and living at home during the 1918 flu epidemic.
From her reminiscences, I learned that until Lavenia was seven, she and her parents lived on a canal boat where her father was a mule driver on a boat that transported coal from the Alleghany Mountains to the eastern shore as far as Georgetown. As a child on a canal boat, Lavenia, her parents' only child at that time, had to amuse herself for long periods. The only time she saw any other people at all or could get off the boat was in the evening, and only if the captain decided to tie up the boat for the night.
A desire to let Lavenia attend school might have been a motivating factor for her father's job change. When she was seven, he became a locktender, and this provided some stability for the family. In addition to a small salary, the family received permission to live in a house located right by the lock (Catoctin Lock 29 in Lander, Maryland). Because canal traffic could come at any time of the day or night, it was important that someone live right by each lock to be available as needed.
When the boats came through, the lock gates had to be opened and closed; the work required a great deal of strength to maneuver the heavy gates holding back the water. During the 1918 flu, Lavenia's mother had to perform the task while her father lay ill, and Lavenia writes of how very difficult it was for her mother to handle the work.
In addition to the physical tending of the lock, the canal company required paperwork on all boats that came through each lock. Each boat had a number, and the locktender recorded the boat, the time it passed through the lock, and whether it was empty or full. One of Lavenia's tasks was running postcards with these notations up to the post office.
Pay was low so locktenders sometimes maintained gardens from which they sold produce, or their wives sold baked goods to those who came by.
When John Jones of Journey through Hallowed Ground and I met George Lewis, D.V.M. and president of the Catoctin Aqueduct Restoration Fund, we actually met him at the house at Lock 29 where Lavenia and her family once lived. Today it serves as a headquarters and visitors' center for those who would like to walk along the canal route or visit the aqueduct.
The small house and Lavenia's reminiscences are a reminder of how much our lives have changed. One hundred years after Lavenia's childhood, children are required by law to attend school, and they usually attend one that is very close to their house. They spend most of their days inside playing on computers or watching television or having organized playdates, while Lavenia would have had no structure at all for play and would have spent most of her days outdoors, either playing or helping her parents with the work they did.
It is hard to think of what helicopter parents would make of having to supervise a toddler while traveling on a canal boat with no access to toddler gym or music classes. Despite living on a boat, Lavenia not only never attended Baby Swim classes, she never even learned to swim. Her father's attempt to teach her by tying a rope around her and throwing her into the canal so traumatized Lavenia that she avoided going into the water for the rest of her life.
As for her parents, a tip of the hat goes to them both. They worked hard and put in very long hours, yet they made little money; there was no retirement package, no health care option, and no safety standards for any of the jobs they performed. Yet these are among the hearty people on whose backs our country was built. Without them, America wouldn't be what it is today. Your great-grandparents and grandparents likely made similar contributions to this country,