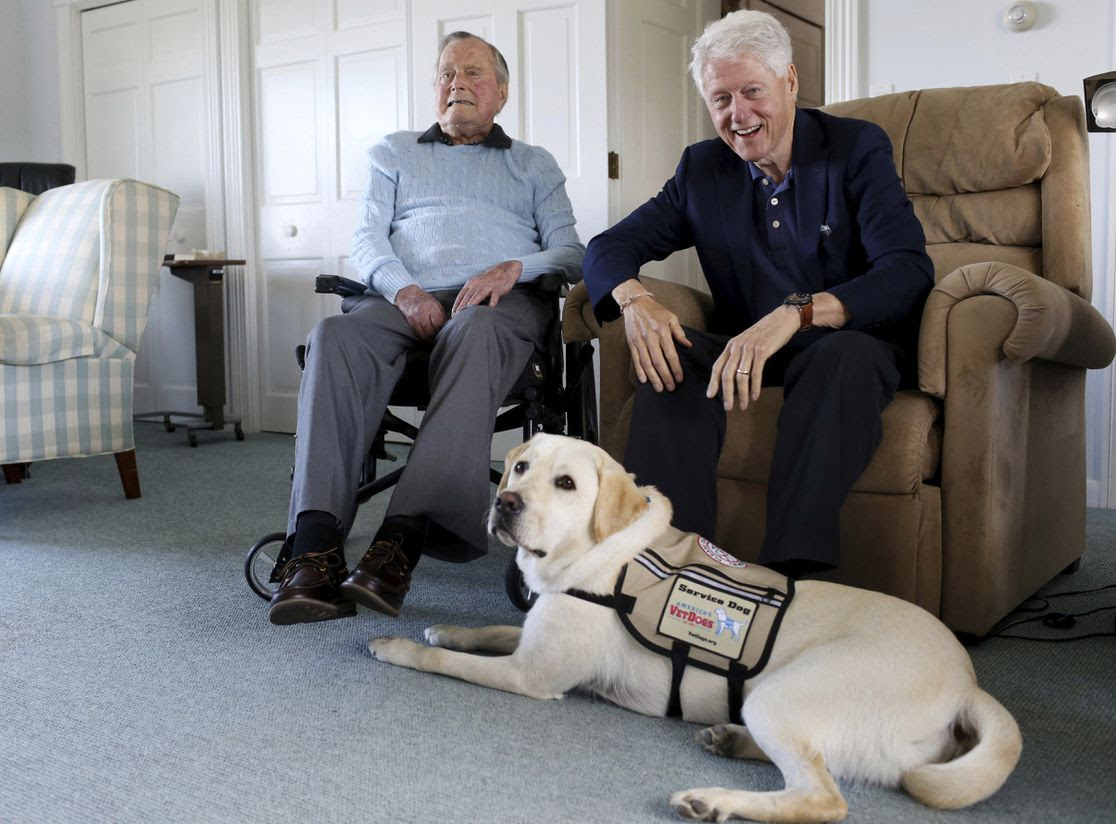 The Bush family has always had dogs and loved them with great devotion. Dogs have always seen them through challenging times.
President George H.W. Bush experienced the loss of a lifetime when his wife Barbara died in April 2018. President Bush, who suffers from a form of Parkinson's, came down with pneumonia immediately after the funeral and was hospitalized for almost two weeks.
Upon discharge from the hospital, his children made plans for him to spend the summer as he and Barbara always did–at their compound at Walker's Point in Maine.
(Update: President George H.W. Bush died November 30, 2018. It was fitting that after wife Barbara's death, he had Sully, a service dog, to help him during the last few months of his life. The article below was written shortly after Sully arrived at the Bush compound in Maine.
As a specially trained service dog, the Bush family wanted Sully to continue to serve other veterans. America's VetDogs announced that he will join the staff at Walter Reed National Military Medical Center in Bethesda, Maryland, where he will assist with physical and occupational therapy to wounded soldiers and active duty personnel during their journey to recovery.)
New Dog Arrives
By June, President Bush was ready to add a new family member, Sully, a service dog trained by America's VetDogs. Sully is a 2-year-old Lab named for the former airline pilot Chesley "Sully" Sullenberger III, who became famous for landing a damaged passenger jet on the Hudson River in 2009.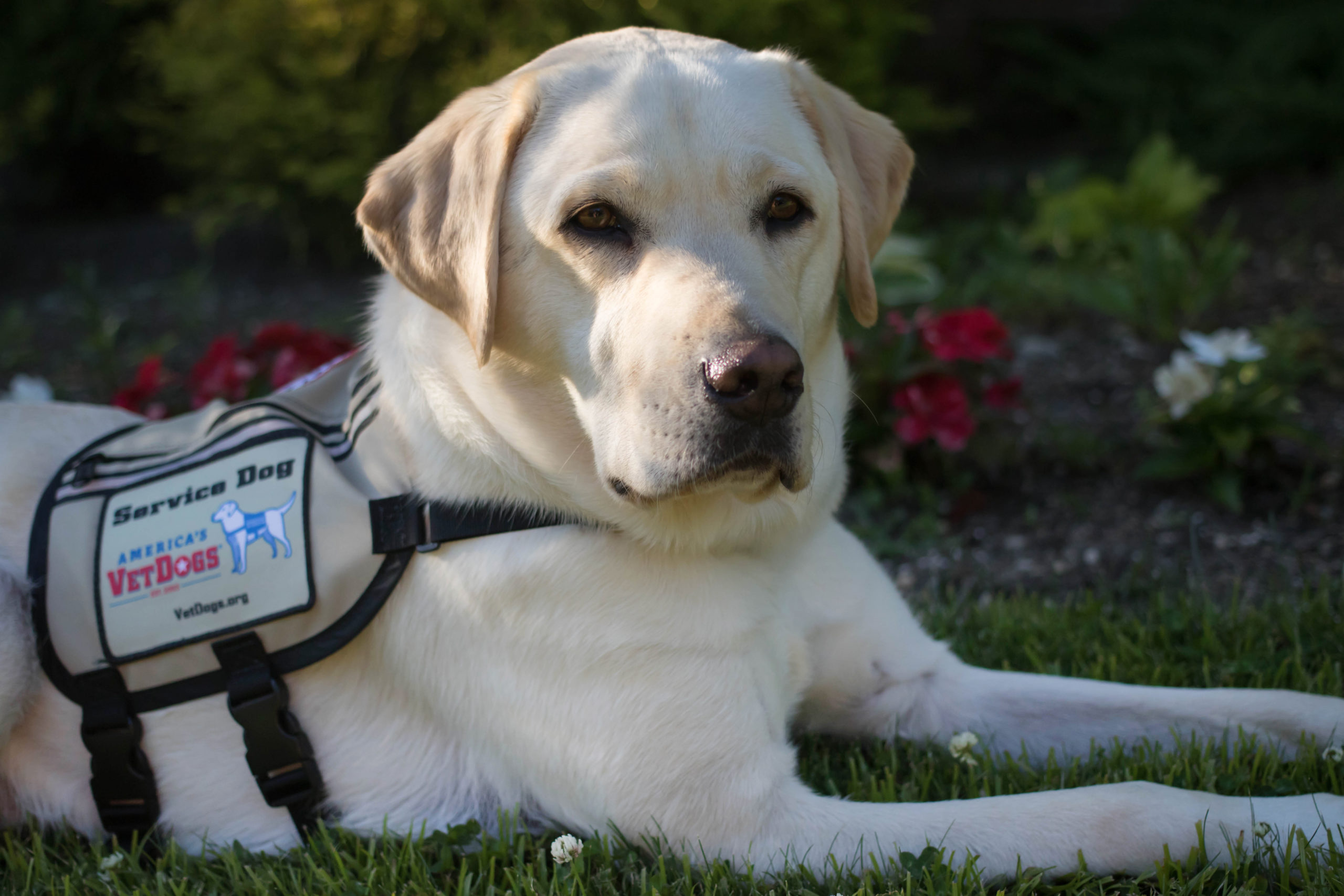 Because of his illness, the President uses a wheelchair and a motorized scooter to get around. He qualifies for a dog trained by America's VetDogs because he served during World War II as a naval aviator flying torpedo bombers in the Pacific Theater. In total, he flew 58 combat missions during the war. After the Japanese surrendered, Bush was reassigned to Norfolk Naval Base (Norfolk, Virginia) where he trained new pilot until he was discharged in September of 1945.
For his wartime service, Bush received three Air Medals as well as a Presidential Citation.
Sully Arrives at Bush Home
"Hello Sully, welcome home," were the first words spoken by President Bush, according to Sully's trainer who delivered him to the Bush home on Walker's Point.
Like all service dogs, Sully is specially trained to be helpful to the person to whom he is assigned. For the former president, Sully can pick up a dropped item from the floor, open doors, and summon help.
But as President Bush well knew when he first accepted Sully, the dog also provides loving companionship and many laughs.
Publicly, @georgehwbush tweeted: "A great joy to welcome home the newest member of our family, "Sully," a beautiful and beautifully-trained lab from @AmericasVetDogs."
Readers who have followed the Bush family through their lives know that dogs have always been important family members for the Bushes. First Lady Barbara Bush wrote a book with her Springer spaniel, Millie. The funds raised went to her favorite cause, improving literacy. Millie was also mother to a First Dog owned by President George and Laura Bush. But their most famous dogs were the Scotties—Barney and Miz Beazley. These short-legged black bundles of fur provided ceaseless fun for the family, and they willingly shared with the public via a website and a YouTube fee.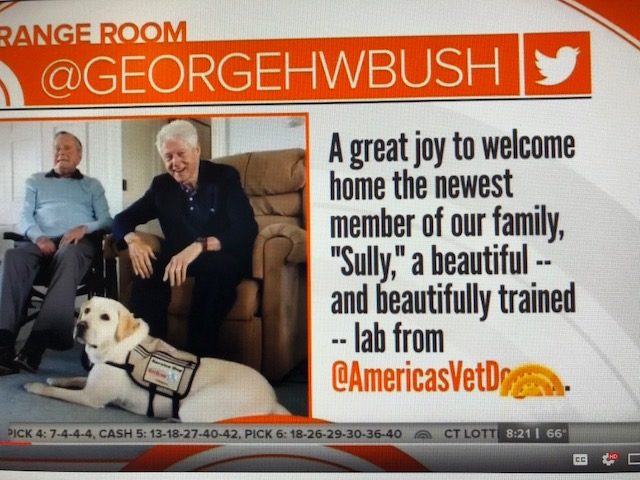 Based on the long history of Bush family dogs, it is clear that Sully has found a welcoming home.
For those of you who enjoy dog stories on Twitter, check out Sully's feed: @sullyhwbush on Twitter. While Sully must take his responsibilities seriously, the Twitter feed shows that there is plenty of time for him to have fun. His antics undoubtedly bring President Bush tremendous joy.
To read more about about the Bush family and their dogs, click here.
About America's VetDogs
America's VetDogs was created in 2003 by the Guide Dog Foundation for the Blind began in 1946 to help visually impaired students including veterans who were returning from the battlefields of Europe and the Pacific.

In 2003, the organization recognized the continuing need to help veterans by training and placing guide, hearing, PTSD, and service dogs. For the veterans, these dogs increase independence, enhance mobility and offer companionship to veterans with disabilities from all eras.
In 2015, VetDogs opened its programs to first responders, including fire, police, and emergency medical personnel.
America's VetDogs is a 501(c)(3) not-for-profit organization that is donor supported. Its mission to help those who have served our country continue their lives with dignity and independence. The dogs are provided to qualified individuals at not charge. For more information, see America's Vetdogs.
To read about another veteran who fully benefited from a service dog, read about Slate.