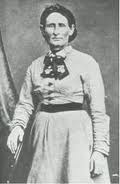 Nancy Kelsey (1823-1896) was 17 years old and the mother of an infant daughter when she became the first woman to travel to California on a wagon train in a group that included her husband, their baby, and about 30 men. Young women like Nancy were vital to settling the West.
The travelers knew so little about the terrain that some had brought boat-building equipment thinking that when they got to the Great Salt Lake they would be able to build and board boats and float down to the ocean.
Kelsey and Group Persist Despite Obstacles
A few months into the trip, the Kelseys' oxen became so weak that there was no choice but to abandon the wagon. Nancy's husband loaded what could be packed on to the horses and they went on without whatever travel comforts might have been afforded by the wagon. They arrived at Sutter's Fort in December and one of the fellow travelers wrote of Nancy, the first white woman to make such a trip: "Her cheerful nature and kind heart brought many a ray of sunshine through clouds that gathered round a company of so many weary travelers. She bore the fatigue of the journey with so much heroism, patience, and kindness that there still exists a warmth in every heart for the mother and child, that were always forming silvery linings for every dark cloud that assailed them."
On September 9, 1900, The San Francisco Chronicle wrote: "Many and many a time it has been noted that there is nowhere in all this country, a monument to the foremothers of the land…" That sentiment is well-expressed, and it is a fitting conclusion to this story about Nancy Kelsey, who is a stand-in for so many women who bravely made their way West. They made homes, raised families, and provided civility in this new world that was being established.
But one of the reasons history is so wonderful is that it catches us by surprise. This paragraph in the Chronicle actually concludes by noting how very much women deserve this honor: "…since they not only had to endure the hardships and privations of a new country, but were obligated to endure the forefathers, too."
In the context of the times, that may have referred to the rough-and-tumble types of men who came out to settle the West, or perhaps it means just what we might have meant if it was written today!