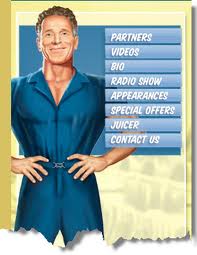 Jack LaLanne (1914-2011) is considered the Father of the American Fitness Movement. He was among the first to recognize the importance of healthy eating and exercise. LaLanne devoted his entire life to putting that philosophy into action and eventually built an empire to promote physical well-being.
Jack LaLanne also led the way for fitness to be a part of television. He was first to create a television show based on the premise that Americans would exercise along with someone demonstrating exercises on TV. 
Jack LaLanne's Inspiration
Jack arrived in this country when his parents decided to move to the U.S. from France in the late 1920s. They settled in San Francisco. One night his mother took 15-year-old Jack to hear a public lecture given by nutritionist Paul Bragg who spoke about the evils of meat and sugar.
Jack, a self-described "sugaraholic," was fascinated. He started learning about nutrition and experimenting with weight lifting. Doctors of the day advised against weight-lifting and health clubs; they saw it as unhealthy to become muscle-bound, but LaLanne saw things differently. In 1936, he rented space in an office building in Oakland where he opened a gym, a juice bar, and a health food store. People began to sign up.
LaLanne Envisions Being on TV
In 1951, LaLanne was excited about the new possibilities offered by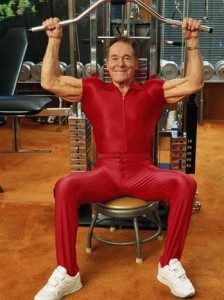 television. Imagine demonstrating exercises in front of a camera? People could follow along from the comfort of their own homes.
He approached the local stations in San Francisco. One station finally agreed to air his program—if he paid them. With that, he began regular tapings of what we now would consider an "infomercial."
To the station manager's surprise, The Jack LaLanne Show gained a following. The program was picked up as a commercial program and aired nationally in 1959, preceding Richard Simmons and Jane Fonda by many years.
Jack LaLanne Aged Well
From age 40 to 70, LaLanne performed various feats to prove his health often involving distance swimming while handcuffed or shackled or both. At age 70 he was handcuffed and shackled and towed 70 rowboats—one with several passengers–from the Queen's Way Bridge in Long Beach Harbor to the Queen Mary, anchored a mile away.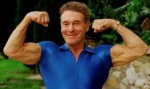 Jack LaLanne's company still maintains a website. It  opens with a clip of Jack talking about the merits of America and equating the strength of America to the fitness of its citizens. Today trainers would agree with much of what LaLanne taught but they would take issue with a few items, too. For example, Lalanne did not believe in warming up. He noted "Does a lion warm up when he's hungry? 'Uh oh, here comes an antelope. Better warm up.' No! He just goes out there and eats the sucker."