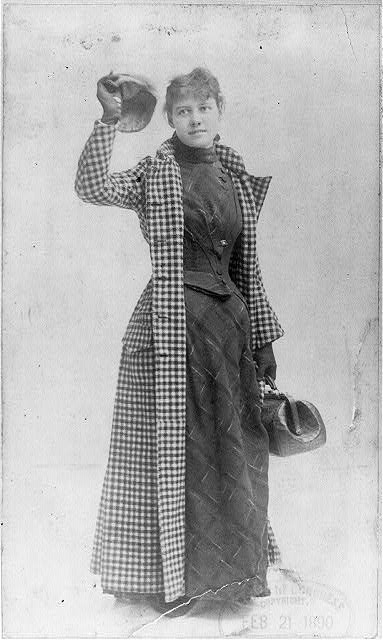 Nellie Bly, born Elizabeth Jane Cochran (1864-1922), made a name for herself as an investigative reporter for the New York World. She is generally remembered in the context of her round-the-world trip for Pulitzer's newspaper. Less well known but perhaps more significant was her work as an under-cover journalist, working in factories to report on unacceptable conditions and getting admitted to a mental institution to write about how mental illness was treated at that time.
Cochrane's journalistic career stemmed from a letter to the editor she wrote in 1880 while her family was living in Pittsburgh. (As a teen she added an 'e' to her surname.) The newspaper, the Pittsburgh Dispatch, had printed a column Cochrane found objectionable, and she wrote a response, signing it "Lonely Orphan Girl." The editor was so impressed by the letter that he ran an ad the next day asking for "Lonely Orphan Girl" to identify herself. Cochrane stopped by the offices, and the editor hired her.
In the late 19th century, few women wrote for newspapers but those who did used pen names because it was considered improper for a woman to publicly reveal her identity. The editor selected "Nellie Bly" for Cochrane's pen name. Composer Stephen Foster was from Pittsburgh and Nellie Bly was a name in one of his songs.
Her Career Begins
As Nellie Bly, Cochrane began writing about the plight of working conditions of female factory workers, but when the factory owners told the paper's publisher they were going to pull their ads, the editor moved her to gardening, food, and style. Nellie had no interest in pursuing this line of reporting, so she left to travel in Mexico, sending back reports as a foreign correspondent. When she returned to Pittsburgh after writing negatively about the Mexican government (necessitating that she leave Mexico), she was given an arts beat, which again held no interest for her. In 1887 she moved to New York City. For four months she had no success in finding a job but finally she talked her way past the guards at the New York World and convinced Joseph Pulitzer's managing editor, John Cockerill, to hire her.
Cockerill came up with an idea that would test Nellie Bly but also create a big sensation. New Yorkers heard that treatment of women at Blackwell Island, the Women's Lunatic Asylum, was harsh and that the patients were neglected. Cockerill suggested Bly feign insanity to be institutionalized and report on what she found. Nellie Bly established residence in a boardinghouse and then proceeded to convince them she was insane. She was taken to Bellevue Hospital where the doctor determined she belonged at Blackwell Island, and Bly was institutionalized and able to observe firsthand what was happening. It was prearranged that ten days later an attorney from the newspaper would come to Blackwell Island to see that Bly was released. Afterward, she filed stories on what she experienced—spoiled food, undrinkable water, patients tied together with ropes, rats all around… Her reports appeared in the newspaper and were later published in a book, Ten Days in a Madhouse.
A grand jury undertook an investigation and unhappy administrators and physicians were called upon to explain the conditions. The jury ultimately backed all of Bly's recommendations for change and called for an increase in funds for caring for the insane.
In 1888 Bly suggested the trip around the world, attempting to beat the time given in the fictional Around the World in Eighty Days. In 1889 she made the trip in 72 days, six hours, eleven minutes, and fourteen seconds.
Bly married a wealthy manufacturer in 1895. He died less than ten years later. Bly ran his companies for a time, but ultimately the businesses failed, and Nellie Bly found herself in Europe in 1914, reporting to the U.S. on what was to become World War I.
Nellie Bly died of bronchopneumonia in New York City in 1922. Her final cause had been concern over orphanages, and she instructed a friend to watch over several children in whom she had taken a particular interest.