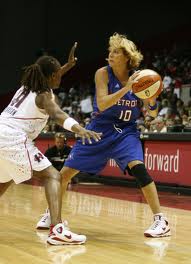 Achieved many basketball firsts.
Nancy Lieberman was the first high school student, male or female, to make a U.S. Olympic basketball team. She was part of the USA Women's National Basketball team that brought home several medals, and she was the first woman ever to play in a men's professional league (1986, the Springfield Fame and 1987 the Long Island Knights, both in the US Basketball League). She is also the first woman to tour with the Washington Generals, an exhibition basketball team created in 1952 to primarily serve as a foil for the Harlem Globetrotters.
In 1996 she was accepted into the Naismith Memorial Basketball Hall of Fame (1996) and in 2008 she was inducted into the Hampton Road Hall of Fame (Virginia).
Nancy Lieberman's parents divorced when she was very young, and she and her brother were raised by a single mother in the Rockaway section of Queens, New York. Nancy's mother did not value her daughter's love of sports, but Nancy pursued the interest on her own and played baseball, softball and football with boys in the neighborhood. Eventually basketball became her passion, but she did not have an opportunity to play on a regular team until she was a sophomore in high school, finally playing on a girls' team at Far Rockaway High School in Queens.
Just a couple of years later, Lieberman was selected for one of only 12 slots on the USA Women's National Basketball Team. That first year, 1975, the team brought home a gold medal from the World Championships and the Pan American games. In 1976, the first year women's basketball was added as an Olympic sport, they earned a silver medal, making Lieberman the youngest basketball medalist in Olympic history.
In the fall of 1976, Lieberman enrolled at Old Dominion University in Virginia in Norfolk, Virginia. She led the college team, the Lady Monarchs, to back-to-back national championships (1979 and '80), and she set college records for steals and assists. She came to be referred to as "Lady Magic" (after "Magic Johnson") and was named an All-American three years running and the national Player of the Year twice. Many credit her with helping to reshape women's basketball into a more physical and entertaining game.
Lieberman later played in two women's leagues — the Women's Professional Basketball League in 1980 and a new league of the same name in 1984, until it folded because of financial problems.
In November 2010 Nancy Lieberman became the first female head coach to lead an NBA or an NBA Development League team when she was hired as head coach of the men's basketball team, the Texas Legends (affiliated with the Dallas Mavericks). For more information on Lieberman, visit www.nancylieberman.com.