Trading Stamps: An Early Shopping Rewards Program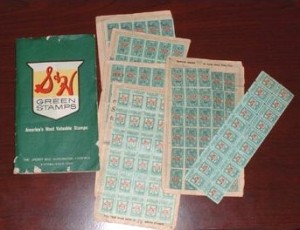 Today's frequent flier and shopper loyalty programs are simply up-to-date versions of trading stamps, a type of shopping incentive program that got underway in the early 20th century.
While S&H Green Stamps are the iconic trading stamps, there were other programs. A&P supermarkets offered plaid stamps, and Grand Union offered an "S stamp," but S&H got enough an edge that it was soon offered by grocery stores as well as gas stations.  Consumers came to shop according to where they could collect more Green Stamps.
The behind-the-scenes process of trading stamps involved stores buying the stamps from the Sperry & Hutchinson Company, and then the retailer gave them to customers for free. The stamps were issued in point denominations of one, ten, and fifty points, and the quantity of stamps given was dependent on the size of the sale.
The S&H Company began the program as early as 1896, but it was at its most popular from the 1930s-1960s. In 1964 Sperry & Hutchinson was the largest purchaser of consumer goods in the world.
The program was partially energized by a catalog of offerings, where families could muse over their options.  This was a pleasurable treat in those days, long before mail order was the multi-billion dollar industry it is today.
There were no self-stick stamps at the time of the program's peak popularity, so some "lucky" family member had the task of moistening the stamps (by damp sponge or by tongue) and placing them in the collection booklets that were given out free by S&H.
In researching this information, I purchased an "S&H Ideabook of Exciting Gifts."  The one I received happened to be from 1969, and there were many offerings: a 26" suitcase was available for 5 books; a chafing dish for 1 ¼ books; a set of goblet stemware for 3 ¾ books; a Swyngomatic baby swing for 6 ½ books, and an RCA 23" color TV for 173 books!   (Televisions may have changed greatly since then but clearly, they have always been a hot item!)
Green Stamps could be redeemed by mail or by visiting an S&H Center, located in many cities throughout the United States.  The centers featured showrooms with merchandise where families could evaluate the item they were considering before ordering it. When a consumer took their books into the showroom, the representatives thumbed through each booklet that there was no "cheating the system."
Green Stamps were resurrected in the early 21st century as an online program, and their website states that consumers can still redeem their green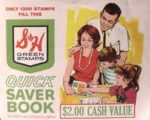 stamps.  (Check www.greenpoints.com.)
Stamps, stamp booklets, and S&H Ideabooks are all considered collectibles. If you have any, you might also try selling them on eBay.
Do You Remember Layaway Plans?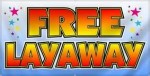 Layaway plans must have been dreamed up by an enterprising retailer who wanted a way to increase sales before the era of credit cards.  With layaway, consumers select certain merchandise and make a down payment for an item to be held for them until it is fully paid for.  The store (or today the website) offers a small fee for the convenience (sometimes as little as $5), but the fees charged are far below what accruing interest on a credit card bill can run, and if the person defaults on their purchase there is no black mark on their credit rating.  In the case of default, the merchant exacts a relatively low penalty fee, and of course, the merchandise is simply returned to the sales floor.
This selling method became popular in the 1930s during the Depression.  It gave consumers a way to work toward something they wanted or needed, and it provided stores with a way to make a sale that otherwise wouldn't have happened.
Layaway plans began to lose their luster as the use of credit cards grew.  Customers could get instant gratification by paying with a credit card.  They charged item and took it home, only only later having to worry about their growing credit card bill.
In 2008 when the economy dried up, retailers like Kmart, Marshalls, and T J Maxx dusted off their layaway plans and started promoting them.  Shoppers were reluctant to put too much on the credit card, yet they didn't want to miss out on the special toy or television set on which someone in the family had their heart set.
For stores that don't want to run their own programs, there is no a website to handle these sales.  eLayaway.com has products ranging from iPads to Gap clothing.
Consumers note that there's something to be said for knowing that a much longed-for item is theirs free and clear, with no money worries attached.  The retailers of the past had a good idea there.
Fast Facts about Shopping and Saving
Today there are numerous ways to find bargains online, ranging from individual bloggers like Lori at www.bargainshopperlady.com who troll the Internet for us, bringing us the best deals they find.
There are big companies like redplum (www.redplum.com) that offer a wide selection of coupons for almost every need.
There are also "membership only" deadline shopping programs like the designer clothing online seller, the Gilt Group that offer sales that start at a specified time and sell at a discounted price "while supplies last."  (Find someone who is a member to get you added to the list—it's free.)
Retails stores offer special sales, loyalty programs, and bounceback coupons, all to keep you coming in their doors.
As I noted in my blog this week, right now the advantage goes to the consumer!  To read, click here.