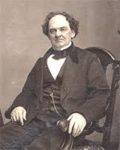 In preparing for my UCLA Osher Institute class about various forms of American entertainment, I have come upon a few little-known stories about the amazing promoter P.T. Barnum (1810-1891) so I want to share them with you in this issue.
Elsewhere on the site, my web series about characters from the Funny Papers has begun with a profile of Olive Oyl. I was surprised to learn she pre-dated Popeye by ten years! Next up is Beetle Bailey. If you'd like to receive these by email, write me and I'll add you to the list. I'm also happy to receive suggestions on characters. (Thus far, I have had requests for profiles of Brenda Starr, Li'l Abner, Dick Tracy, and Dagwood.)
It's been a busy autumn; I have been interviewed about the American customs practiced on Halloween, I have talked about the traditional Thanksgiving pardoning of a turkey at the White House, and in December I am looking forward to doing some radio interviews about the story behind the New Year's Eve ball drop.
I hope you had a wonderful Thanksgiving and I'll be back again with a December newsletter.
George Washington's Mammy: Barnum's First Exhibit
Though Barnum would later tell people he had a hardscrabble upbringing, Phineas Barnum actually grew up in a well-to-do family in Connecticut. After several visits to New York City Barnum knew he wanted to go into entertainment. In 1835 he came upon a down-and-out promoter who was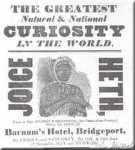 exhibiting a slave whom the promoter said was George Washington's mammy, Joice Heth. Barnum sensed opportunity, so he bought the slave and deemed that she was 161 years old.
To promote her, he forged baptism documents and sent an advance man ahead to schedule meetings for Heth with ministers. By presenting her with her documents to "men of the cloth," Barnum hoped to establish credibility. In addition, he wrote and published a biography, "The Life of Joice Heth, the Nurse of George Washington." When abolitionists began to agitate about the fact that he was exhibiting a slave, he announced that all money raised would go to anti-slavery causes (which, of course, it didn't).
With this groundwork laid, Barnum was ready to start touring Joice Heth and charging people admission to come in and see her. While not 161, Heth was old and did not have much mobility, but she was happy to talk to people who visited and make up stories of caring for little George. For several months, Barnum was bringing in $1500 a week from exhibiting Joice Heth. When ticket sales began to slip, Barnum planted newspaper stories to renew interest in her. He explained that she wasn't real at all; that she was actually a machine made of whale bone. This brought paying audiences in again as they wanted to come back and see for themselves that she was a living being.
How Barnum Became Partners with James Bailey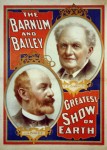 The gutsiness of James Bailey (1847-1906) was the factor that brought the two men together to create the "greatest show on earth."
As a boy, James Bailey had literally run away and joined a circus. After serving in the Civil War, Bailey was hired by a circus operated by William Lake and John Robinson. Robinson died shortly after Bailey joined them, and Bailey took on the role of managing the Lake & Robinson circus. Later Bailey bought an interest in another circus that came to be known as Cooper and Bailey, and he eventually added several other shows to his portfolio.
Bailey knew his primary business competition was P.T. Barnum, so in 1880 Bailey took one of his shows to Bridgeport, Connecticut, where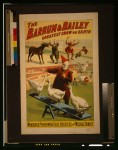 Barnum's business was based. To Barnum's consternation, Bailey's circus outsold Barnum's, taking in $2 to every $1 of Barnum's show. Rather than continue to compete head-to-head, Barnum proposed a merger. Bailey took over management of business affairs, while Barnum focused on showmanship; together they were soon running "the greatest show on earth."
Making the Most of Jumbo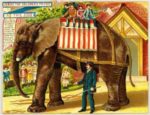 Though Barnum is generally given credit for bringing "the world's largest elephant" to the U.S., the business deal is actually a perfect example of why Barnum and Bailey were the perfect team. In 1882 Bailey sent a representative to Europe to look for interesting attractions for Barnum & Bailey to feature. When the scout, Joseph Lee Warner, came back, Bailey said to him: "What was the biggest thing you saw over on the other side?"
"Well, answered Warner, after long thought, "I think the greatest thing I saw was an elephant in the London Zoo."
"Go back and buy him," said Bailey.
Bailey paid $10,000 to the London Zoo for the elephant that became known as "Jumbo."
Enormous publicity followed the sale, with the British press inveighing against the zoo for letting their "treasure" go. With this bang-up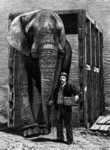 start to the news of Barnum & Bailey's victory, Barnum was easily able to step in to capitalize on what he did best. Jumbo was not excited about getting into a travel create, and Barnum made certain that the press had easy access to the reluctant traveler. Each day there were stories of whether or not Jumbo would walk into the shipping crate. Every day the elephant refused was another day of newspaper headlines.
Somehow they eventually got Jumbo on board the ship and transported to the United States. When Jumbo disembarked in New York City, thousands were there to greet him, and Barnum made sure they had plenty of opportunity; Jumbo was paraded up Broadway and across the Brooklyn Bridge and back again to get plenty of people ready to shell out money to come to see him again.
Fast Facts about Barnum
• Barnum's first performing troupe was called "Barnum's Grand Scientific and Musical Theater."
• Barnum bought the American Museum at the corner of Broadway and Ann Street. From 1841-1865 Barnum's Museum was open 15 hours per day,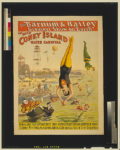 six days a week. In 1865 the museum was destroyed by fire. Students at the City University of New York have created an interactive website that replicates the museum. Check it out. It's fun.
• In the 1860s Barnum served two terms in the Connecticut legislature representing Fairfield County.
• Barnum died in 1891 and after James Bailey's death in 1906, Barnum & Bailey was acquired by their main rival, Ringling Brothers. Ringling was started by seven siblings who transformed their small touring company of performers into one fo America's largest circuses. For a time, the two circuses traveled as two separate entities before being united as Ringling Brothers Barnum & Bailey in 1919 with its first performance in Madison Square Garden.