As an increasing number of Americans switch to receiving their news via their iPads or their Kindles, it seems fitting to look back at news deliveries of the past…specifically newspaper boys.
Also please visit me on www.facebook.com/AmericaComesAlive. Visit each week to test your knowledge with "Guess the Place!" and "Fact or Fiction?" In February, there will be another contest with an actual prize.  Not a Kringle this time…an Amazon gift card.
Newspaper Delivery Was Multi-Tiered in the Beginning
The U.S. Post Office Act of 1792 to create a national postal system was mainly done for newspaper delivery. The intent was to make sure the news was distributed on a wide scale to as many citizens as possible.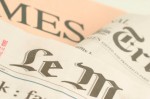 However, newspapers existed before 1792, and as a result, distribution methods had to be created.  According to the Newspaper Association of America, as early as 1760, New York publisher Hugh Gaune advertised for a "nice boy" to deliver his paper, The Mercury.
The need to expand delivery outside cities led to the use of post riders who would deliver papers to smaller more rural post offices. After the revolution, post riders delivered the newspapers to what were considered suburban areas; the post office was responsible for rural delivery; and  newsboys sold newspapers on town street corners, sometimes calling out the headline news in order to draw attention.
By the mid-19th century, news could travel over telegraph wires so local papers could also carry national news, and this increased the number of papers and the need for more newsboys.
Many of these newsboys were part of the wave of immigrants that had begun to arrive in America. Some were the only members of their families who survived the trip; others had family members but not ones who could support them. Charles Loring Brace was among the first to establish housing for these children (1853).
The business model followed for newsboys at this time required them to buy the newspapers outright; their income was based on a small profit on each copy sold, but because the newspapers were non-returnable then, it was very difficult for these children to make money. (See Fast Facts for information on the 1899 Newsboys' Strike about this issue.)
As more people moved out of the cities and into the suburbs, newsboys eventually transitioned to be newspaper "carriers," who walked or rode a bicycle to deliver the newspaper to houses along an assigned route.
Child labor laws eventually brought an end to children taking on paper routes, and today's papers are usually delivered by adults who drive-and-toss.  Collection is done by the newspaper billing office.
The Job of Paper Boy Was Once a Rite of Passage
On October 4, 1947 the nation celebrated Newspaper Boy Day, and part of the festivities included comments from some of the nation's leaders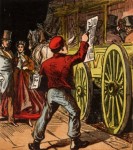 whose first jobs were as paper carriers.  Among the men noted (NYT, 10-5-47) and their jobs at the time were Associate Justice William O. Douglas, Governors Thomas E. Dewey of New York, Earl Warren of California, and Mon C. Wallgren of Washington, Senators Robert F. Wagner of New York, Wayne Morse of Oregon, and Scott W. Lucas of Illinois as well as Baseball Commissioner A.B. Chandler (who ended the color line in major league baseball). But perhaps the best comment came from Charles Luckman, president of Lever Brothers Company in Cambridge, Massachusetts: "America's 'smallest businessmen'—her newsboys—are developing the qualities that have made for America's greatness.  They form a deep and rich reservoir of our leaders of tomorrow."
Warren Buffett was once a paper carrier, and certainly that last comment applies to him.
In my research, I heard directly from a former newspaper carrier, Captain David G. Smith, U.S. Navy Retired and an ex-Commodore of the Poseidon nuclear submarines.  He writes that in the early 1940s he delivered the News Sentinel in Fort Wayne, Indiana.  "In the beginning I delivered with two canvas bags, but as my route expanded I had to shift to my 'Bull Dog' wagon in order to carry the load."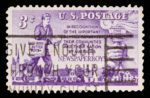 Collecting, of course, had to have been a challenging part of the job:  In answer to my questions, Smith writes: "Once each week, generally on a Saturday morning, I would visit each customer, collect their money and give them a coupon from my record book. I would then have to deliver the funds to the newspaper office. Some customers paid by the week, some by the month. Some frequently would not answer the door, some were very friendly and some seemed to always find a problem with how I folded the paper, where I left it or whatever bothered them that day."
Another former newspaper boy notes that winters were the worst, and that anyone who worked the job through winter weather were subjecting to hands that cracked from dryness and cold. He also notes that if people didn't pay, that loss came out of what would have been the paperboy's pay—a harsh lesson in the realities of business.
Performance Art and the Newsboy
For the last few months I have been working with the Remember the Triangle coalition—an organization you'll hear more about soon.  Plans are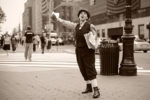 underway to commemorate the centennial of the Triangle Shirtwaist Factory Fire, a tragedy that resulted in changes in worker safety rights and regulations.
Last week, by complete happenstance, Lulu LoLo, a committee member, mentioned to me that one of her creative performances had been of that of a newsboy. What timing since I was in the midst of researching this topic!  For her performances, Lulu created for distribution "The 14th Street Tribune," which documents some of the 19th century history and events that occurred around Union Square in NYC.  Check out her webpage on this topic.  You can read copies of the newspapers she handed out and see a clip of her as well.  Be sure to scroll to the bottom, too, as there is a rare film clip of a newsboy in 1896.  Fascinating.
Fast Facts about News Delivery
It is generally written that the first newsboy was 10-year-old named Barney Flaherty who answered an ad placed by the New York Sun in 1833 looking for "steady men" to sell the newspaper.  However, as documented by the Newspaper Association of America, newsboys existed long before this time.
In 1899 the newsboys struck against the New York Journal (published by William Randolph Hearst) and the New York World (published by Joseph Pulitzer). The boys were upset because of their work conditions: the boys received no salary; they were to buy the papers from the publishers and then their only profit was the cent or two extra they could charge to readers.  Any potential profit was often offset by losses because the publishers refused to take back unsold papers.  For two weeks, NYC newsboys agitated on street corners and refused to sell the Journal and the World until they established a meeting with Hearst and Pulitzer. The newsboys finally got the attention of the publishers and the deal that was reached was that unsold papers could be returned. This was a small gain but an important one for the newsboys.
War bonds were government issued bonds sold to finance the war effort, and one of the ways they were sold was through newspaper carriers.  The above-mentioned David Smith earned a prime seat for a ride on an amphibian Jeep, called a 'water weasel' because he sold more war bonds than any other carrier. In the news photo below, Smith is the fellow in the best seat, to the left of the sign.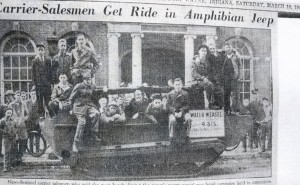 In 1952 the United States Post Office issued a stamp commemorating the service to the nation by newspaper boys.  On the carrier bag depicted on the stamp were the words, "Busy Boys…Better Boys."  (See above for the stamp.)