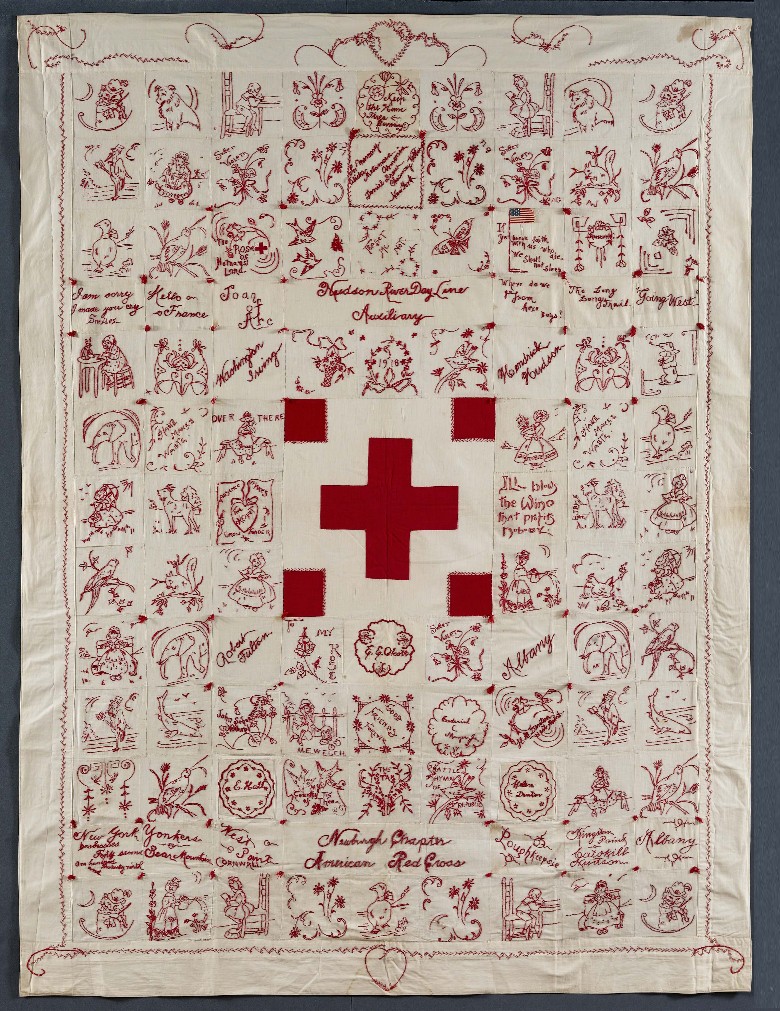 From March 25-30, New Yorkers will have a unique opportunity to see the largest quilt exhibition ever mounted in the city–and the experience is free. "Infinite Variety: Three Centuries of Red and White Quilts" is being organized in the Wade Thompson Drill Hall at the Park Avenue Armory and is being sponsored by the American Folk Art Museum, an organization that is celebrating the "Year of the Quilt" with other exhibits as well.
The entire collection of red and white quilts being displayed belongs to collector Joanna S. Rose who plans to donate 50 of the quilts to the museum after the Armory exhibit. Rose became a collector almost 60 years ago–in 1957–when she was given her first red and white quilt shortly after the birth of her first child, and therein began a passion for collecting them.
To mount the exhibit, co-curators Elizabeth V. Warren, guest curator and an a leading authority on quilts, and Stacy C. Hollander, senior curator at the museum, have worked with Rose to select 650 quilts to be displayed in the Park Avenue Armory. Thinc Design developed the concept as to how to display and appreciate such a vast collection of quilts in the 55,000 square foot hall. The timing for this weekend's exhibit is perfect. March is Women's History Month, and of course, almost all quilts were made by women, and Saturday is National Quilting Day.
Part of any museum collection is trying to identify the provenance of an object. Who made each quilt? Where did the people live? Who used the quilt? When a quilt is donated directly by a family who has owned it, there is sometimes an opportunity to gather information and anecdotes about the quilt, but far more often, quilts and their makers are very difficult to identify.
That said, curators always try. Elizabeth V. Warren, who is also author of several books on quilting, regularly researches this type of information. The Folk Art Museum sent me some of what Warren has identified on two of the quilts, the Lavinia Rose quilts: Lavinia signed and dated her quilts and also noted the town, Cortland Ville (Cortlandville, NY). This permitted Warren to trace the quilts to a woman born Lavinia Sanford in 1787 in Franklin, Connecticut. She married Jehiel Rose in March of 1818 and together they had ten children.
Warren has gone through census reports of the time period as well as other local documents to uncover as much as she can about the quilt and its maker and owners, but there are still puzzles. There are names on the quilts that don't necessarily match up to the children of Lavinia and Jehiel. Yet to be determined are the identities of these other people. This kind of research is painstaking, but over time, it reveals a story of a family, of a town, and of our country.
A Few Additional Facts about Quilts
After attending another of the Folk Art Museum's quilt exhibits and doing some additional reading, I have gathered a few facts about quilts and quilt-making that have helped place quilt-making in context of our history. Perhaps these few stories will add to your enjoyment of any of the quilt exhibits on display this year:
• In the late 1700s and early 1800s in this country, quilts would have only been in the homes of the wealthy. Other women would have been so busy spinning thread, weaving fabric, and then sewing clothing that there would have been no time for quilt-making.
• Album quilts, where the blocks were usually made and signed by friends or family, were often made on the occasion of a family member moving away–a practical and loving gift. They were also presented to favorite pastors or doctors as thank you gifts.
• Just as they are now, quilts were created to raise funds for various causes. In the 19th century, the cause might be a church, and people donated money and they were then honored by having their name added to the quilt–much the way fundraisers today sell "bricks" or walkway stones to honor donors.
• Quilts offered women an opportunity for political expression. At a time when women did not have the right to vote, a quilt supporting a political viewpoint was as close as women would come to being able to have a political voice.
This is one of several quilt exhibits being presented this year by the American Folk Art Museum. "Infinite Variety: Three Centuries of Red and White Quilts," at the Armory at 643 Park Avenue, will cap the American Folk Art Museum's "Year of the Quilt." For more information on exhibit hours and other programming check the website for the American Folk Art Museum.
Currently on view at the museum is Quilts: Masterworks from the American Folk Art Museum, a two-part exhibition. The first installation can be seen through April 24, 2011 and the second from May 10 to October 16, 2011. In conjunction with this presentation is a lavishly illustrated, full-color book published by Rizzoli documenting 200 quilts in the museum's collection. At the museum's branch location at Lincoln Square is the exhibition Super Stars: Quilts from the Collection, November 16, 2010 – September 25, 2011.