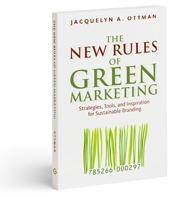 Companies are going green with products large and small. From the Nissan Leaf to the household cleaners that promise to reduce the noxious chemicals washing down our pipelines and into our rivers, "green marketing" has become a major interest on the part of businesses and manufacturers.
"Consumers need to remember that this is no time to relax and assume the world has changed," says Jacquelyn A. Ottman, business consultant and author of The New Rules of Green Marketing. "Consumer awareness is still just as important as ever."
Environmental Awareness Began as a Social Movement
Almost fifty years ago Wisconsin Senator Gaylord Nelson (1916-2005) floated out a concept for Earth Day to highlight the need for awareness of environmental preservation. But good ideas often need to percolate, and Nelson couldn't get much momentum at first. Then in 1969, a major oil spill off the coast of Santa Barbara raised Nelson's alarm level, and that autumn, Nelson proposed a "national teach-in" about the environment to be held in April 1970.
Even before Twitter and Facebook, good ideas could grow into great ideas, and soon the movement Nelson started grew bigger than he had ever imagined. That year 20 million people across the country rallied on behalf of protecting the environment. By 1990 the movement became global and 200 million people in 141 countries were mobilized to focus on environmental issues of the time.
Now, forty-one years after the first Earth Day, the attitude toward environmental concerns has changed significantly. Earth Day 2011 will be celebrated with many signs of progress–communities with excellent recycling programs and more manufacturers creating green products. The public push for "green" and "sustainability" has led to more energy-efficient light bulbs (with better ones on the way), more Energy Star products, and the current and most recent movement away from plastic shopping bags. "Green marketing" has become important as part of consumer outreach.
There are also some worrisome signs. In addition to major pushbacks from well-organized and well-funded lobbyists who still favor such things as deep-water oil drilling and hydrofracking over conservation, there is a risk that consumers will feel the battle is over–they can buy green so buy they will.
"In many cases, businesses have re-formulated their products and created a 'greener' product," says Ottman. "But one of the points I stress in my new book is that consumer education needs to continue."
Responsible Consumption
Ottman says the first thing to remember is that green marketing has become "hot," and therefore, consumers need to be aware that "greenwashing" (like "brainwashing") can be part of the game. She uses the example of the hotel that encourages the guests to re-use their towels but makes no provisions for any sort of recycling, such as separating out newspapers from regular trash. (Leave them a note that you care.)
"Every consumer needs to use good judgment," continues Ottman. "The SunChips bag that got all the negative publicity because it crackled so loudly was marketed as 'compostable.' Well, if you live in a city where you don't compost, then that is not really a benefit to you.
"The diaper wars are a similar issue. In the northeast, we have plenty of water so cloth diapers may be advantageous. But in the southwest where water is at a premium and landfills are more readily available, disposable diapers may be a tolerable option." (Tomorrow I'll list some of Ottman's 'products to watch,' including a new type of diaper.)
Shared Responsibility
"Even if a company re-formulates a product to make it more environmentally friendly, the way the product is used–or tossed away–is ultimately in the hands of the consumer," says Ottman. "Today most laundry detergents will wash just fine in cold water, but consumers have to remember to select the 'cold' cycle when they do their laundry. They need to turn off the lights as they leave a room, and even if they have a new Energy Star air conditioner, it needs to be turned off when no one is home.
"We need to continue to encourage companies to create products that are environmentally-friendly but it's ultimately up to us to use them responsibly or dispose of them in a way that the product will be recycled," she says. "I call this 'shared responsibility.'"
Company Leaders
Her book concludes with two companies–Timberland and Starbucks–that are setting positive examples. I was particularly interested in what she had to say about Starbucks. With 50 million customers a week, all of whom leave the store with greater or lesser forms of a paper product, they have their work cut out for them.
Ottman notes that Starbucks knows that caring for the environment is vital to them because coffee beans are an agricultural product. The company that started in Seattle in 1987 began contributing to CARE, an international and development aid relief organization that supports coffee-producing countries, as early as 1991. In 2000 Starbucks began purchasing fair trade coffee and became the largest buyer in 2009. They also have established its own CAFÉ Practices (Coffee and Farmer Equity Practices developed with Conservation International to support their belief that a good cup of coffee starts with good and well-cared-for farmers.
In 2008 Starbucks launched their Shared Planet initiative with very specific goals to reduce their environmental footprint. A couple of their targets:
• Recycling is to be available in all the stores.
• By 2015 one hundred percent of cups will be reusable or recyclable.
At this point, Starbucks' hot cup is made with only 10 percent recycled material, but Ottman points out that though this percentage sounds small, it add up quickly with Starbuckian volume. This cup eliminates 5 million pounds of solid waste, 11,300 tons of wood, 58 billion BTUs of energy and 47 million gallons of waste water a year.
"It's not easy being green," warbled by Kermit the Frog might well be a good theme song for the environmental efforts of the future. Companies need to continue to "go green" and consumers need to keep their eye on the "green prize" as well. A pact of "shared responsibility" makes all the sense in the world.